Desert Tent Takla-Makan
47210 St Étienne de Villeréal, Lot-et-Garonne, France
Sleeps 6

(max 6 adults, 5 children)

Electricity
Cooking facilities
Beds Provided


Bed Linen Not Included
A pair of tents joined by a terrace form this spacious glamping option on the edge of the Dordogne region.
Deux tentes du désert offrent des espaces de couchage et de vie séparés
Style individuel avec des accessoires français vintage
Situated overlooking the lake on a site with lots of facilities and activities
Book camping accommodation at La Parenthèse Camping Les Ormes
This information was supplied by La Parenthèse Camping Les Ormes
La tente Takla Makan est un ensemble de deux tentes de 25 m2 réunies par une grande terrasse extérieure, l'une comprend l'espace de vie, tandis que l'autre sert de lieu de couchage pour 6 personnes. Les tentes sont joliment décorées dans un style brocante et déco.
La grande et spacieuse terrasse en bois est le lieu idéal pour dîner en plein air ou se détendre dans les chaises longues.

Il y a un lit double et 4 lits simples dans la zone de couchage de la tente. Les lits simples peuvent se rapprocher. Des moustiquaires protègent les lits.
La cuisine est équipée d'une cuisinière à gaz, d'un bloc de cuisine, d'un réfrigérateur, d'ustensiles, d'une batterie de cuisine et d'une bouilloire. Il y a aussi une commode et des buffets style brocante à la Francaise. Les points d'eau ne sont jamais très loin, de même que les deux blocs de douche, avec zones pour bébé, machines à laver et sèche-linge. Il y a aussi le wifi gratuit dans les zones communes.
La Parenthèse Les Ormes propose de nombreuses activités, telles que piscine, lac de pêche et activités pour enfants, restaurants romantiques et terrasses propices à la détente, de quoi divertir et divertir petits et grands pendant vos vacances.
Le Food Truck est idéalement situé à côté de la piscine. Ouvert tous les jours de 11h00 à 19h00, il sert des cappuccinos mousseux aux boissons glacées, ainsi qu'une sélection de collations et de snacking tout au long de la journée.
La Paillote , ouverte 5 soirs par semaine propose des pizzas à consommer sur place ou à emporter, délicieuses pizzas préparées à base de produits frais. Une fois par semaine, une soirée moules-frites a lieu à la Paillotte, soirée conviviale clôturée par un feu de camp / marshmallow, pour le plus grand plaisir des enfants et des parents ! La Paillotte est un endroit privilégié du domaine : au bord du lac, vous dinerez sur une vraie plage de sable blanc avec des des guirlandes blanches qui donnent un autre de fête , .. de quoi passer une belle soirée romantique et conviviale .
Le Restaurant , dans une ancienne grange avec de jolis murs en pierre et une décoration brocante, sur les tables des bougies et de jolies fleurs champêtre cueillies sur le terrain, dans l'assiette une cuisine locale et de saison .. un restaurant agréable pour une soirée à deux ou entre amis..chaque soir, prifitez du magnifique coucher de soleil. Les jeux enfants situés non loin du restaurant, vous permettent de diner à votre rythme tout en gardant un oeil sur vos enfants. La solution parfaite pour que tout le monde soit heureux!
Les installations sur place sont vastes aux Ormes, avec une piscine et une pataugoire ouverte tous les jours de 8h30 à 20h. Un bassin séparé pour les enfants, une plage de sable au bord du lac, un ponton à partir duquel vous pourrez pêcher ou simplement admirer le ciel étoilé. Les enfants apprécieront l'aire de jeux extérieure avec balançoires et grimpeurs, pétanque, tennis de table, beach volley et terrains de football. Nous vous prêtons les accessoires pour jouer au tennis pour un match ou deux sur le court.
Cela vaut la peine d'explorer les environs, car cette partie de la France est imprégnée d'histoire et de culture. Les villages médiévaux ou bastides de Villeréal ou de Monflanquin sont à un peu plus de 5 minutes du camping et offrent de magnifiques marchés locaux les mercredis et samedis matins à Villeréal, ainsi que le marché nocturne le lundi soir à partir de 18h00 avec musique live et âne manèges. La fête médiévale de Monflanquin vaut le détour mi août avec processions dans les rues, joutes, défilés de chevaux, pour ne citer que quelques exemples.
Monpazier est riche en architecture médiévale, idéalement situé entre Sarlat et Bergerac, tandis que le château de Gavaudin, haut de 40 m sur une falaise rocheuse, propose des journées à thème pendant les mois d'été, afin de donner vie à l'expérience médiévale pour petits et grands!
La plus grande ville est Bergerac, située au bord de la Dordogne, à un peu plus d'une demi-heure de route, riche en produits locaux tels que le foie gras, le magret de canard, les pruneaux et les tomates Marmande. Après une visite des vignobles, Monbazillac et son majestueux château sont des endroits à explorer, où vous pourrez déguster leur célèbre vin doux.
Pour les plus sportifs, le golfe de Barthe se trouve à environ une demi-heure et un centre d'activités «accrobranche» vous permet de faire des sentiers dans les cimes des arbres, à seulement 15 minutes du camping.
Après toutes ces explorations, vous pourrez sans doute savourer votre moment de détente  (détente) de retour sur place avec un verre de quelque chose de délicieux, soit au bord de la piscine, soit dans le confort de votre propre chaise longue. Laissez l'ambiance décontractée s'infiltrer, détendez-vous simplement, vous êtes en vacances après tout ...
View Gallery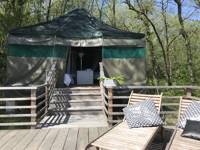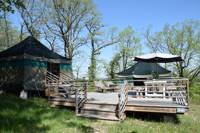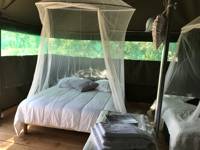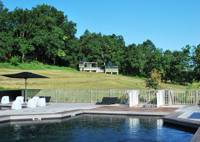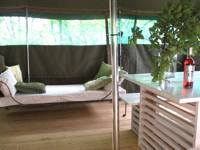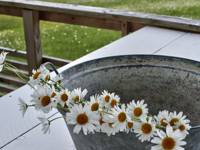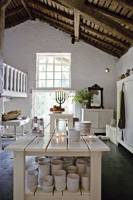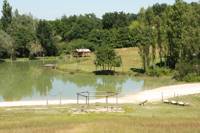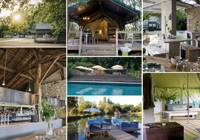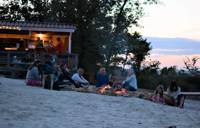 Search all availability at La Parenthèse Camping Les Ormes
A campsite that redefines comfort with its laid-back ambience, efficient facilities and general panache
At La Parenthèse – Camping Les Ormes **** which Glamping Experience (Glamorous Camping ) suits you best ?
Discover the romantic ambiance of country chic which will transport you into a world without worries – away from the daily drudge that surrounds us.
Well, for as long as your holiday lasts anyway….. The minute you arrive at this wonderful valley dotted by woodlands time lapses – you made a break, ready for your ultimate glamping experience…….
What's in a name ?
Camping Les Ormes is a lovely name for a campsite, but we wanted to add a personal touch, so we have added La Parenthèse.
Entre parenthèse, litteraly means in brackets, but the word parenthèse also means a break, a time away – breaking the daily routine.
La Parenthèse – Camping Les Ormes is situated in the northern part of the Lot et Garonne, touching the Dordogne, the ideal place to get to know the heartlands of the Périgord. Allow yourself to be charmed by this splendid area, where you will find all the good things that France has to offer. Discover the magnificent Bastides and Chateaux, taste the famous wines and enjoy some of the many local arts and crafts.
Dog  are welcome - Contact us for having more details !
Glamping Site Facilities
2 large toilet and shower blocks, laundry, tennis court, swimming pool and stylish pool bar as well as a kiddies' pool. Sandy lakeside beach, a petting zoo and an authentic restaurant in an old barn. There's also a kids' café and a Ben & Jerry's fridge bursting with your favourite Phish Food and Chocolate Fudge Brownie flavours.