Tent Lodge "Pilotis"
Mas de Serret, 07150 Labastide de Virac, Ardèche, France
Sleeps 4

(max 4 adults, 3 children)

Cooking facilities
Beds Provided
Bed Linen Provided
This canvas lodge, above the Gorges de l'Ardeche, provides a comfy retreat after days of swimming, canoeing or mountain biking.
A canvas lodge on a raised deck with two separate bedrooms with beds (linen provided)
Shaded terrace and open kitchenette area with cooking equipment
Wash block a short walk away
Direct access down a cliff path to the river for swimming and sunbathing
Book camping accommodation at Mille Etoiles
This information was supplied by Mille Etoiles
The ideal spot for nature lovers and for those wanting to recharge the batteries, with the background sound of the Ardeche whooshing past, and the hum of nature whilst you're nestled among the shady trees in this stunning tree haven. Drift off in a canvas hammock or meander down the cliff path to the Ardeche to discover unspoilt natural swimming spots, or take it up a gear in a number of water sports available in this wild yet beautiful region.
These authentic tent lodges come with a little kitchenette with cooking facilities and a cafetiere, but with your sink facility being located in the communal area.
Sleeping arrangements comprise of 1 double bedroom a further bedroom with two single beds. There is an additional pull out bed which accommodates two people but this is located in the communal area and not in a separate bedroom. A perfect dwelling to enjoy nature at its best but with a few little home comforts to boot.
View Gallery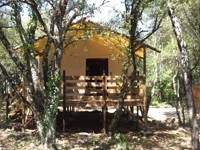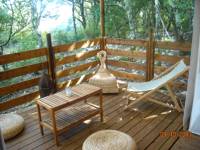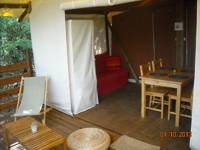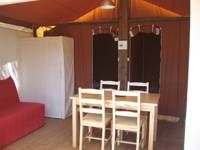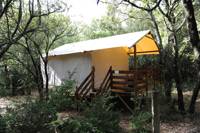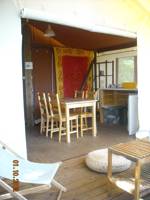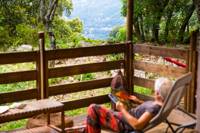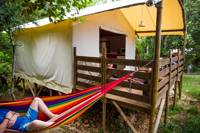 Search all availability at Mille Etoiles
Camping and glamping right next to the Gorges de l'Ardèche, a camping field, luxury yurts, safari tents, a beautiful river, and welcoming hosts
On a shady, wooded hillside overlooking the Ardèche River, Mille Étoiles is easily one of the most beautiful campsites in all of France. The forested land, sitting high above a canyon of sparkling, turquoise waters, is so fairy-tale-perfect, and the luxury yurts are pure heaven, making for a truly enchanting experience!
Glamping Site Facilities
A giant communal yurt in the middle of the woods is available for group hire or for general use (yoga routines, story-telling, hide-and-seek). Tent pitches in the woods and in a field with water points, a few electric hook-ups, picnic tables, and hammocks. The self-catering yurts comfortably fit a family of 4. The safari lodges sleep 7 with ample space and have fully equipped kitchens an en suite bathroom facilities. 2 shower blocks, one by the yurts with 6 family bathrooms (sink, shower) and a block with 4 shower cubicles and 5 loos, plus laundry. Bath towel hire €4 each. There's a small grocery shop and a library. The bar, pizzeria and pancake house (see food & drink) opens mornings and evenings selling local wines, beers, fresh juices, water, ice creams, pizzas and Ardéchoises specialities. There's a playground and you can rent mountain-bikes by the day, half-day or for several days.