The Owner Says
5 meter Bell Tent with 4 wooden beds with mattresses which can be set up as 4 singles or a double and 2 singles.  Inside the Bell Tent you will find crockery for 4 people, simple cooking equipment and a camping gas stove and kettle.  There is one battery powered lantern and fairy lights in the tent, but I would suggest you bring your own torch to get to the utility barn in the night.  Outside the Bell Tent there is a sturdy wooden picnic bench for 4 people and a small shade sail.  There is plenty of room around the Bell Tent so you are more than welcome to bring your own gazebo and sun loungers etc.  There is shared toilets, showers, kitchenette ( microwave, toaster, kettle), washing up area, plugs to charge your phone and a small honesty shop to sell logs, kindling, BBQ fuel and a few emergency essentials like a bar of chocolate or a tin of soup etc.
Gallery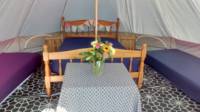 Features & Facilities
On our campsite we have a utility barn for all guests to use.  Inside it has showers, flushing loos, washing up sinks, kettle, toaster, microwave, fridge, freezer, plugs to charge your phone.  We have a very small honesty shop to sell logs, kindling, BBQ fuel and a few emergency essentials like a can of soup or a bar of chocolate.  We also hire out fire bowls and BBQs for guests to use.
Activities
The thing I love most about our area is how rural we are.  We have clean air and more wildlife than cars and people.  I also love that our area of Salisbury is steeped in history and legends, with Stonehenge and Avebury, Old Sarum and Salisbury Cathedral, the ancient Grovely Woods.
Food & Drink
The village of Dinton has a lovely friendly pub called the Wyndham Arms, it serves delicious food and plenty of it! It even does takeaways!  One of my favourite places to visit is Langford Lakes, it has a little café that you can sit out on a deck looking over one of the lakes with a cup of tea or coffee and homemade cakes, it is simple and perfect.
Location
Getting There
From the A303 take the exit for Wylye village, turn right on to Dinton Road and continue on this road for about three-and-a-half miles until you reach a cros roads. Take a right on to Steep Hollow towards Teffont. You will find Marshwood Farm after about two hundred metres.
Marshwood Farm is in a very rural location with infrequent buses (less than daily) to the nearby village of Dinton so a car is recommended by your hosts. For those determined to use public transport, the closest railway station is at Tisbury, five miles away, but your best bet is to head for Salisbury where there will be taxis available. The ten-mile journey is likely to cost around £40.