Venn Dairy Farm, Waterston Road, Milford Haven SA73 1DN










This information was supplied by Eco Escape Campsite
The Owner Says
Eco-Escape is our small, family-run, dog-friendly and eco-friendly campsite, nestled in the valley of our working farm. Ancient Oak Woodland trails, the Pembrokeshire Coast Path and an inlet of the Tidal Estuary are all within 100m of your tents, and just a short walk up the country lane, you will find the local pub, serving hearty pub food. Our wood-fired hot tub, meadow swing and field space for games mean there is something for all the family, we provide a sheltered area for cooking and eating so it won't matter if there is a shower, and we are a perfect base from which to explore the best of Pembrokeshire's stunning beaches and coastline!
Having grown up on a farm in the heart of Pembrokeshire, we have a deep appreciation for the countryside, and our beloved environment, and so are passionate about recycling and up-cycling, and doing our part to look after the environment. Our aim is ultimately to become a zero-carbon campsite. Therefore, we have many eco-features to our site, including; an eco-composting toilet, up-cycled firepits and furniture, sustainable firewood, solar lighting and we offset our energy use by having wind turbines gently generating away on the edge of  the farmland. There's no electricity; just firelight and the starry night sky!
We offer an escape away from the hustle-and-bustle, a chance to relax and reconnect with family, friends and nature, an opportunity to try new experiences, see new, breathtaking places, and feed the soul with wild and fun adventures!
Having grown up in Pembrokeshire, we know what this beautiful county has to offer. We have a passion for all things wild including local ecology and wildlife, water sports and outdoor activities. We have ventured into Camping and Glamping to share what we love with you!
Gallery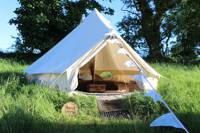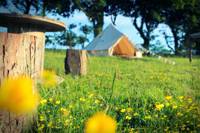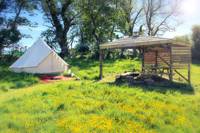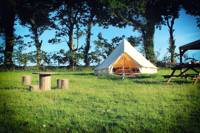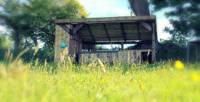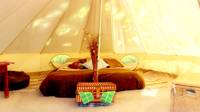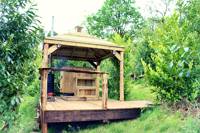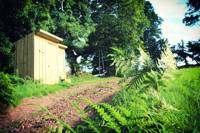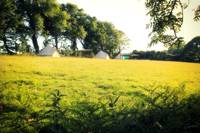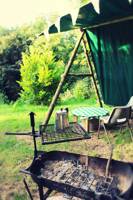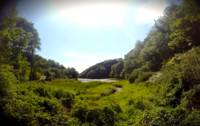 Book glamping near Eco Escape Campsite