Book glamping near Domaine du Bourg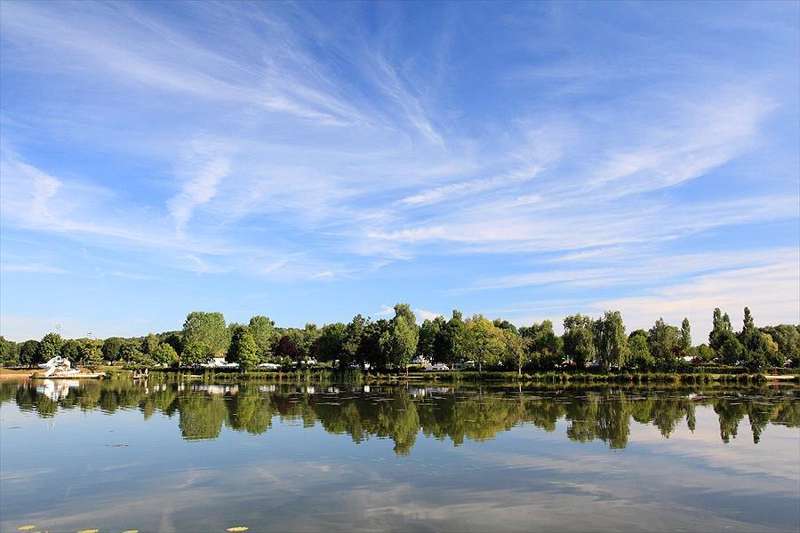 i
Campsites in Côte-d'Or
Campsites in Bourgogne
Campsites in France
Smallsville camping in the Auvergne with plenty of room to stretch out
Domaine names are a tricky business. Not those double-yew double-yew double-yew dot internet domain names, but the names of little French estates. Call them something fancy like Domaine de Beauregard and the neighbours think you're pretentious. So this place keeps it pretty simple. Domaine du Bourg, it says on the gate: 'Small Market Town Estate'. And what's inside's fairly straightforward too. Dutch owners Peter and Trudi de Lange have converted some old farming buildings into a cracking, pretty sizeable home, along with four gîtes, three B&B bedrooms and some dorm rooms for hikers. Beyond the huddle of buildings, meanwhile, is 250 acres of camping space with a trio of canvas safari lodges, a wooden gypsy caravan and a clutch of just 25 grassy pitches (so you can do the maths to work out how much room there is).
The small market town in question is Gannay-sur-Loire, a sleepy little place if truth be told, but the quiet roads and gentle countryside are ideal for exploration by bike. These are available for hire from the site and come equipped with maps. The site is also on the new 'EuroVélo6' cycle route, which stretches across six countries from the Atlantic coast to the Black Sea. The French section starts at St Nazaire and follows the course of the River Loire through Orléans and Nevers, before swinging north through Switzerland, Germany, Austria, and Slovakia and south through Hungary and Serbia, finishing in Romania. So there's no real excuse for coming here and just lounging around.
The Loire also beckons budding water babies down to its glistening depths. There are plenty of lazy watersports available, including kayaks available to hire from the site. The slow, soothing pace of the river is the perfect antidote to all your worries. Drift along in the sun on what is undoubtedly one of the most beautiful rivers in France (and also the country's longest) – it was also awarded UNESCO heritage status in 2002 so is pleasantly free from noise, buildings and commercial fare. Instead the banks are either alive with chirping wildlife or quaint historic villages – the perfect place to pick up yet another buttery croissant as you glide along.

Details
Facilities
A brand new half-timbered building houses free warm showers toilets, washbasins and dish-washing facilities. Toilet paper is supplied so you can leave your rolls at home. There is also a disabled room and baby facilities. Elsewhere there's a small pool and a covered seating area (where meals are served), which is handy as a day area.
Suitable For
Tents, campervans, caravans, dogs (as long as you scoop any poop) – yes.
Nearby
This is a fairly quiet site, so the best thing to do is capitalise on that quietness and hire a bike or kayak. Bikes can be rented from the site at €10 per day and kayaks are available at €14 per half day and €23 per full day, including transport to and from the river. It is one of the most beautiful sections of the Loire, well-known as 'France's last wild river' and an excellent place to explore by whatever means you chose. Along with the EuroVélo6 route you can follow the 'Loire by Bike', 'Burgundy by Bike' or 'Grand Randonnée nr 3'. Peter and Trudi know them well and are more than happy to give advice on where to go.
Food & Drink
There's a small Proxi convenience store, a pâtisserie, a butcher, and les Vanneau, a little restaurant-café with a terrace, in the village.
Opening Times
April – November. (The permanent accommodation is available all year round).
Accommodation
25 car-free pitches (electricity available). There is also a 3-person gipsy wagon, 3 safari lodges (sleeping 4–6), and a gite etape or 'hiker's cabin' (sleeping up to 12).
Location
Getting There
From Nevers take the D13 and D116 to Decize. Head out of town on the D978a and turn left onto the D116 for Ganny-sur-Loire. Once in the village cross the river and you'll see a triangular green with a road veering off to the left. Follow that road for 100m and the site is on the right. The closest you can get to the site is 12–16km away, at one of several nearby railway stations at Fours. Cercy-la-Tour or Decize.