Periwinkle
Le Cros, 43440 Laval-sur-Doulon, Haute-Loire, France
Sleeps 4

(max 2 adults, 3 children)

Beds Provided
Bed Linen Provided
Towels Provided
Private Bathroom
Yurt glamping in one of the most relaxing and isolated sites in central France
Private shower room with complimentary organic toiletries
Continental breakfast included
Raised wooden platform with hammocks, providing an area to relax under the starry sky
Book camping accommodation at Auvergne Naturelle
This information was supplied by Auvergne Naturelle
At Auvergne Naturelle, we offer a unique holiday experience in the undiscovered Auvergne region of France.
Our luxury yurt accommodation provides the opportunity to sleep under canvas but with all the comforts of a hotel room. Surrounded by woodland and beautiful scenery, it is a perfect holiday for those who want to get back to nature in an area of France which is unspoilt and peaceful. The yurts blend in with the surroundings and are made from ash coppice which is important for the sustainability of the woodland.
'Periwinkle' is a luxurious yurt nestled amongst the woodland with stunning views over the valley. The 18ft diameter yurts are light and spacious, each with a private, en suite luxury composting toilet. Each yurt sits on a raised wooden platform, providing an area to relax with hammocks and dining table and chairs, perfect to unwind in and admire the starry night sky above.
The yurts are fully furnished with a king size bed and storage.  There is also a private shower room for each yurt with complimentary organic toiletries, which are located in an area away from the yurts.  The yurts can accommodate extra children on camp beds, suitable for children up to 12 years.  All bed linen and towels are provided, free of charge. 
Solar powered lighting is also available in the yurt, however to charge your electrical items there are power points in the communal blocks.
The old, rustic barn has a dining area where breakfast and home cooked evening meals are served.  There is also a self catering area dedicated to each Yurt, with everything you should need, including gas hobs, fridges, microwave and sink area.  All utensils, pots and pans, cutlery and crockery are provided, so you do not need to worry about bringing anything!
A hearty, continental breakfast is included in your stay with cereals, fresh bread and patisseries, local jams and honey, yoghurts, fresh fruit, tea, coffee and fruit juice.
We can also provide evening meals three times a week with lovely home cooking.  There are also a number of fabulous restaurants in the area which we can recommend ( all approx 20 - 30 minutes by car).
Whether you want a relaxing holiday or something a bit more active, there are lots of opportunities for you to make your holiday your own. Relax by your yurt and enjoy the peace and tranquility, take a paddle in the river or a stroll to the nearby village. We also offer bushcraft courses which are a fabulous way to learn about the surrounding natural environment - perhaps learn how to make a fire with sticks or find out which plants you can eat.
At Auvergne Naturelle, you are truly in an unspoilt environment - a fabulous way to just get away from it all and just simply be....
View Gallery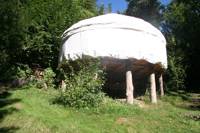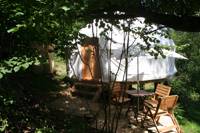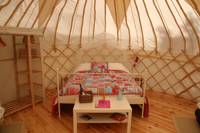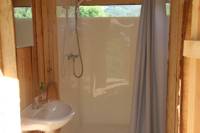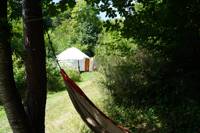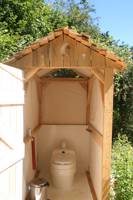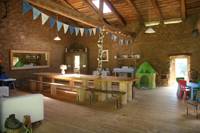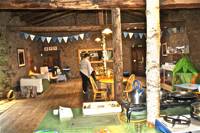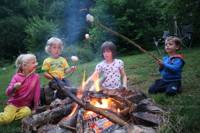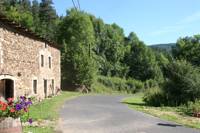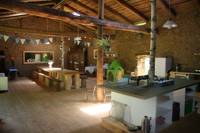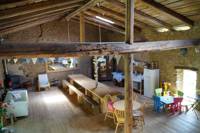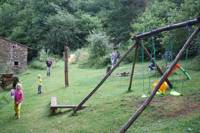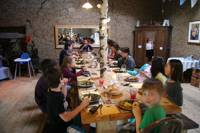 Search all availability at Auvergne Naturelle
Natural heaven. This is one of the most relaxing and beautifully isolated glamping sites in central France.
Luxury Yurt heaven. This is one of the most relaxing and beautifully isolated glamping sites in central France.
Glamping Site Facilities
Each yurt has solar-powered lighting and a luxury en suite toilet, plus a washbasin outside. The yurts are also family-friendly, with 2 extra camp beds per yurt for the kids. Campfires are tended by Rob, who, according to his dad, has been building fires ever since he was a little 'un. The shower block is simple, sparkling clean, perfectly located just a short walk from your yurt, and close to the communal barn. Each yurt is allotted its own personal hot shower. For babies there's ample room for nappy-changing in the yurts. The toilets and facilities don't lend themselves to wheelchairs, nor do the grassy slopes of the grounds. Other facilities include: self-catering kitchen, fridge, fairy trail, swings, wild meadow, and 20 acres of woodland to lose yourself in. Morning bushcraft courses are available (adults €20 and kids under 12 years €10).