Book glamping near Riveco Glamping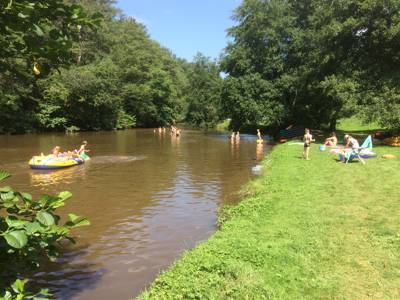 i
Campsites in Dordogne
Campsites in Aquitaine
Campsites in France
Available:
2 Pitches
2 Cabins
1 Safari tent
Riveco Glamping
Las Gouttas, Coussac-Bonneval, 87500, Haute Vienne, Limousin, France






A peaceful, private, riverside glamping site in rural Limousin with a nearby château to explore and ample space to unwind
The serene River Boucheuse is only a few metres wide as it idles along the side of Riveco Glamping, a small, endlessly green glampsite in the Limousin region. Just beyond the tall, mature trees and thick foliage of the site, the river widens into an oval-shaped millpond, cascading down a weir and continuing south past the nearby vineyards in La Faye. A tributary (romantically named, La Valentine) makes a similarly languid pathway around the local village of Coussac-Bonneval, five kilometres away, home to a 14th-century château and a trio of little restaurants. It's the perfect patch for a holiday.
The Boucheuse is certainly part of the appeal here. The slower pace of the river seems to have permeated into all life around it. Birds seem to sing all the more harmoniously, the glampsite hammock seems to cocoon you all the more comfortably and the hours of the day breeze by in a haze of utter comfort. Even the donkeys and sheep on the smallholding are friendly, mellow creatures. Give them a wave as you wander down the yellow brick path that leads from your car to the great white geo-dome you'll be calling home.
The dome itself, the only accommodation at the site, is right beside the river and boasts an extra, mezzanine level inside. On the bottom floor there's a comfortable sofa area, facing out of the ginormous wall windows, along with some extra storage, while up the stairs there's a king-sized bed. By night, the centre of the dome can be opened up to reveal a huge, circular window, allowing you to sleep directly beneath the stars. The sky here is blissfully un-polluted and the stars shine wonderfully for all to see, framed by the black outline of the surrounding trees.
Owners Carl and Lesley not only lend their personal touch to the glamping site – bunting hangs above the handy kitchen space and conscientiously placed candle lanterns are dotted around – but they also tend to the smallholdings vegetable patch and animals. The welcome basket when you arrive is always stocked with a few home-grown and local goodies and homecooked meals are available by request. For everything else, you can slope off to the village or head to the excellent Monday evening market in Ségur-le-Château, a local treasure and a wonderfully atmospheric, traditional French scene.