Book glamping near BelRepayre Airstream & Retro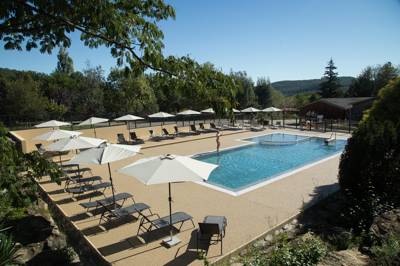 i
Campsites in Ariège
Campsites in Midi-pyrénées
Campsites in France
Available:
1 Tree house
3 Safari tents
5 Cabins
...
BelRepayre Airstream & Retro
BelRepayre, Nr Mirepoix, Ariege (09), Midi-Pyrenees, France









Europe's first retro Airstream trailer park, in the foothills of the Pyrénées
A couple of decades ago, Perry Balfour and his wife, Coline, set about transforming a beautiful part of the Ariège countryside into a themed trailer park. Having built up to an impressive collection of 15 Airstreams, they have, more recently, scaled it back to a more modest collection of three, each painstakingly restored to its former glory, then decked out in 1970s-era fabrics and flea-market paraphernalia. These glistening beauties are the real deal, too, and have come all the way across the Atlantic.
Though the exteriors look majestic – especially when winking simultaneously in the Ariège sunshine – the interiors look even better, with their cute little bathrooms and showers, funky bedrooms, and plethora of aptly psychedelic touches that includes floral curtains, retro crockery and ancient music magazines. Sliding a scratchy Sly and the Family Stone tape into the cassette player and putting your feet up on the sun lounger outside is a pretty cool experience, to say the least.
Elsewhere on site, there's a dainty little pond, an activities field and a nearby wood to explore. The well-stocked 'general store' has essential food items and fresh organic vegetables from the local area and there are, of course, vintage clothes on sale, too. The new addition of a red, cedar wood hot tub is a particular delight and, if it strikes you as a little too modern, has timeless views of the snow-topped Pyrénées that no doubt even the most ancient of forefathers and mothers would have enjoyed.
Yes, if ever there was a campsite to help you trip back in time – this is it…