Book glamping near Château de Termes, Martel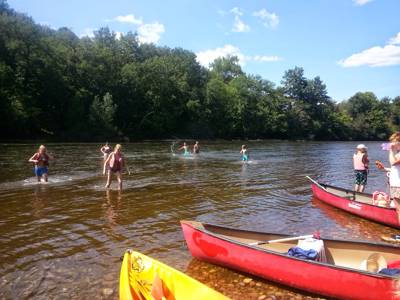 i
Campsites in Dordogne
Campsites in Aquitaine
Campsites in France
Available:
1 Camping bungalow
i
Campsites in Corrèze
Campsites in Limousin
Campsites in France
Château de Termes, Martel
Château de Termes, Route de Saint Denis, Les Martel, 46600 Martel, Lot, France












A collection of wooden glamping cabins and wooden cottages in the pretty, seven-acre grounds of a Dordogne château
Sophie and Pierre Nadin first opened their home to guests as a B&B, offering up a cute, stone-wall room inside one of the château's old turrets. Explore the seven-acre grounds that sprawl beyond the classically shaped country home today, though, and you realise it was only a matter of time before they realised the true potential of Château de Termes lay not inside the property but in the lush, tree-dotted slopes that stagger down towards the River Tourmente beyond. This is, after all, one of the most revered locations in the Dordogne valley – 5km from the medieval settlement of Martel and equidistant from a trio of famous limestone caves – it's a place to enjoy the great outdoors and the French summer sun. Glamping in the garden is where we'd prefer to be.
The resulting site that Sophie and Pierre have created spills from the main house (still a B&B) into the grounds of the former winery, with a collection of wooden cabins available to rent. In the height of summer (July and August) they're available a week at a time and the rest of the year you can book them nightly, with sizes suited for two people to a family of five. The cabins very much echo the bed and breakfast vibe, with modern facilities and everything you need. You won't be roughing it here. There are double beds and bunks, each in their own rooms within the cabin, and en suite washroom facilities with powerful showers and towels provided. There's a well equipped kitchen and living space, while outside a wide, sun-deck stretches out on small stilts, a wonderful spot to sit and survey the surrounding greenery filled with mature trees and garden shrubbery.
Families will feel the real winners. From the tennis court, the swimming pool and the trampoline, to Tuesday fishing sessions on the Dordogne riverbanks and handling the glampsite's farm animals, the list of things to do is pretty endless. Yet for all the facilities, Château de Termes still has a wonderfully informal air and the natural, long-established setting ensures it all has an intimate feel. The ping-pong table, the volleyball court, they've all been added to the campsite around the existing plants, rather than coming first. It means the scenery is still the focus and, after a day out exploring the medieval marvels of Martel and it's quaint, half-timbered cafés or paddling a canoe down the Dordogne, Château de Termes remains, inside and out, the perfect place to retire to.