Bamburi, Woodland Safari Tent
Le Camp, 82330 Varen, Tarn-et-Garonne, France
Sleeps 4

(max 2 adults, 2 children)

Electricity
Cooking facilities
Beds Provided
Bed Linen Provided
Towels Provided
The secluded position of this yurt among the trees makes it a great place to relax in France's Midi-Pyrenees.
Stylish and comfortable handmade furnishings including real beds
Plenty of outside space including your own hammock
On-site facilities include a natural swimming pool and eco shower house in the trees
Book camping accommodation at Le Camp
This information was supplied by Le Camp
Our intimate woodland safari tents are a magical hideaway amongst the trees. With 16sqm of internal space, they make a wonderful retreat for a couple, or a great space for a family who want to share some quality time together. Each has its own shaded veranda with seating to enjoy a morning coffee or evening glass of wine surrounded by the sights, sounds and smells of the forest.
Le Camp is situated in the stunning South-West of France, a little off the beaten track, just an hour and a half North of Toulouse. Set amongst the trees, this is a true haven of peace and tranquillity and a safe place for children to run free and explore the campsite and make new friends.
The indoor/outdoor shower house - hand crafted using local wood, provides open-air showers: a blissful experience to awaken the senses in the morning!
There is a large covered seating area with an open fireplace for chilly nights. Adjacent is our outdoor kitchen where each tent is allocated its own cooking station with gas hob and fridge. There is an oven, dishwashers and barbecues to share.
The natural swimming pool has the purest water, and is 100% chemical free, filtered only by gravel and plants, ensuring you have a fantastic swimming experience. Dive in from the pontoon or float along whilst admiring the dragonflies which hover over the water, and the frogs which sit on the rocks surrounding the pool. The beach area of the pool provides a great spot for children to explore nature and paddle around in.
For those who wish to explore the surrounding region, the Aveyron valley offers a host of activities from hiking trails to mountain biking, and canoeing down the river whilst stopping off in stunning picnic spots along the way.
The medieval town of St Antonin Noble Val is a 15 minute drive from Le Camp. The village was awarded France's third favourite village in 2015, and was also the setting for Stephen Spielberg's 2014 movie "The Hundred Foot Journey", starring Helen Mirren.  Here, you, can lose yourself in the maze of ancient alleys and canals, have lunch or dinner in a gorgeous restaurant overlooking the river, spend a few hours browsing in local artisan shops and independent boutiques or enjoy the award winning Sunday market.
The beautiful fairytale villages of Cordes-Sur-Ciel and Najac sit atop nearby hills. The city of Albi - famed for its Toulouse-Lautrec museum and impressive cathedral also offers a plenty of culture and many streets to explore. Within the surrounding area, plenty of local markets with organic food make for a fun and exciting trip out. The area is well known for it's road and mountain cycling routes, hiking, canoeing and extreme sports.
Ultimately your holiday at Le Camp will be one of pure relaxation, with luxurious comforts, with peace and tranquillity guaranteed.
View Gallery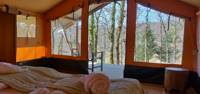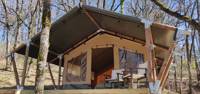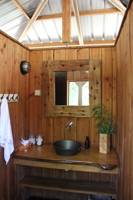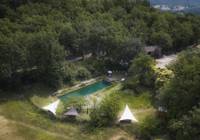 Search all availability at Le Camp
The most refreshing campsite pool you'll ever swim in, plus thoughtful touches of luxury throughout
Le Camp offers luxury camping, or glamping if you prefer!  It is a unique holiday experience. Here you will discover the thrill and adventure of sleeping under canvas without the discomfort of traditional camping. We offer the luxury of a hotel and the self-sufficiency of a private villa. Set deep in the countryside of South West France, a little off the beaten track, at Le Camp you will find peace and tranquility amongst the trees. Encounter nature in style in your own private hideaway.
Glamping Site Facilities
Seven tents, all with wide beds, solar lighting and, in all but the 2 woodland tents, dry composting toilets. Shower block with 3 shower rooms. Full range of kitchen appliances, crockery, utensils and condiments. Covered outdoor seating area with open fire place, a book exchange, magazines, games, power sockets, Wi-Fi. Free laundry. BBQ and salad/herb garden to help yourself to. The natural swimming pond is fully fenced with a safety gate. Pets are not permitted, but the site itself has two friendly dogs and cats, plus two handsome goats to feed (not to mention all the wildlife on site!)