Eco-friendly, off-grid, and utterly lovely – experience Yorkshire Dales glamping on a sprawling country estate
Over on the eastern edge of the Yorkshire Dales the countryside is less rugged and, dare we say, a tad more refined. Instead of hardcore hiking and hill-farming, think of glamping as rolling greenery, meadows and woodland – country-house country if you like, radiating out from well-to-do market towns like Masham. Swinton Bivouac fits these surroundings like a well-bred lady's glove, offering genteel outdoors' overnighting in a bucolic corner of the grand 20,000-acre Swinton Estate.
The glampsite is an enchanting location, set beneath a tree-shrouded, 18th-century folly known as the Druid's Temple. Here you'll find a scattering of fully furnished hillside yurts with see-for-miles views (each sleeping up to five), Robinson-Crusoe woodland lodges (sleeping up to seven), a bunkhouse (for up to eight) stylishly fashioned from former farm buildings, and a rustic-chic terraced café at the heart of the operation, the eponymous Bivouac.
It's so achingly cool it could have been constructed just for us – from the hand-built, round-wood beds, bunks and timber shacks (using materials sourced from the estate) to the wood-fired stoves and rocking chairs. Fixtures and fittings are handmade or recycled, from chunky, locally made ceramic crockery to wall mirrors fashioned from gnarled tree off-cuts.
There's running water in the yurts along with an attached toilet, plus gas-stove and terracotta "fridge". The lodges, meanwhile, not only have bathrooms with instant hot showers and flushing toilets, but also wood-burners with a kitchen range attached – it seems entirely in-keeping that you're encouraged to pop in a warming stew before you set out for the day.
There are some hardships – erm, let's see, you have to walk over to the café for internet access and the site is off-grid so don't forget your torch – but between a soak in the wood-fired hot tub (using their own eco-toiletry range, naturally) and a scenic stroll acround the stunning estate grounds, we'll think you'll manage.
Our Best Price Guarantee
We guarantee our prices at Glampingly are the same, or lower, than booking elsewhere. If not, tell us, and we'll match it or beat it. Full terms here.
Details
Facilities
Shacks have toilet, warm-water shower (if you light the burner) and sink; yurts and bunkhouse share excellent facilities down at the café and reception – 6 showers (including 1 disabled-access and 1 dedicated family shower, both with twin shower-heads) and 6 toilets (including 1 disabled-access). Site shop sells some food and supplies, but it's more of an organic chocolate, eco-toiletry, arty-crafty outlet. Hot-tub requires pre-booking (£60 for a day's use). Off-ground BBQs are fine, but no campfires.
Suitable For
Families, couples, friends, groups, weddings, walkers, basically everyone – yes. Dogs are not permitted. 
Nearby
To be honest, you might not even venture off-site, though brewery tours of
Theakstons
(01765 680000) and
Black Sheep
(01765 680101) in Masham are tempting. But with a tramp around the estate, a climb to the Druid's Temple, organized Bivouac art and craft workshops, artisan food and drink courses, and wine-tastings and music-nights in the café, there's not going to be a whole to lot of time to explore the nearby
Yorkshire Dales
(03004 560030). Should you wander further afield, though, Bivouac is enviably situated on the edge of both the Dales and the
Nidderdale AONB
 (01423 712950). Explore the Wensleydale valley, the balancing
Brimham Rocks
(01423 780688) and, of course, the famous
creamery
(01969 667664). The medieval ruins of the
Jervaulx
(01677 460391) and
Fountains
(01765 608888) Abbeys are a must see, with the latter a designated UNESCO World Heritage site. Nearby 12th century
Middleham Castle
(03703 331181) and the Wren-designed stately pile,
Newby Hall
(01423 322583) are also both well worth a visit. The area also boasts one of the UK's top amusement parks in
Lightwater Valley
(08717 200011).
Food & Drink
Yurt dwellers are free to self-cater, making use of the communal kitchen and Weber BBQ area. However, with the Bivouac's onsite cafe (open daily 9am–4:30pm, until 8pm at weekends) serving up delicious snacks and light meals, you could do a lot worse than this reasonably priced menu. Posh trip out is down the road for afternoon tea, lunch or dinner at Swinton Park (01765 680900) – estate HQ – which is an honest-to-goodness castle with grounds plus swanky cookery school.
Opening Times
The site and lodges are open all year. The yurts are only available March–October.
Why book with Glampingly?
Best Price Guarantee, with no fees
Instant booking confirmation
Trusted for over 10 years
A chance to win prizes in our regular competitions
The Owner Says
We have a picturesque spot on the Swinton Estate which is one of the most beautiful settings in the Yorkshire Dales. The 20,000 acre Swinton Estate stretches from the River Ure and charming market town of Masham in Wensleydale up to the moorland dales and the Yorkshire Dales National Park. We are also located in the Nidderdale AONB.
Accommodation
8 yurts (sleep up to 5 in 1 double bed and 3 singles), 6 lodges (sleeps up to 7 in 2 doubles, 3 singles), and an 8-bed bunk-barn. Check Availability
Location
Getting There
Bivouac Swinton is about 5 miles west from Masham, a charming Wensleydale market town renowned for its breweries (Black Sheep and Theakstons) and annual Sheep Fair. The villages of Ilton, Fearby and Healey are all a short drive/half hour walk away. The Bivouac is 30 minutes drive from the A1 and 8 miles north of Ripon. The nearest train stations are in Thirsk and Northallerton. If you would like to coninue on public transport from there than you will need to get a bus to Ripon, where you can hop onto a bus to Masham. It is also possible to get a bus from Richmond and Leyburn to Masham.
Why book with Glampingly?
Best Price Guarantee, with no fees
Instant booking confirmation
Trusted for over 10 years
A chance to win prizes in our regular competitions
Book glamping near Swinton Bivouac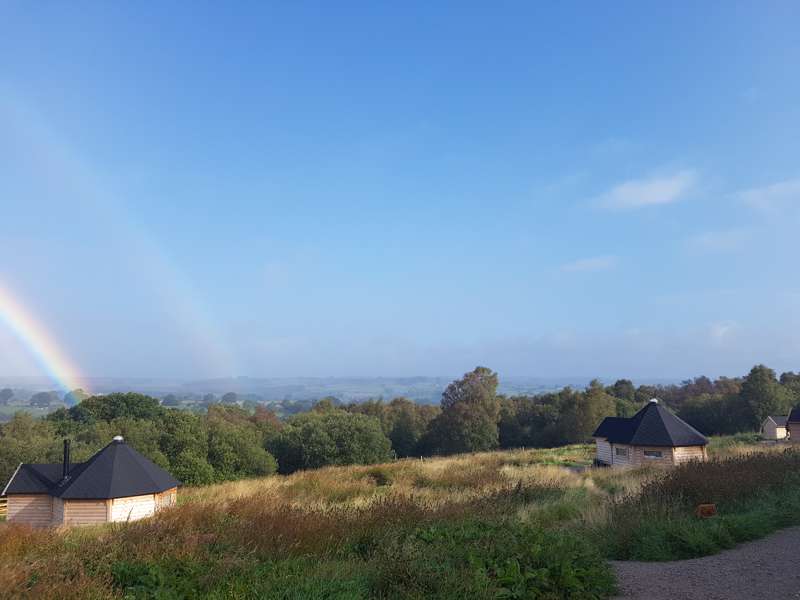 i
Glamping in Ripon
Glamping in North Yorkshire
Glamping in North East England
Glamping in England