Book campsites near Kentmere Farm Pods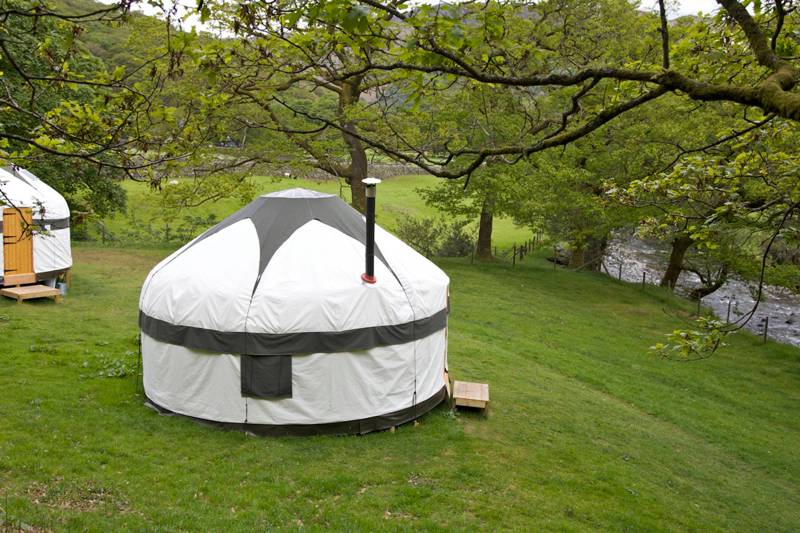 Glamping in Borrowdale
Glamping in Cumbria
Glamping in North West England
Available:
5 Yurt or Gers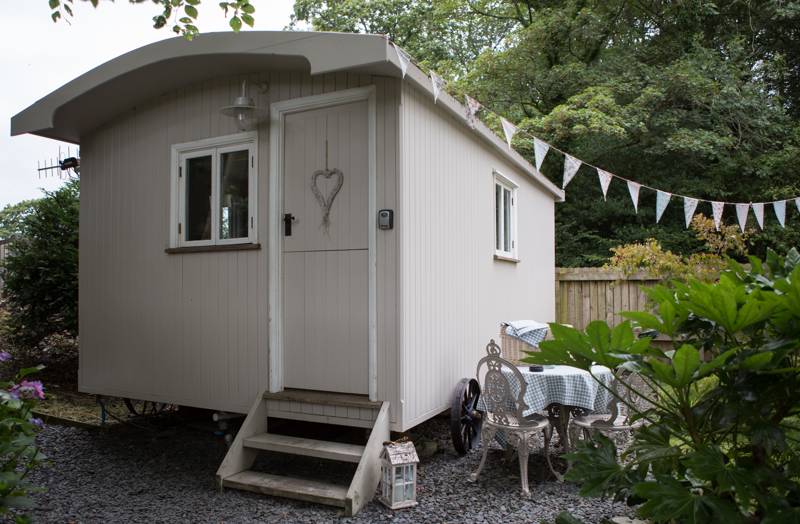 Glamping in Ulverston
Glamping in Cumbria
Glamping in North West England
Available:
2 Shepherd's huts
Modern glamping pods on a working South Lakes hill farm, with beautiful views down the Kentmere Valley
At the foot of the Kentmere Valley, Browfoot Farm is a paradoxical place. Sleepy yet busy, comfortable yet off-grid and relaxing yet thoroughly action packed, it is the sort of small-scale escape that encapsulates what the Lake District is all about. Spread across 500 acres, through which the River Kent gargles, the farm is home to Swaledale and Herdwick sheep, White Faced Woodlands, a clutch of Shorthorn cattle and a trio of ponies. Hens scratch around as you drive through the farm gate. It's like a caricature of farmlife, complete with old stone barns and the 1800s farmhouse. Even the wildlife appears on cue, as a heron rises from the riverside and glides away towards White Howe Wood in the distance.
Life at Browfoot Farm is far from twee, however. This is a Lake District farm in the 21st century. Beyond the barns and with a prized position with the best views down the valley, you'll find Kentmere Farm Pods – four family-sized structures, complete with en-suite shower rooms, compact kitchens and a sleeping and living space for up to four people. Two of the pods are dog-friendly and all four are well equipped for walkers and bikers, with boot boxes ready for your muddy footwear and a hose for washing down grubby bikes. Underfloor heating will help you warm-up after rainy days on the fells (the pub in nearby Staveley is also a nobly cosy affair), while picnic tables and barbecues await for sunnier climes.
When the weather is fine, the River Kent offers ideal paddling and dam-building opportunities for children, while walks along the riverside take you through oak coppiced woodland, once used for making bobbins in Staveley, a couple of miles away. Today the old mill yard there has been converted into a clutch of artisan shops where you can buy chutneys, fresh bread or draw a pint in the Hawkshead Brewery. It's a good place to stock up (on food, not beer) before hiking up a local peak: Kentmere Pike, Yoke, Capple Howe, Shipman Knotts and Staveley Head Fell are all within striking distance, to name but a few.
The river itself is a Site of Special Scientific Interest (SSSI) and attracts Dippers, Wagtails and other birds. Along with the rest of the farm it is managed as part of a Higher Level Stewardship scheme, which keeps nature at the fore. The uplands are managed to help with the natural regeneration of heather and sedges, as well as increasing the wild flowers and bio-diversity throughout the farm, and there's been a concerted effort in the last few years to plant native trees, creating areas of deciduous woodland in the valley. Already you can occasionally spot red deer on the higher land and roe deer in the woodland. Look out for the rare White Claw Crayfish that the river is home too, popularly seen on the old, stone, packhorse bridge down the lane (a fantastic spot for playing Pooh sticks!).
Details
Facilities
Each pod is fully insulated with underfloor heating and double-glazed, lockable French doors. There is 1 double bed and 1 double sofa bed, plus a compact kitchen area and an en-suite wet-room-style shower, toilet and basin in each pod. Bedding and linen is provided (duvets, pillows and blankets) and towels are available to hire. The kitchen has a fridge, microwave, toaster, kettle, crockery and utensils. There is also a kitchen table and chairs. Each pod has down-lighters inside, power sockets and external lighting for the decking area. Outdoor bistro-style seating and table are provided on the wooden decking as well as a picnic bench and barbecue (charcoal sold on site) on the stone patio. There are also boot storage boxes for each pod that double as seating. No WiFi (though good 4G coverage in the village, plus board games and books on the local wildlife to keep you occupied). Fire bowls available to hire. There is an area to wash bikes and they can be stored in a secure shed. The pods are on a working farm, home to sheep, cows, hens and ponies. 2 River Kent fly fishing permits on the land (stocked with trout), if you have a National River License and a rod please ask Kentmere Farm Pods for permission and where to go.
Suitable For
Glampers, couples, families, friends, and one well-behaved dog (in one of the pods called White Howe) – yes. Tents, campervans, caravans, noisy folk and stag or hen groups – no.
Nearby
Explore from the door with footpaths straight from the farm. Wander down the lane and play Pooh sticks from the old stone packhorse bridge, head off on the 3-river trail or try Alfred Wainwright's favourite walk: an epic 7-hour-long trek known as the Kentmere Horseshoe, which takes in Yoke, Thornthwaite Crag, Shipman Knotts, Mardale Ill Bell, Kentmere Pike, Ill Bell, Harter Fell (Mardale), Goat Scar, and Froswick. (Warning: it's one of the longest and most remote walks in the Lake District.) There is something for all ages and abilities, though, with particularly pleasant walking along the river valley. The ancient oak woodland along the riverside just south of Staveley was once used for making bobbins and is now home swathes of bluebells, early purple orchids and wild garlic (spot redstarts, flycatchers and great spotted woodpeckers). Head over the valley top with a round trip to Potter Tarn (3 miles) and Gurnal Dubs, just beyond, fantastic for wild swimming in summer (or very chilly dips in winter!), while, in the opposite direction, wallow in the river in Kentmere or paddle in the Kent near the pods. There are great biking routes, too, with some challenging rides over Garburn into Troutbeck and up Green Quarter, following old packhorse trails. In the Lake District more generally, all the larger lakes have boat hire – canoeing, sailing, windsurfing, rowing, kayaking and paddle boarding, with the nearest available in Windermere. Holmescales Riding Centre (01539 729388) and Larkrigg Riding School (015395 60245), both near Kendal, offer horse riding for all ages. For culture, Abbot Hall (01539 722464) in Kendal has some fantastic contemporary exhibitions or try the Brewery Arts Centre (01539 722833) for shows by local artists.
Food & Drink
It's a 5-minute bike ride (2 miles) is Staveley, a thriving village with shops and cafes on the main street. The old Mill Yard has been converted into a series of shops and outlets (including Wheelbase, the largest bike shop in the UK!) For an informal bite, try Wilfs Café (01539 822329; dog-friendly) – great for breakfasts, lunches and snacks – or, a few yards further, try More Artisan Bakery (01539 822297), with a hipster feel and a very cool vibe, serving coffee and, of course, heaps of bread and baked treats. It's a good place to stock up if you're heading into the hills. Out on the Main Street, Mr Duffins coffee shop (01539 822192) has great coffee, which is freshly roasted on the premises, while Café Eclec (01539 821393), not only serves soups, snacks and cakes but it also an antiques shop. If it's pub food you're after, The Eagle & Child (01539 821320) serves good ales and wholesome food, with a garden right next to the river for sunny days, while The Hawkshead Brewery (01539 822644; back in the Mill Yard) has a good vibe, brews its own beer on site, and has a large lounge upstairs serving tasty food. The village also has a Spar for groceries (there are larger supermarkets in Kendal), a Post Office serving sandwiches and bacon butties and a local butcher. For superb local produce, Low Sizergh Farm Shop (015395 60426) is well worth a stop. 
Opening Times
All year.
Location
Getting There
From the Kendal direction, take the A591 and look out for Staveley signposted on the right hand side of the road (slip-way-style junction; it's 2 miles after the Sizergh roundabout). Turn off here and follow this road through Staveley village, turning right for Kentmere just before the village hall (from the Windermere direction on A591, the turning for Staveley is on the left, beyond Ings, and takes you on to Danes Road; turn left for Kentmere just beyond the village hall). From the turning by the village hall, drive for 1 mile and the road turns right over a bridge. Ignore this and stay on the left hand side of the river. Go straight on up Browfoot Lane, keeping left of the river, for about 2 miles. The property before Kentmere Farm Pods is Goose Howe, 4 fields further, on the right, there's a sign on the right hand wall for Browfoot Farm. Turn in here. Down the drive, take a right in front of the two red doors, past farm buildings and left just beyond the grey barn.
Kentmere Farm Pods are extremely accommodating of anyone who wishes to travel by public transport and it is easily done. Staveley railway station is on the branch line that connects Windermere to Kendal and Oxenholme mainline station. It's around 50 mins to Kendal from Carlisle, 1¾ from Manchester, 2½ from Glasgow, 2¾ from Leeds and 3hrs to Kendal from London (though all times vary). You can take bikes on the branch line but you need to book in advance. It's a flattish, rural 2 miles from the train station to Kentmere Farm Pods. If you do arrive on foot or by bike, Kentmere Farm Pods will provide free towels and are happy to get groceries for you in advance if you give a week's notice. For other travel and general exploring, the 555 bus service runs through Staveley to Kendal or to Windermere, Ambleside and Keswick. Mountain Goat (01539 445161) is a private minibus service that can connect you from Windermere all over the lakes.
Reviews
Add Your Review
Rated ★★★★★ over 2 reviews
Just great best place ever for a peaceful rest
Clean,and safe the staff have worked very hard in these difficult times, everything you need,stay up late to watch the stars on a clear night its unbelievable,a magical place and lovely walks thank you regards
Response from Kentmere Farm Pods
Thank you for your lovely comments.  Really glad you enjoyed your stay.  The sky has been amazing - especially in August when there are so many shooting stars.  Hope to see you again.
Great stay
Cosy and comfortable pods, stylish and well-equipped with just about everything you need. Small fridge, kettle, toaster and microwave mean you can self-cater and the barbecue and (optional) fire pit outside are a nice extra. The farm is nice and quiet with only 4 pods so not crowded or noisy. Great views and scenery with farm animals/wildlife - loved the swallows swooping around and the free-roaming chickens. It's a reasonable walk to the village (main attraction - Hawkshead Brewery beer hall, also a play park for kids, and a chippy and coffee shop). The farm is a good base location for other walks and drives to Lake District destinations. Host provided plenty of useful information beforehand, and in a folder within the pod. Also took sensible Covid-19 precautions.
Response from Kentmere Farm Pods
Thanks so much Martin for leaving such a great review! Glad you enjoyed your stay and found the information folder useful - it certainly sounds as if you made the most of your time with us. Hope to see you again.