A converted, characterful and cool all-American yellow school bus within the South Downs National Park
Most of us like to take a souvenir home from our holidays and the Wimpory family from Sussex are no exception. The only thing is they don't like to do things by halves, so a holiday to them was travelling 14,000 miles through 20 states in a classic American school bus for a year. And that souvenir, well — you've probably guessed it. It was a big, yellow, dog-nosed bus that's now parked up on the Firle Estate in the shadow of the South Downs.
The Skoolie Stays bus is, in actual fact, not the same bus that carried the Wimporys on their travels. Getting a bus back to Blighty is a bit more complicated than stuffing it in your suitcase, but a year after their return they've managed quite a feat. They harnessed the energy and enthusiasm of their epic holiday so you can have your own; they managed to buy, ship, and transform a former Florida school bus into a cosy and cool place to stay.
The bus is kitted out for a family of four with a king-sized bed and two bunks. There's a log burner for chilly nights on board and comfy seating, too, as well as a kitchenette and bathroom. It's self-contained and stylish with plenty of playful touches from the penny-studded epoxy-resin counter to the self-built folding bunks and original American reg plate on the wall. Perhaps the best thing is it's still a working bus and while guests can't drive off in it, the buttons, dials, and levers are fascinating to see. Outside, fold-out stop signs are another reminder of its past but now there's a deck as well on its view-facing side.
Parked up on the Firle Estate near Lewes, the Skoolie Stays bus is 60 miles south of London and less than 15 from Brighton. It's a proven glamping hotspot and there are plenty of camping and glamping sites around here — but none are quite like this. You can walk straight up the hill and onto the South Downs Way and, within 10 miles of the site, you can visit Drusilla's Zoo Park, the charming town of Lewes, and art-filled Charleston House. The closest place to visit, of course, is Firle Place itself, the grand house at the heart of the estate you're parked on. It was recently the setting for a film adaptation of Jane Austen's Emma and its tearoom is highly recommended: a very English day out from an all-American base in the Sussex countryside.
Details
Facilities
The Skoolie has:
Master bedroom with a king-sized bed and plenty of storage.
'Murphy' style fold away 6ft bunk-beds for kids cleverly-designed to be easily hidden away during the day
Full kitchen with a gas-stove top, fridge, large sink and plenty of storage and surface space.
'American diner' eating area, made from the original recycled bus-seats and a proper school table.
Bathroom with fully tiled shower and a top-of-the-range composting toilet
Cosy lounge with a clean-burning log stove.
Plenty of USB electrical points – we have lots of solar power (6 panels, 2400W)
Super-cool driver's cab area with all the original buttons and levers
Side deck, accessible from bedroom, with 2 outdoor chairs so you can get make the most of the views.
We can also offer local partner discounts and hampers so that you can try all the delicious products and exciting activities available in the area.
Suitable For
Sorry, but we do not allow pets in the Skoolie Stays bus.




The Skoolie sleeps up to 4 people. The bunk beds are designed for people of maximum height 6ft and are a little narrower than standard singles. At least one member of your party must be twenty one (21) years or over and they must agree to be responsible for any loss or damage caused by any member of your party.
Nearby
Hikers and bikers will love our location in the South Downs. We are close to the Vanguard Way and the South Downs Way, as well as the coast. A short hike or bike ride will offer you fine views of the rolling hills and the white cliffs at Beachy Head and Seven Sisters Country Park, with far-reaching views of the sea in one direction and the Sussex weald in the other.

 

For those who prefer a cultural trip, nearby Charleston House, home to Vanessa Bell and Duncan Grant, shows fascinating insight into Virginia Woolf's circle and the Bloomsbury Group, while Firle Place will transport you effortlessly into Edwardian, Georgian, and Victorian times with their incredible exhibitions and tours of the house.




For those keen to relax, there are plenty of tea-rooms and antique stores in the local villages or Lewes, and we are surrounded by gorgeous pubs.

If you prefer something a little more adventurous, adventure lovers will get a kick from nearby paragliding experts Fly Sussex, who can take you into the Downs to catch a thermal. There are also plenty of kayaking and SUP opportunities at the coast or the local rivers.




Younger families will enjoy meeting the animals at Middle Farm and Drusillas Zoo, while older kids might enjoy a day at Knockhatch Adventure Park. Every age will enjoy a day trip to family-friendly Brighton of quirky Lewes, where they can enjoy all the attractions the city and town have to offer.
Food & Drink
The Ram Inn Firle is a beautiful, sixteenth century coaching inn, with a delicious menu full of local produce. The Cricketers Arms in Berwick is a picture-perfect flint-and-red-tile Sussex cottage pub, and  The Barley Mow in Selmeston, one of the oldest coaching inns in Sussex, is  a lovely family-run pub.
For those that like to cook at home, nearby Middle Farm has a great farm shop to stock up on the best local vegetables, meat, cheeses and all manner of other perfect Sussex produce.
Firle's Burning Sky Brewery offers great beers and wine lovers can find local award winning wines from locals vintners such as Breaky Bottom and Ridgeview.
Our favourite teashops are the gorgeously cute Beanstalk Cafe and Firle Place tearooms, where you can pretend you are in the film Emma (which was recently filmed here!).
Open
All year.
Why book with Glampingly?
Best Price Guarantee, with no fees
Instant booking confirmation
Trusted for over 10 years
A chance to win prizes in our regular competitions
The Owner Says
Skoolie Stays is an icon of the American road, lovingly converted into luxurious accommodation in Sussex. It offers up to 4 guests a chance to stay in fantastically unusual accommodation in a beautiful part of Sussex and the South Downs National Park.
The bus was inspired by the owners' 14,000 mile, year-long family road trip across America in a similar Skoolie. They fell in love with bus life and, when it came time to return to the UK, the whole family agreed - they had to ship one back to the UK.
The Skoolie Stays bus is a product of the knowledge and skills they developed over their year away, full of clever ideas and hand-built, design-led decor. Every element has been thought out in detail to maximise space, comfort, freedom, and fun. You will find lots of original features, repurposed and reimagined furniture, and top-of-the-range fixtures and fittings that help to make off-grid living comfortable, practical, and environmentally friendly.
Skoolie Stays comfortably sleeps up to 4 people in a king-size bed (2 guests) and 6ft murphy-style bunks (2 guests) that fold away when not in use. The kitchen provides plenty of space to cook and the American-style diner area, complete with the original bus seats and incorporates an old teak table from a local secondary school, is the perfect place for a meal. Oak herringbone floors, leather sofa, and a clean-burning log stove make the lounge area feel cosy and luxurious and the fully-tiled bathroom offers lovely hot showers.
The Skoolie is based on Firle Estate in the heart of the South Downs National Park, 20 minutes from Brighton and only 60 miles from central London. We are also just a short distance from Newhaven Port, making this the perfect rural idyll for a staycation or a cross-channel holiday.
The site has easy access to the South Downs Way, the coast, and the villages of Firle, Alfriston, and Alciston, where you can find lovely pubs, tea-rooms, shops and restaurants. There is also the opportunity to visit Firle Place, the private home used as the backdrop for the recent blockbuster, Emma; or Charleston House, the meeting place of the famous Bloomsbury Group.
Accommodation
One all-American school bus, sleeping four.
Skoolie Stays American school bus
Sleeps 4 (king size bed + bunk beds for two at 6ft height max), full kitchen and bathroom, log burning stove, dining area, stunning countryside location, original features and design-led decor
---
Check Availability
Extras
Firewood bundle
We leave you a small amount of firewood to get the log-burning stove going, but if you plan on spending a weekend curled up in-front of the glass-fronted stove, this bundle of locally-sourced firewood, kindling and fire-lighters will be the perfect addition for your stay.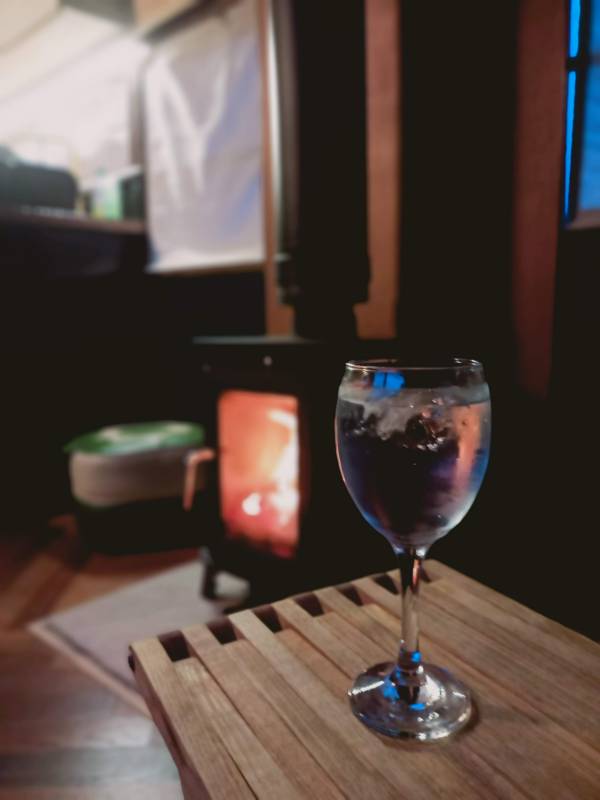 Ice
We can put a big bag of ice in your freezer so that you can have cold drinks whenever you want them.
Location
Getting There
Skoolie Stays move around the Firle Estate. All of our sites are chosen because they are within a few miles of beautiful villages, gorgeous country pubs and wonderful hikes on the South Downs. They also have lovely views and provide a fantastic rural escape. We will send out full details about your exact location a couple of weeks before your booking.
The closest station is Lewes. Buses between Lewes and Eastbourne stop on the Firle Road. 
Why book with Glampingly?
Best Price Guarantee, with no fees
Instant booking confirmation
Trusted for over 10 years
A chance to win prizes in our regular competitions
Book campsites near Skoolie Stays