1946 Spartan Manor
Hazlegrove Farm, Ashey Road, Ashey, Isle Of Wight PO33 4BD
Sleeps 2

(max 2 adults, 0 children)

Electricity
Cooking facilities
Beds Provided
Bed Linen Provided
Towels Provided
A vintage Airstream offering a taste of 1940s America, parked up on a well-established glamping site on the Isle of Wight.
A refurbished 1946 Spartan Manor Airstream sleeping two (bedding provided)
Cooking equipment and facilities inside, BBQ, log burner and picnic table outside
The oldest of 13 gleaming Airstreams in a large field surrounded by countryside
Book camping accommodation at Vintage Vacations
This information was supplied by Vintage Vacations
Our most vintage van ….. and very special we think!
23 feet : Sleeps 2 /1 double
On board facilities include:
Full size cooker and fridge (fridge has small icebox freezer)
Table and Chairs and 2 armchairs
Cocktail cabinet – BYO Cocktails!
Positioned on site to give more privacy for couples – away from family caravans and on the end of a row
What to expect from all our classic American caravans
All bedding, linen, towels and tea-towels included.
Services – water, certified gas, electricity via regular caravan hook-ups
Heating – electrical fan heaters – trailers are well insulated and heat up well but do bring warm PJ's and your slippers for cold weather!
Bathroom facilities – Hot water showers and a bathroom sink – toilets are not on trailers – we have a toilet facility on site (separate ladies and gents with extra showers)
Full size cooker and full sized fridge with a small icebox.
Kitchen facilities –  A full complement of equipment (including teapots and cafetieres) – you don't need to bring anything – just ask if there is something specific you would like to check.details. All crockery etc is basic and new so don't sweat the breakages!
Electrical supply is 110V with American plug sockets. All appliances are American (including hairdryers) and we will supply you with a travel plug for your phone, laptop etc. Some items cannot be used directly – Hair straighteners for example but don't worry – we can sort alternative power supply solutions for these if necessary.
Entertainment – Radios / CD players on board along with a selection of vintage board games
Outside your Airstream – all vans have their own picnic bench, a couple of classic deckchairs, log burner and basic BBQ
View Gallery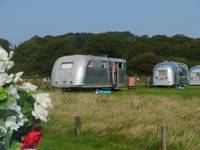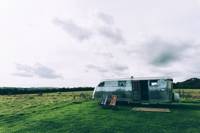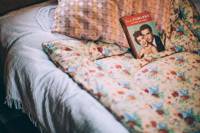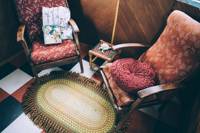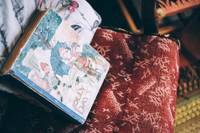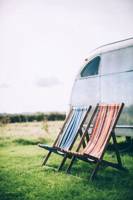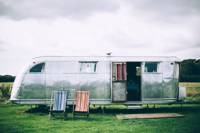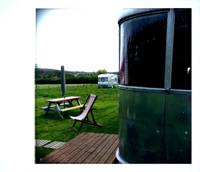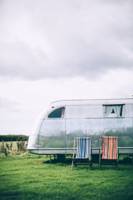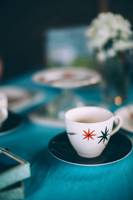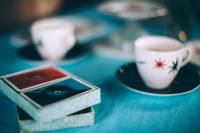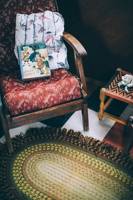 Search all availability at Vintage Vacations
If you fancy a real escape, then take a trip to another time and get retro, old-school cool in some classic Airstream trailers at Vintage Vacations
The Airstream an incredible feat of engineering and a joy to behold, with effortless, curved lines, a sparkle of silver and a spacious, luxurious interior. This is no ordinary caravan – it's style on wheels. The early riveted aluminium trailer was replaced by more modern motorhomes from the 1980s, but the sturdy construction and timeless design of the original has led to a renaissance for these classic caravans. They've gradually been appearing in trailer parks and movie sets in the States in recent years. Perhaps more unexpected is to see ten particularly fine examples in a small field near Newport on the Isle of Wight. This is the home of Vintage Vacations, brainchild of photographer Frazer Cunningham and stylist Helen Carey. Their love for all things retro compelled them to import initially just two of these beautiful caravans, a 1965 Tradewind and a 1971 Safari.  Now, however, there are fifteen trailers and caravans of varying sizes, forming a unique vintage 'caravan park' and a memorable way to spend a week or so on the Isle of Wight.

Glamping Site Facilities
Each airstream has a fridge, cooker, toaster, well-equipped kitchen, shower/bath (there's a shower in the airstream and a separate shower and toilets in the adjacent farmhouse), linen and towels, radio, CD player, hairdryer, Fuzzy Felt, Tiddlywinks and a picnic bench, sun loungers and BBQ outside. Shop-in-a-shed – bits of vintage, handmade tea-cosies and the like. Breakfast packs and speciality bakes available to order in advance and free-range eggs available on the farm. Badminton net, bats, balls and games available to borrow. Check individual units for more specific details on each Airstream.