Book campsites near The Goods Shed Showman's Wagon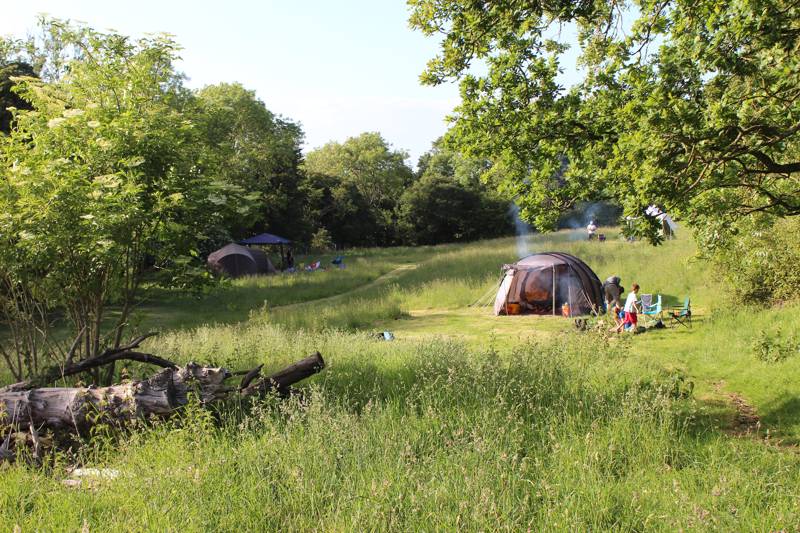 Campsites in Ashford
Campsites in Kent
Campsites in South East England
The Goods Shed Showman's Wagon
Fully restored 1930's Showman's Wagon, with a countryside setting and a deep-rooted connection with all things local
The folks who founded The Goods Shed, one of the South East's most renowned indoor markets, certainly know a thing or two about breathing life back into old spaces. Since it opened back in 2002, the "draughty old railway goods shed", as The Guardian once described it, with its high ceiling and "vast Victorian windows" has been the talk of Canterbury town and is now home not only to a famous array of artisan food producers, procurers and proliferators, but also a multi-award winning restaurant. It's no surprise, then, to learn that their first foray into the world of glamping offers quality and history in equal measure. No surprise, either, that it's set for similarly great success.
Set around 10 miles from Canterbury, on the edge of the Kent Downs, The Goods Shed Showman's Wagon is a wonderfully preserved and restored 1930's travellers dwelling. Inside it still features original gaslight fittings and a log-fuelled range, while the dark wooden finish and patterned windows cement its 30's era feel. An old-style kettle waits to be boiled on the hot plate, a simple pleasure that invites you to cocoon yourself away for hours here in winter months, while during summer, it's the gorgeous setting that excites. Apple trees shade the outside water tap, chickens cluck along the edge of the nearby hedgerow and, from your perch sitting in the Wagon doorway, glampers have a beautiful view across the meadow, shared with six grazing Southdown sheep.
Poor weather pastimes here are one of the pleasures of this cosy heritage abode. Kicking back on the antique patterned sofa with a good book, stoking the toasty fire or lying in the double bed listing to raindrops on the roof are all a joy, while a drive to Faversham (four miles) reveals a slew of antiques shops you can dip in and out of with Canterbury's famous cathedral not too far beyond. On fair weather days, punting is one of Canterbury's great highlights – tours are available as well as hiring your own punt to test your skills – while romping across the local footpaths from the Showman's Wagon is an easier outdoor option. Directly opposite a small dairy farm, the open, agricultural surroundings offer excellent footpaths and wonderful access to the best of the Kent Downs. It's a Showman's dwelling with a doorstep onto the best of Kent and a place where the county's 'Garden of England' title makes total sense.
Details
Facilities
The showman's wagon is fully restored and is well insulated for winter. There is a wood-fired range oven (for heating and cooking on the pate), gas lights and 240v electricity. Cooking utensils, bedding, towels and so on are all provided, as is an electric kettle and bluetooth speakers. It has a small bedroom with a double bed, though there is also room to set up a very small child's bed for those under the age of 5. A separate flushing loo, a shower and a basin with hot and cold running water is provided in a converted horse trailer about 20m away. A water standpipe is also provided next to the wagon. Campfires encouraged; firewood provided. A coal BBQ is available for use. The orchard field is also shared with 6 sheep, a horse and a few chickens; campers are welcome to collect their own eggs.
Suitable For
Glamping only, though, if you book the showman's wagon, an extra tent is permitted alongside for children to camp. No dogs allowed.
Nearby
The site sits directly opposite a small dairy farm and has easy access onto the footpaths and into the surrounding countryside for walkers. The beautiful medieval church next to the farmhouse is open at all times – stick your head in for a quick marvel at the stained-glass windows – and it's a short walk (10–15 minutes) to the local pub down an off-road farm track (see Food & Drink). It is 4 miles to Faversham, where there traditional market town has a fantastic antiques market on the first Sunday of each month. The rest of the time there are still plenty of independent shops, also with a focus on antiques. Whitstable, where you should walk the West Beach and explore the famous alleys, and Canterbury, home to a historic cathedral (01227 762862) and ruined castle (01227 378100), are around 10 miles away apiece, too.
Food & Drink
The Showman's Wagon is owned and run by The Goods Shed (01227 459153), a nationally-renowned local food market and restaurant a few miles away in Canterbury. Take a drive down there to check out their award-winning market for yourself. Stock up on cheese from Canterbury's finest artisanal cheese makers, slow-proved breads from Enzo's Bakery, specially chosen wines and spirits, along with farm produce and fish from the Kentish shores. Of course, as a guest in the showman's wagon, they can also arrange a table for you in the restaurant and food hampers can also be provided on request and delivered to the Wagon. You can also walk the 15 minutes to The Red Lion (01233 740309), the most local pub, with a friendly atmosphere and traditional pub grub.
Opening Times
All year.
Location
Getting There
The nearest main railway station is in Faversham (
0845 748 4950
) 4 miles away.