Dog friendly yurt
The Fir Hill Estate, Colan, Newquay, Cornwall TR8 4NB
Sleeps 6

(max 6 adults, 5 children)

Cooking facilities
Beds Provided
Bed Linen Provided
Pet Friendly
A traditional dog friendly yurt, tastefully decorated and includes spacious accommodation.
Proper double bed for a good nights sleep
Kitchen area with running water and coffee making facilities
Private outdoor seating area with BBQ facilities
Book camping accommodation at Real Glamping at the Fir Hill
This information was supplied by Real Glamping at the Fir Hill
Virtually identical to traditional (standard) yurts allocated exclusively for you to enjoy with your beloved family pet.
Our yurts are available to book for one week stays throughout the year. A minimum of 7 days are required for a booking.
 With a total floor space of 34.4m2 the standard yurt provides very spacious and comfortable accommodation for guests.
Each yurt has the capacity to sleep up to 6 people comfortably. One kingsize bed and two double beds are standard in each yurt.
Each yurt has its own private area with a deck, BBQ facilities, outdoor seating and a food preparation area are provided a short distance away, together with a wood supply and fire lighting equipment.
Kitchen areas include a gas stove, cool box, pots and pans, running water as well as tea and coffee making facilities.
Crockery, cutlery, glasses, cooking pots and utensils etc are also provided. We also will provide a squirrel proof box for food storage.
Food can be ordered online and delivered from a local supermarket. Also the site is within range of Newquay's various takeaway facilities.
Please note that we are not licensed to supply alcoholic drinks although you are very welcome to bring your own.
Wifi is available in the area around the Barn and Cowshed.
All linen is provided.
View Gallery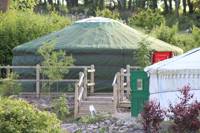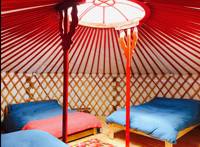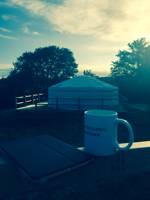 Search all availability at Real Glamping at the Fir Hill
Family-friendly yurt glamping on an enchanting old Cornwall estate just three miles from the surf and sand of Newquay
As a Glamping site, Real Glamping is unique in that it is totally off-grid. All the lights, WiFi, showers are run from sunlight and logs !
Nestled in the beautiful woodlands surrounding the Porth Reservoir 3 miles from Newquay,with stunning views and 62 acres of historic Estate to explore, this is a total escape from the pressures of 21st century living. Whilst we do provide access to a fast wifi connection, there are various onsite facilities at your disposal which will allow you to enjoy your stay at a slower, more relaxed pace whilst still enjoying the benefits of our amazing leisure areas and contemporary wet rooms.
Glamping Site Facilities
Yurts sleep 6 each, in a king size bed and 2 doubles (all bedding and linen included). Each yurt has its own kitchen shelter, terrace and BBQ facilities, together with a wood supply and fire lighting equipment. Kitchen areas include a gas stove, running water, cool box, pots, pans, tea and coffee making facilities, crockery, cutlery, glasses and all the utensils you need. Beautifully converted cowshed housing 8 showers and 8 toilets as well as a large leisure area to relax in. Covered barn area for reading, meditating, yoga or simply enjoying some quiet time. Multiple sun terraces. Wifi is available in the area around the barn and cowshed (as well as some of the yurts nearest these buildings). Rinsing water tank for cleaning wetsuits. Television available for children on rainy days. For maximum luxury, book the honeymoon yurt, which also features beautiful wood carvings and has a few extra inches of height.