Free Range Escapes
Cornish Tipi Holidays, Tregildrans Quarry, Trelill, St Kew, Bodmin PL30 3HZ









This information was supplied by Free Range Escapes
The Owner Says
Escape to the beautiful wilderness of the North Cornish coast, close to Port Isaac & Polzeath. Stay in a handcrafted shepherd's hut with curved ash beams & Windy Smithy wood burner on a converted railway line. You can relax in total privacy with only the local cows for company. You can explore the nearby woods, go swimming, fishing & boating on the magical freshwater lake. A perfect break for couples or a solo traveller wanting to unwind.
The shepherd's hut is based at Cornish Tipi Holidays/Weddings also known as Tregildrans Quarry. The site is unique. A woodland valley folded around a clear, spring-fed lake created from the old quarry. The hut is at the top of a 'secret' 20 acres, clothed in ferns and bluebells, oak and meadowsweet. Undisturbed by modern agrochemicals and herbicides the natural ecosystem has flourished, providing a thriving habitat for flowers and butterflies, birds and mammals.
It's a place a world apart from the rush and clutter of the modern holiday experience, with an atmosphere that makes you forget the world outside, and just lounge, ramble, or potter about in a boat.
The Shepherd's Hut itself is situated in a recently reclaimed part of the site on the old railway line which was taken out in the 60's, and reclaimed by nature until now!
Guests will have full access to the whole site & all its facilities: 20 acres of woodland to explore and a freshwater lake to swim, boat and fish in, as well as your own secluded garden space complete with an open fire and garden furniture.
The shepherds hut has its own private composting loo and wooden shower shed (made partly from recycled pallets) both outside. You are of course allowed full access to any of the other loo/shower blocks on site.
There is also electricity! Solar powered lights & sockets make it easy to charge items or read a book after the sun goes down. However please be aware that the electricity system in the hut can only take up to 300 watts. This means it is fine for charging phones, cameras, laptops etc but unless they are low wattage (most aren't) hair dryers, hair straighteners & electric kettles will trip the system. Anything that requires a huge amount of electricity i.e. heating devices, please do not use.
The aim is to have created a space which makes you feel like you are out in nature & the elements, but with more comfort than basic camping.
For updates check "Free Range Escapes" on social media.
Gallery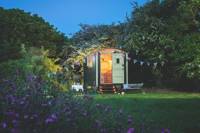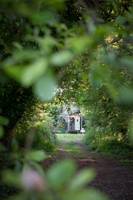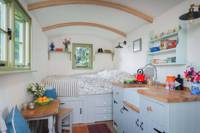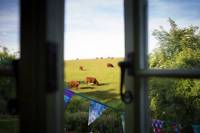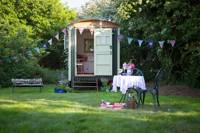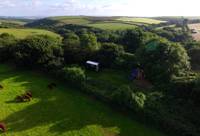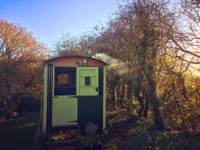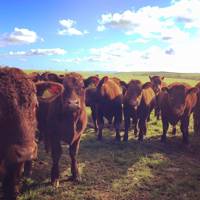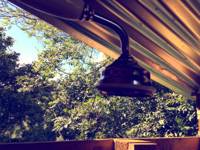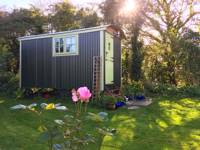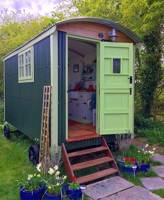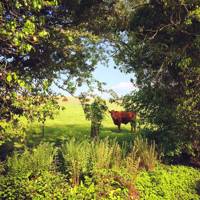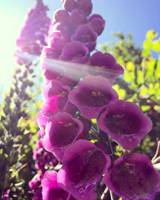 Book glamping near Free Range Escapes