Book glamping near Dome Garden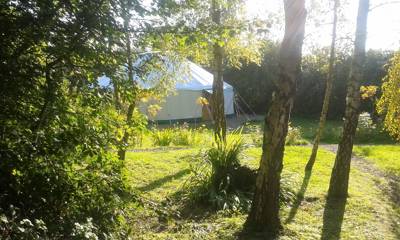 i
Glamping in Gloucestershire
Glamping in South West England
Glamping in England
A glamping experience like no other. With one of the UK's best woodlands through the garden gate.
Ten geodesic domes have sprung up in the garden of a former dilapidated Forestry Commission lodge, now ultra-modern wooden home-cum-breakfast-bar-hangout. And, as the years go by, like the ancient trees in the forest surrounding the garden, this place is blooming into something magnificent.
Owner Jonny and his family were dedicated tipi-campers, until one winter they made a snow dome that could sleep 10 people. When it melted, they decided to invest in some permanent structures, and the Dome Garden was born.
The garden already has a supremely sociable vibe, with kids making friends on the rope swings, in the tree house or running out into the forest. The ever-growing willow tunnels and clever-landscape gardening allow plenty of space for privacy, but by night-time, once the pizza oven is lit and everyone's making their own creations, even the most hermit-like campers will find it hard not to join in.
Yes, this is glamping on a grand scale. But if you're no fan of the outdoors and open fires, do not apply. Wood is used for cooking or heating, from simple stick-heaters – yes, you feed a tiny fire sticks beneath a kettle for your morning cuppa – to the garden's log-fuelled central firepit. There are so many innovative yet simple touches here that you'll be hard-pushed to find anywhere else like it. Lime-green AstroTurf carpets your dome, kids sleep in hanging pods and there's an ambient light… just see what colour your dome glows after dark. Kevin McCloud would comment that this place is, indeed, a work of grand design.
Please note - arrival days at Dome Garden are Friday and Monday only.