Book glamping near Dome Garden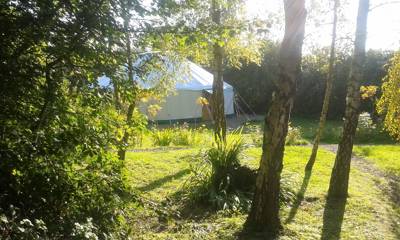 i
Glamping in Gloucestershire
Glamping in South West England
Glamping in England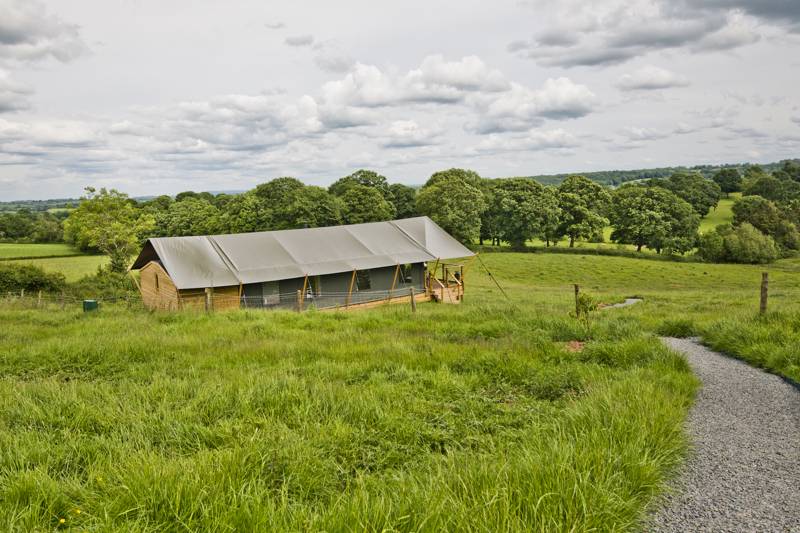 i
Glamping in Herefordshire
Glamping in West Midlands
Glamping in England
Available:
1 Safari tent
1 Pod
A glamping experience like no other. With one of the UK's best woodlands through the garden gate.
Ten geodesic domes have sprung up in the garden of a former dilapidated Forestry Commission lodge, now ultra-modern wooden home-cum-breakfast-bar-hangout. And, as the years go by, like the ancient trees in the forest surrounding the garden, this place is blooming into something magnificent.
Owner Jonny and his family were dedicated tipi-campers, until one winter they made a snow dome that could sleep 10 people. When it melted, they decided to invest in some permanent structures, and the Dome Garden was born.
The garden already has a supremely sociable vibe, with kids making friends on the rope swings, in the tree house or running out into the forest. The ever-growing willow tunnels and clever-landscape gardening allow plenty of space for privacy, but by night-time, once the pizza oven is lit and everyone's making their own creations, even the most hermit-like campers will find it hard not to join in.
Yes, this is glamping on a grand scale. But if you're no fan of the outdoors and open fires, do not apply. Wood is used for cooking or heating, from simple stick-heaters – yes, you feed a tiny fire sticks beneath a kettle for your morning cuppa – to the garden's log-fuelled central firepit. There are so many innovative yet simple touches here that you'll be hard-pushed to find anywhere else like it. Lime-green AstroTurf carpets your dome, kids sleep in hanging pods and there's an ambient light… just see what colour your dome glows after dark. Kevin McCloud would comment that this place is, indeed, a work of grand design.
Please note - arrival days at Dome Garden are Friday and Monday only.

Details
Facilities
Rope swings aplenty, a tree house, feeding and wandering about with the chickens. And the forest is just beyond the fence, through a little gate, when you feel the need to leave your dome bubble and build dens galore.
All 10 domes sleep 2–6 people in pristine, ultra comfy beds with fresh linen. The en suite wet rooms have a shower and washbasin; the water is heated when you light a tiny wood-boiler. Each dome has a wood-burner. One dome has full disabled facilities. Natural food safes and a freezer is available plus a communal outdoor washing-up area. If you've forgotten anything, the chances are they'll have it for you to borrow, from sterilisers, high chairs, cots and chargers – and they'll all be modern and clean and lovely. Each dome has its own chiminea and stick stove for outdoor cooking, and at night the huge communal firepit provides a great focal point.
Suitable For
Families, couples, groups – yes. Dogs, tents, caravans, campervans – no.
Nearby
The Forest of Dean is at your dome-step, so there are numerous outdoor options. A 12-mile, circular cycle track runs past the garden gate. The Forestry Commission's Beechenhurst Lodge (01594 833057) has an outdoor adventure playground for young kids and is the starting point for the free Sculpture Trail. The Motiva climbing wall (01594 861762) is also based here, and anyone weighing over 20 kilos (approx. age 6 and above) can have a go at reaching the dizzy heights, £6 for 20 minutes.
Food & Drink
The Dome Garden has its very own, suitably cool bar that serves snacks, as well as a pizza oven; you can eat Dome Garden home-cooked breakfasts if you don't want to make your own. Coleford has 3 butchers, selling locally sourced meat, and the Crusty Loaf bakery (01594 832360) makes a delicious range of breads that include ancient recipes twice a week. The Severn & Wye Smokery at St Briavels (01452 76019) serves delicious locally caught fish and fish-and- chips; peek through a window to watch it being prepared. Three Choirs Vineyard at Newent (01531 890233) produces award-winning English wine. The Tudor Farmhouse Hotel at Clearwell (01594 833046) offers a decent kids' menu.
Opening Times
Most of the year and out of season by arrangement. Change over days are Monday and Friday ONLY
Family Friendly
If you leave your dome unzipped, there's a possibility of chicken poo on your pristine AstroTurf – perish the thought!
Location
Getting There
Detailed directions are sent with your booking confirmation. Don't follow your satnav once you get to Coleford, as they don't recognise the forestry track as a road and will direct you to the wrong side of the forest.
Take the train to Lydney, then CDS Taxis in Coleford know where to take you.  (01594 834834).