Book campsites near Badger Barn Yurt Retreat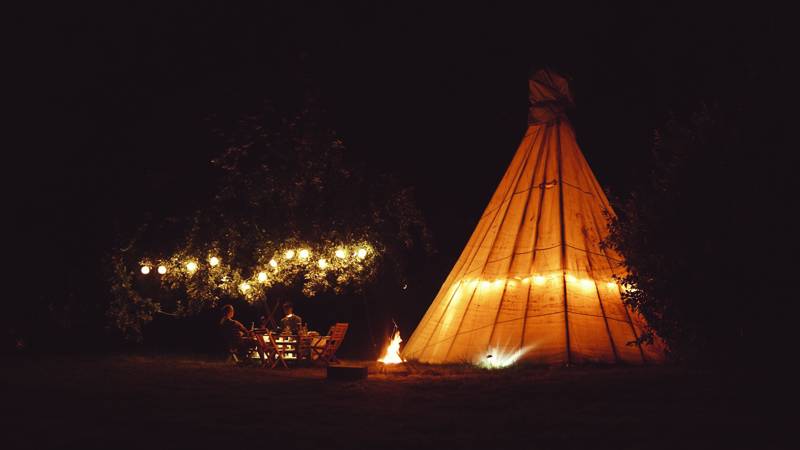 Glamping in Brockhampton
Glamping in Herefordshire
Glamping in West Midlands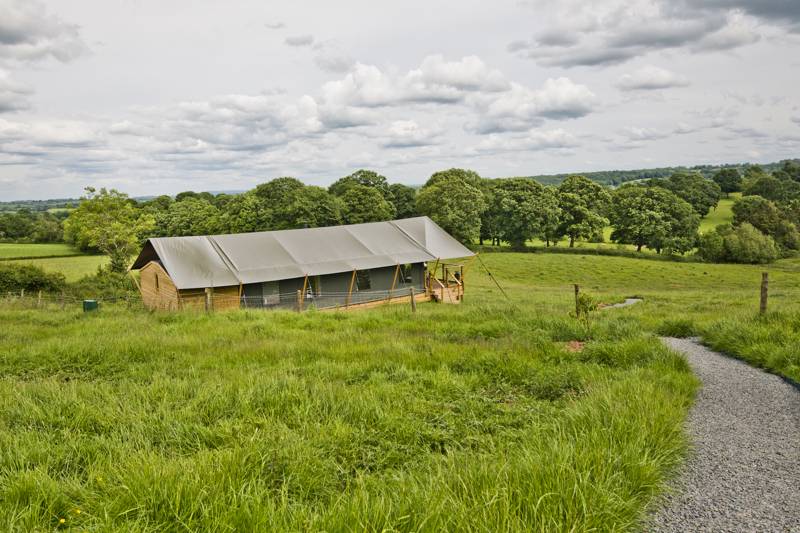 Glamping in Ross-on-Wye
Glamping in Herefordshire
Glamping in West Midlands
Available:
2 Pods
2 Safari tents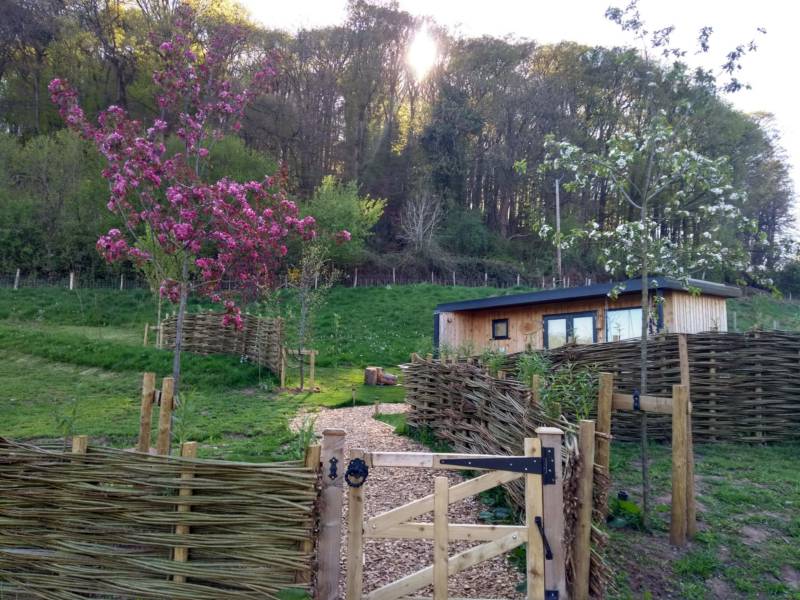 Glamping in Coleford
Glamping in Gloucestershire
Glamping in South West England
Luxury yurt glamping with hot tubs and massage treatments in a pretty, enclosed garden on the edge of the Forest of Dean
Ever since her arrival at this site on the edge of the Forest of Dean, Jules Heron has worked hard to protect and enhance its natural prowess. Amid rich greens and thick mature hedgerows, a labyrinth of paths and stone circles now weave, leading you around the glamping site she has created and revealing its incredible beauty. More than 1,000 trees have been planted in the last two decades and a series of smaller meadows are now accompanied by an orchard, a nut wood, an organic vegetable garden and a sunken, hidden garden. Dotted among it all are just five glamping abodes, each tucked in their own private eden. It's a truly magical place.
In essence, this lush, wild garden is really just an extension of the Forest of Dean. The rich woodland starts just metres away, at the bottom of the track, and the campsite is like a halfway-house between the untouched forest on one side and the farmland of rural Gloucestershire on the other. Its proximity to the forest also makes the place a boon for wildlife. There are frogs, dragonflies, owls, rabbits, shrews, buzzards, peregrine falcons, and a whole lot more. If you're particularly quiet you may spot deer flitting among the trees or even strolling right through the campsite itself.
The accommodation fits subtly amid the landscape. Comprised of yurts and nomad-style canvas tents, they are finished with the utmost attention to detail. Lanterns, rugs and quirky little bohemian touches create a relaxing interior, with comfy beds and sofas. The whole thing has a real affinity with the outdoors, with wood used extensively in many of the furniture designs, including the bedsteads and chairs, echoing the forest outside.
The proximity to nature is certainly a big part of the appeal here and was also the main reason that Jules moved here many years ago. The tranquil ambience allows for a real break from the daily grind, with the bustle of cities replaced by the rustle of leaves – all aided by the therapy options Jules provides. You can book a fireside massage or choose a treatment to enjoy in the comfort of your yurt, while two of the pitches – Glade Yurt and Bedouin Tent – each have their very own hot tub too!
Whether your venturing through the Forest of Dean and down to the banks of the River Wye (a gorgeous walk that you must do at some point during your stay) or sinking into the bubbles of the hot tub, this is a place where you can really kick back and soak it all in. It's as if every tree has been planted with a purpose – placed hither and thither to create individually enclosed gardens. Yet a real sense of wilderness rules, as if nothing was planted by man at all.
Details
Facilities
Yurts and tents are furnished with beds, bedside furnishings and lighting, wood-burning stoves, bedding, blankets and storage. Glade Yurt and Bedouin Tent both also have hot tubs. Facilities include a well-equipped kitchen, flushing toilet and electric shower. Another toilet and shower are in the pipeline for 2017. Visit in October to join in the nut picking. There's a whole range of treatments on offer from local folk. Get in touch with Jules in advance to arrange a treatment on site without you even having to leave the yurt: hot stone massage (£45), Thai massage (£60), and Personal Astrological Consultation (£60) among them.
Suitable For
Glamping only. Tents, campervans, caravans, dogs, noisy people and loud music – no.
Nearby
The Forest of Dean can be accessed at the bottom of the track. There's plenty of outdoor fun to be had, from walking and cycling – mountain bikes are available to hire locally (01600 891107) – to the more adventurous canoeing (01600 890883) and swinging around on the local Go Ape course (0845 094 9368). Badger Barn Yurt Retreat is 2 miles from Yat Rock, a local viewpoint, where you can see peregrine falcons nesting in the spring and summer. It's 6 miles to Monmouth and 10 to Ross-on-Wye, both with good weekend markets.
Food & Drink
There's a small local shop 1 mile away at Berry Hill if you need to stock up on supplies. For more variety, there's a supermarket and a choice of local bakers, butchers and a greengrocer 2 miles away in Coleford. The Crusty Loaf (01594 832360) makes excellent bread. The nearest pub is The Dog and Muffler (01594 832444) – a brisk walk across the fields or short drive – and the The Saracen's Head (01600 890435) is a tiny bit further but has a great location by the River Wye.
Opening Times
April – October.
Family Friendly
Location
Getting There
From the north, come down the M5, then the M50 to its end, onto the A40 past Ross on Wye, then take the second turning off for Goodrich, right down to the end of the road. At the T-junction, turn right, then left to Symonds Yat. Go over the iron bridge and up Symonds Yat Rock towards Coleford. At the hamlet of Hillersland, turn left immediately before the phone box on left hand side of the road, *and up a track that goes between houses, then through an iron gate, which then looks like it's going nowhere. Badger Barn Yurt Retreat is at the top of the lane - please park in the gravel car park on the right, and we'll meet you there.
From the south, come over the old Severn Bridge on M48, and through Chepstow, then turn left onto A4228 towards Coleford. At the roundabout, take the third exit onto A4228 towards Coleford, and at Coleford go through the traffic lights and straight on. Then take the right hand turn into The Gorse, towards Berry Hill. At the top, go right then immediately left into Grove Rd, signposted towards Ross, then left into Woodland Rd. At the phone box turn sharp right, then follow directions from* above.
The nearest train is Lydney (0845 748 4950), 10 miles away. The nearest bus stop is Berry Hill, 1½ miles away. It is possible to walk from here.
Reviews
Add Your Review
Rated ★★★★★ over 3 reviews
A touch disappointed
I will say the setting is lovely, really feels like you are in your own private wilderness. The owners are pleasant and it's a 2 minute walk to the heart of the forest. Facilities are a bit lacking though, peppermint yurt is listed as having its own private hot tub which is the main reason I booked. It doesn't. The gas stove leaked and the knob for what is essentially the grill caught light, I will point out though that the owners informed us of the leak on arrival, I would have said it was slightly more serious than made out to be. The bed frame has seen better days but the linens were clean and overall it was comfortable. Some little issues but some like the hot tub a bit more disappointing. Hope these issues are sorted as I would like to come back.
absolutely fabulous
Our stay at Badger Barn Yurt Retreat was amazing. The surroundings were so peaceful & we had the best weekend ever doing absolutely nothing. The tent was equipped with everything you needed & the bed was extremely comfortable. The hot tub was a real bonus too. Will definitely return soon :)
Was so hopeful
Sounded so lovely. Sadly I didn't enjoy my stay as much as I expected. Perhaps our snapshot of the site was unusual, I don't know. I found the tent to be beautifully furnished, and had what was needed, but being a vast area, was cold during our stay. No floor seal meant we had a few snail visitors too. There was a dampness too, which must be a practical problem for hosts and their lovely furniture/furnishings. Struggled to keep the area warm on 1st night. Main bed duvet was too thick/heavy for me, but understand it is to keep visitors warm - personal preference, hubby was fine. The toilet wasn't great during our stay, there seemed to be only one serving all? Bit smelly for my children and I. No one cleaned it during our short stay. Tap was broken and hosts had placed a water urn and cup in there to help, but was a tricky affair. We left a day early.