Stocklinch Shepherd's Hut
The Old Post Office, Owl Street, Stocklinch, Somerset TA19 9JG



This information was supplied by Stocklinch Shepherd's Hut
The Owner Says
Nestled at the bottom of a hill is Stocklinch, a peaceful Somerset village surrounded by farmland in the perfect position for exploring the gentle unspoilt south somerset countryside or for heading further afield to Lyme Regis & the Jurassic Coast for some sea air or heading inland to the Quantock & Exmoor Hills to experience Somerset's more rugged, wild side.
From the steps of the hut you can enjoy many gentle walks and cycles exploring the hidden sunken lanes and expansive views across Somerset. And in the immediate area there are many heritage properties and gardens including NT Barrington Court which is only a short walk over the hill. In this corner of Somerset there are numerous pretty Market Towns and welcoming pubs to explore and discover.
One of the very first things we did when we moved into The Old Post Office was to plant hundreds of trees in our field so you'll find the hut in a very private spot tucked away in about a third of an acre of orchard, surrounded by willows and other native trees & hedging. However we were careful not to plant anything that would get in the way of the wonderful uninterrupted views across the fields looking towards the Blackdown, Brendon and Quantock Hills with distant glimpses of Exmoor.
We regularly get excellent clear skies making this the perfect spot to take in the stars. And this being Owl Street, listen out for the hoots and also look out for the bats, badgers, hedgehogs, buzzards and birds who are all frequent visitors!
Our hut was lovingly and carefully built for us by Matt's brother, Jim, carpenter extraordinaire & perfectionist, who with some very clever design, in a space measuring just 7' by 15', managed to squeeze in somewhere for you to sleep, eat, cook and wash - amazing!
Your comfort is very important to us! So you'll find a super comfy mattress, feather divers and pillows, cotton bedding, cushions, blankets and lots of fluffy towels. And the hut is packed with all sorts of useful bits and bobs that you might need to make your stay even better!
Outside the wood-fired hot tub is perfect for an al fesco soak in the sun or under the stars!
We are only to happy to help if there is something you would like us to organise for you beforehand or during your visit to make your time here even better to ensure you enjoy a relaxing break and are able to appreciate the comforts the hut has to offer.
Gallery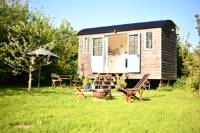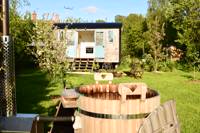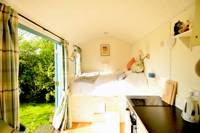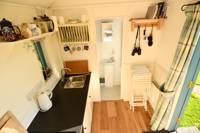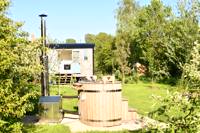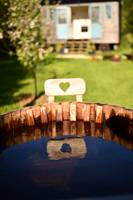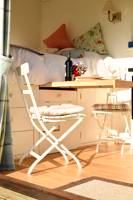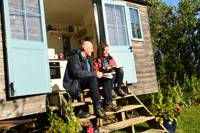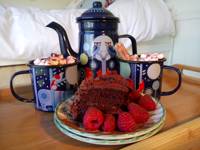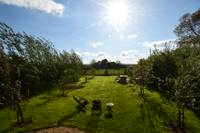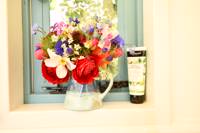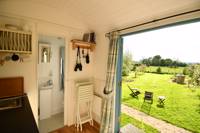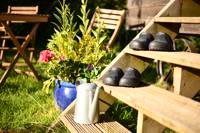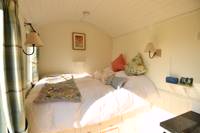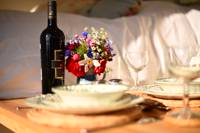 Book glamping near Stocklinch Shepherd's Hut