Sloeberry Farm Bell Tent 1
Sloeberry Farm, Blaenannerch, Aberporth Ceredigion.
Sleeps 4

(max 4 adults, 3 children)

Cooking facilities
Beds Provided
Bed Linen Provided
Pet Friendly
This simply furnished bell tent in a wildflower meadow offers a great base from which to explore the natural beauty of West Wales.
A five-metre bell tent with mattresses and bedding provided
Outdoor cooking equipment and fire pit for evenings round the campfire
One of nine tents in 13 acres of pasture and woodland that's open for exploration
Book camping accommodation at Sloeberry Farm
This information was supplied by Sloeberry Farm
Our traditional bell tents provide luxurious camping with proper mattresses, high-quality linens and coir floor matting. Bell tents are spacious and warm when zipped in, a selection of blankets are provided for colder nights or for sitting wrapped up in the glow of the fire with a glass of wine.
Cooking
Outside the tent on the decking is the cooking area with two high specification military grade gas burners and a trunk containing all you should need; cooking utensils, pots, pans, crockery, cutlery glassware and that very important cork screw.
Each bell tent is equipped with a cold locker which will keep items well chilled for a few days until you swap over the cold blocks (we provide frozen hot water bottles which do the job perfectly).
Just outside the the tent is a firepit and tripod, perfect for campfire cooking.
Relaxing
Each bell tent has its own picnic table, two deckchairs and plenty of grass for laying on during a sunny summer afternoon. As evening settles what better spot to sit by a crackling log fire whilst gazing at the stars across the immense West Wales night sky.
Sleeping
Each tent accommodates up to four people in one double bed and two singles, made up with superwarm duvets and cosy blankets. Made of thick, protective canvas, our tents keep the warmth in without shutting the sounds of nature out.
Essentials
At the bottom of the meadow are modern toilets and hot gas-powered showers, each hidden in a traditional-style hut built by a local craftsman. There is also a washing up area that looks like its grown from the gravel, this is also where you will find a tap for your drinking water supply.
FAQs
Do I need to bring sleeping bags and bedding?
We supply all bed linen but please do bring your own bath and beach towels. If you are bringing your pet with you, please also bring any towels or blankets that may be required for them.
Will I be warm enough?
Our bell tents are very luxurious, weatherproof, windproof and equipped with thick warm duvets and blankets but its still a tent, so if you're prone to feeling the cold pyjamas are good for bedtime and its worth packing a coat and a few jumpers just in case the British summer weather isn't so summery, layering is key...
Can I bring my dog?
Dogs are always welcome by arrangement at Sloeberry Farm, all we ask is you keep them on the lead at all times (it's a condition of our planning) and clean up all dog mess straight away so another guest doesn't stand in it.
Are the showers hot and what about the loos?
A hot shower is crucial after a day out on the beach, all of our showers supply a limitless amount of hot water (no putting 50p in a meter which runs out just when you have got your shampoo in) and all of our toilets are modern flushing variety.
Cooking do I need to bring pots, pans etc. and how do I keep things cold?
We think we have provided all of the crockery, pans, knives, spatula's, can openers, chopping boards etc. you need but if there is an item you can't live without its best to bring it from home. Each bell tent is equipped with a cold locker which will keep items well chilled for a few days until you swap over the cold blocks.
Can I have a campfire?
In our opinion campfires are a key part of camping. Not only do they offer warmth, and an atmospheric backdrop to an evening but they also provide plenty of heat for cooking. (We have lots of campfire recipes on request) Each bell tent has its own fire pit with access to a good supply of firewood which you can buy daily on site. Be it baking potatoes, toasting marshmallows or cooking a cowboy chilli, as the stars start to twinkle, the camp fire becomes the centrepiece of your evening.
We ask all guests not to collect any firewood from the ground as fallen branches and decaying trees help to maintain a healthy and vibrant ecosystem which enhance your interactions with nature, also its often really difficult to light and the last thing you want is to be standing around a smouldering smoky log rather than a toasty campfire. We source our camp firewood and eco logs locally from sustainably managed woodlands, you're welcome to bring your own or buy elsewhere locally; but if you order a firepit kit in advance it will be a little cheaper.
What about BBQs?
Sloeberry Farm BBQ's are available to hire for use with the Bell Tents, these are the only BBQ's we allow on site as they are designed to be safer in a glamping environment and are placed a set distance from each tent.
What about when we leave?
Departure is 10:00, please try and be prompt its uncomfortable for everyone having the cleaners hovering around. You will need to empty the bins putting rubbish into a waste bag and placing in a container, strip the beds, ensure the washing up is done and the BBQ is ready for the next guests, essentially leave it as you found it.
Is there electricity to power my hairdryer, straighteners etc?
Sloeberry Farm is a mains electricity free experience so as well as having slightly frizzy hair, there's no internet, TV, email or games consoles to be distracted by. Enjoy the experience of chatting to each other by lamplight, of long nights tuggled in a blanket lulled by the sounds of the logs crackling on an open fire, trying to spot a hedgehog snuffle by... (We do provide a couple of points where you can charge your phones if you really must, we're not complete luddites)
Do you supply fireguards?
No fireguard is 100% safe so we prefer guests to keep a close eye on their children around the fires and make sure they don't go too close, but you're welcome to bring one from home that you are familiar with.
What to bring
You should just be able to turn up and everything you need to have a great holiday will be there... but its worth bringing some wellies as dewy grass in the morning can be wetter than you think and no-one wants to start the day with damp trainers. The weather is British! So no matter what time of the year you're coming we recommend being prepared for rain and shine. Layering is the key. A hat is a good idea if you are planning to sit outside on an autumn evening. Hot water bottles, slippers or thick socks to keep your toes cosy inside the tent.
Bring a picnic rug if you fancy a picnic in the wild-flower meadow or by the stream.
A few extra torches are handy we provide lamps for the bell tents but there is no ambient lighting around the farm at night so a good torch is great for finding your way and making sure you don't step on a frog in your flip flops.
A couple of extra boxes of matches, someone always misplaces the lighters we provide and you don't want to be flameless as night draws in.
Evenings are longer without the distraction of TV and internet so some games to play as a family are always a good idea and bring along your favourite books to read by lamplight.
Food (obviously) and maybe some essential store items, salt, pepper, butter, oil if you are going in for some proper camp cooking, and maybe marshmallows for toasting on the fire. But don't go overboard the nearest supermarket is only 10mins away.
View Gallery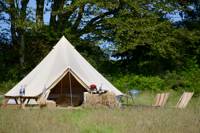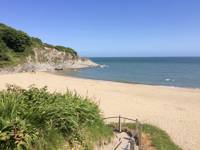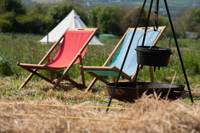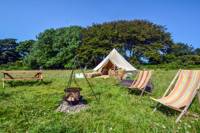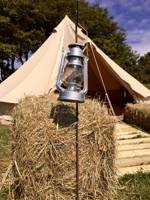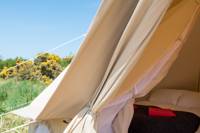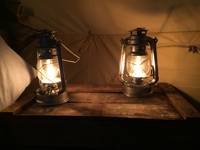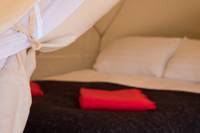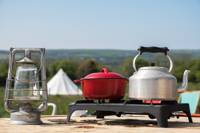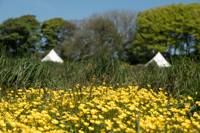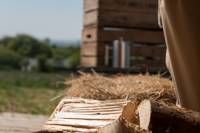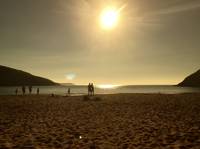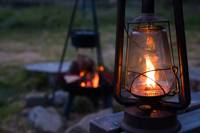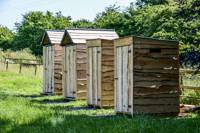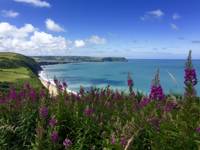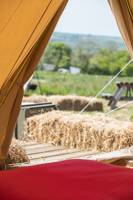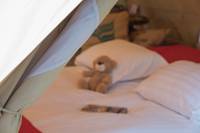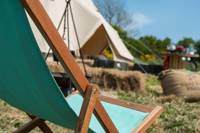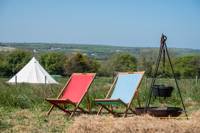 Search all availability at Sloeberry Farm
Glamping on a former farm and working mill with a private lake, plenty of space to explore and stunning views across the Welsh countryside
Sloeberry Farm Lodges and Bell Tents are located in 13 acres of pasture & woods, only 3 miles from the fishing village and stunning beaches of Aberporth and a short drive from the historic town of Cardigan.
Glamping Site Facilities
Bell tents contain real mattresses, duvets and blankets, gas hob cooking facilities, cold locker, kitchen equipment, firepits, picnic tables and deck chairs. There are modern toilets and gas powered showers housed in huts created by a local craftsman and a spacious washing up area. Canvas lodges sleep up to 7 people in a king bed, full size bunk beds, comfy camp bed and a king size cabin bed. They are equipped with leather sofas, wood burners, dining table and fully equipped kitten including cold locker. Each lodge has a private shower room and en suite wash room with basin and flushing toilet. On the deck there are deck chairs and bean bags. They have picnic tables, fire pits and a separate BBQ. Also, available for use is a fridge and charging points.