Book glamping near Wyldwoods Eco Retreat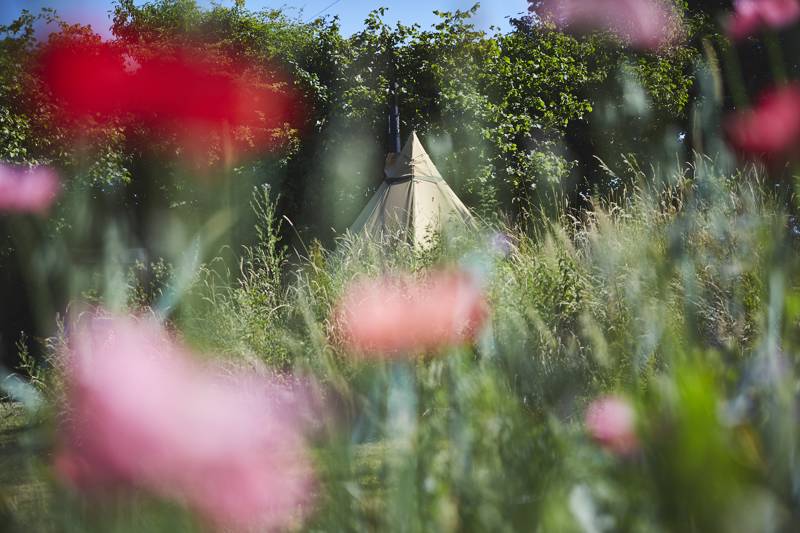 i
Campsites in Powys
Campsites in Mid Wales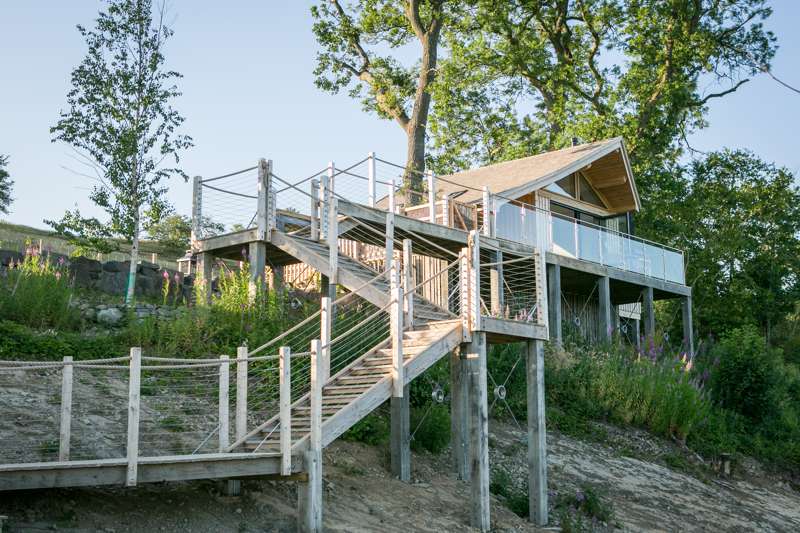 i
Campsites in Powys
Campsites in Mid Wales
Available:
2 Safari tents
1 Tree house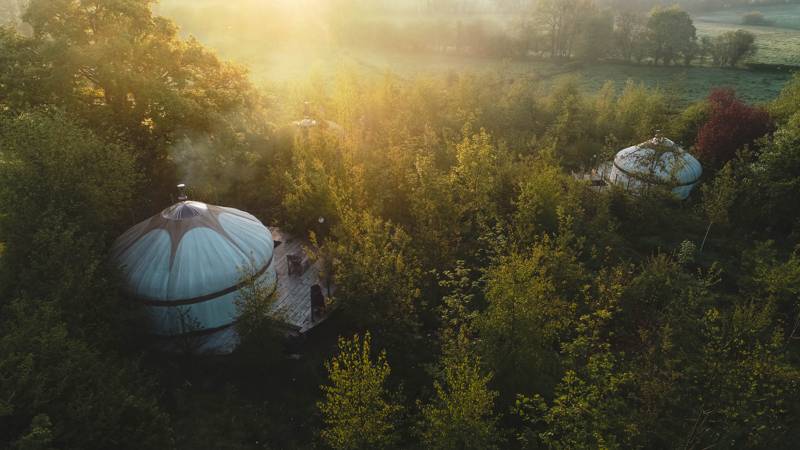 i
Glamping in Powys
Glamping in Mid Wales
Available:
3 Yurt or Gers
Two glamping cabins tucked in a vast organic gardens in the foothills of the Berwyn Mountain Range, Wales
It's fairly common to leave a holiday and feel you didn't quite manage to do everything – you can't visit every beach, walk every footpath or drink your way through every pub (though, you may certainly try) – but to leave a campsite and feel you haven't seen it all is quite a different matter. Somehow, however, this is exactly the aching feeling that follows you out the gate at Wyldwoods Eco Retreat. Like the proverbial giant onion, it is a multi-layered place with something new to discover every time you delve a little further. As if home to endless secrets, you can peek, poke and play around to your heart's content only to return again the next year and do it all again.
Originally a vast and well-manicured organic garden that was open to the public, three and a half-acre Wyldwoods was left to nature for several years before current owners, Dawn and Tony, took over. Through their hard work the garden has been crafted back into gloriously colourful shape, while an element of its newfound wildness has also been maintained. The result is like something out of Frances Burnett's The Secret Garden, a haven not just for humans but also for a wealth of native wildlife, with fledglings flittering between the thick, mature hedgerows and owls hooting in the night.
Nestled in two separate corners of the site – one on the edge of it's own private lawn, the other it's own terrace with views across the valley – two wooden glamping lodges are found. Both are kitted out for year-round glamping breaks, with a large double bed and wood burning stove that are perfect for bolting yourself away in the wilds of autumn, while outdoor furniture allow you to make the most of long, light summer evenings. Small attention to detail, like a supply of board games and romantic old-style lanterns, show the care that Dawn and Tony have put into the place, while their clear passion for the garden can be seen in the cabins' more decorative items – branches woven with fairy-lights and horticultural pictures on the walls. Each cabin even as its own potager of herbs and seasonal leaves to enliven your dinner.  
Keep an eye out for wildlife when you take off to explore the various terraces of the hillside garden. Nuthatches, woodpeckers and finches are all common here, nesting in the upper reaches of the grounds where trees back into Pant-Yr-Eos Forest, owned by The Woodland Trust and coloured by a blanket of bluebells in spring. Guests at Wyldwoods Eco Retreat have private access to the forest, following the path straight out of the garden. Or you can stay and roam the patchwork of herbaceous borders and colourful rhododendrons, or collect fallen branches for your outdoor chimenera from the mature terraced woodland, all accessed by meandering, cobble pathways. A small kitchen garden also bristles with organic goodness – Dawn and Tony will be pleased to give you a tour. Each and sell you some organic seasonal fruit and veg
With so many hidden corners to the site itself, three acres quickly feels more like three hundred and you could easily stay put without ever venturing to the Berwyn Mountains beyond. We do advise venturing forth at some point though – there's an entire world beyond Wyldwoods even if your nicely hidden away from it. Just remember, don't rush. You'll never feel like you've done it all.
Details
Facilities
Both the Terrace Lodge and the Cabin feature one large double bed, The Terrace Lodge also has a fold out bed for a child. All the beds have feather duvets and pillows and luxurious Egyptian cotton bedding. Each has a small wood burning stove and table, chairs, cushions and blankets. Romantic solar, candle, and fairy lights, for evenings and plenty of boxed games and books for cosy evenings in. Each cabin has its own table and chairs for al fresco dining, private gas BBQ, and wood fires chimera, plus pots of culinary herbs. The Cabin is decorated in a rustic style, Inside there is a small and impeccable kitchen, with sink, double hob, grill and fridge. There are all the cooking and serving utensils that you should need for cooking inside or in the private garden. The Terrace Lodge is more contemporary, with an outdoor decking area and floor to ceiling windows. It also has a fantastic, fully equipped decking kitchen covered by a large sail roof, complete with; sink fridge, double hob, oven and grill. There is a separate grassed area with chairs and Chimenea. Shower and bathing facilities in guest bathroom in house, Good quality towels are provided. An average amount of logs for each evening's fire is provided with each booking, additional bags of logs are available at £5.00 each. A welcome selection including organic tea, herb tea, coffee, instant and filter and milk is waiting for you on your arrival. 
Suitable For
The lodges sleep a maximum of 2 adults and 1 child. Small dogs are welcome at an additional cost of £7.50 each per night.
Nearby
It's 5 miles to the village of Llanrhaeadr-Ym-Mochnant (see food & drink), an excellent starting point from which to walk out to Pistyll Rhaeadr (01691 780392), a magnificent waterfall and the highest in Wales. It's around a 3 mile walk along the banks of the river from village to falls, though there is a road leading right out to the falls for a much quicker option. The Berwyn Mountains are nearby as is Lake Vyrnwy – encircled by a B-road that makes for excellent road cycling. To the north east, National Trust owned Chirk Castle and Gardens (01691 777701) is also well worth a visit – the drive takes around half an hour.
Food & Drink
Guests arrive to a welcome pack of milk, butter, orange juice, tea and coffee. The campsite is also 5 miles from the unspoiled village of Llanrhaeadr-Ym-Mochnant, with local food stores, a fish and chip shop, post office, traditional butchers, restaurant and no fewer than 3 friendly pubs – The Plough Country Inn (01691 780654), The Hand (01691 780413) and The Wynnstay Arms (01691 780210).