An innovative tent-cum-tree-house that offers both a unique camping experience and a wonderful location
Remember when you were young, carefree and charging around like a wild thing in the woods? And then you got that little bit too carried away and found your frisbee was stuck in the trees or your football wedged high amongst the branches? Well take that football, enlarge it into a bright and bulging sphere of wendy-house type proportions and you get an idea of what this weird and wonderful tree tent looks like.
Well… sort of. It certainly hangs among the branches like something only an overzealous human could have flung there, its bright turquoise exterior contrasting colorfully against the trees, yet this is far from a children's toy. Deep in the woods of mid Wales, overlooking a babbling, rocky brook, Red Kite Tree Tent is in fact a masterpiece of design and architecture, and a rightful show stopper in Channel 4's recent series of George Clarke's Amazing Spaces.
A combination of hybrid aluminum and steam bent, green ash, Red Kite Tree Tent's frame is suspended among native pines by unobtrusive metal wires. Initially it may sound a little daunting, as if you're dangling far from anything, but the tree tent also backs on to a large decking area with chairs, a table and an outdoor cooking space. Inside a main support pole is a shiny centre piece, surrounded by a plush double bed and a cosy wood burning stove, while the magenta lining gives a mature and cosy feel that seems to fit with the forest setting. There are few places that are as enjoyable to camp in when the weather is both good and bad but here a dodgy forecast is almost a pleasure: You can shut yourself away, stoke the fire and feel unbelievably cocooned, the wind making an accentuated rushing sound amongst the trees and the tent rocking gently within the air!
Though its innovative design could fill a book – or indeed a television show – Red Kite Tree Tent owes as much to its setting as to the structure itself. Down a seemingly endless single lane track, the site has an immediate sense of peace and isolation. It's a place to re-engage with the forested surroundings, dabbling around in the stream and simply enjoying the pleasures of having the vast 80-acre woodland entirely to yourselves. There's wildlife aplenty and, as the name suggests, red kites swooping overhead are not an unusual spectacle. To really get up close, though, it's a 20-minute drive to the Gigrin Farm Feeding Station – not to be missed.
Our Best Price Guarantee
We guarantee our prices at Glampingly are the same, or lower, than booking elsewhere. If not, tell us, and we'll match it or beat it. Full terms here.
Details
Facilities
Inside each tree tent there is a log burner, lights, a sofa that converts into a compact fish-eye-shaped double bed and prices include everything from tea towels and bath towels to bedding. There are logs for the fire and a mini welcome hamper when you arrive. Outside there are chairs and a table on the raised deck, plus a WC hut in the woods and a hot outdoor shower. Campfires and BBQs are allowed in the fire pit provided and there is a camping gas stove and a pretty well-equipped outdoor "kitchen" for your use.
Suitable For
Each Tree Tent, as well as the Conker, sleeps up to 2 adults and is glamping only. Kids over 10 are welcome (under 10 by prior arrangement),  but no pets, camper vans, caravans or tents we're afraid.
Nearby
Though you may easily see them circling overhead the private forest, the best place to watch red kites close up is at Gigrin Farm Feeding Station (01597 810243) near Rhayader. It's just under 12 miles from the campsite and is excellent both for seeing the birds and learning a bit more about them and the success of their breeding in Wales. The dams and reservoirs of the Elan Estate (01597 810880) are situated within an AONB a half hours drive from the site. As you approach the town of Rhayader you will see the road signs to The Elan Valley Reservoirs. Visit the coffee shop that's open seven days a week (10am–5.30pm) and take a scenic walk around the breathtaking dam. Try out some wild swimming at Pen-doll Rocks, Builth Wells: a lovely stretch of the Wye just outside Builth Wells with a variety of flat rocks and wooden planks that connect them and fairly easy access to the water - Just 7 miles from the site.

Visit

Henryhd Waterfall

, the highest fall in South Wales located in the Brecon Beacons. For Sea, beach and dunes Try Borth, just north of Aberystwyth on Wales' western shoreline. Heading north along the coastline through Borth itself until you come to the

Dyfi National Nature Reserve

. Great sand dunes to explore, with beach and water on each side. You can park up on the beach itself (£2 charge) and watch kite surfers and horses alongside ice cream vans and paddling children. Or for those more interested in the written and spoken word, try Hay-on-Wye's myriad second-hand bookshops, and The Willow Globe's utterly charming and unique outdoor theatre.



Food & Drink
It's a long-ish but pleasant 3 mile walk over the moorland and down the lane to the oldest pub in Powys, The Red Lion (01597 860204) at Llanafan-fawr, where there are real ales on tap and hearty meals on the menu. Nothing fancy but a real pub atmosphere – Wednesday night is the one for steak and wine! Be warned, it does close for a short while after lunch service and reopens in the evening. 4 miles away at Newbridge-on-Wye, next to the New Inn (and owned by the pub landlord; 01597 860211), is a rare breeds butcher shop. They have rather random opening times but if the pub is open (which it is at lunch and dinner Mon–Thurs and Sunday, all day Fri and Saturday) then ask at the bar and they will open the shop for you.
Opening Times
April – October.
Why book with Glampingly?
Best Price Guarantee, with no fees
Instant booking confirmation
Trusted for over 10 years
A chance to win prizes in our regular competitions
The Owner Says
One Forest - Two TreeTents. AND newly-landed this season is the startling Conker, a completely spherical UFO-type pod set high up above our own magical Red Kite woodland and enjoying breathtaking views of the surrounding moorlands.
Approached by its own fairy bridge, the Dragon's Egg Tree Tent (the red one) has two sweeping wooden decks so you should bring your own copy of Midsummer Night's Dream to declaim if that's your thang. Ynys Affalon (the green one) is the classic original, featured on George Clarke's 'Amazing Spaces', a rich verdant green orb, with opulent purple interior,  named after the Isle of Avalon in Arthurian legend. She remains welcoming and intimate, cradled like a barque in the breeze and is approached from the north part of the estate via her own private bridge.
Above the lusty shout of a vibrant  stream you can hear the harmonious Welsh dawn chorus. A twitcher's paradise, aesthetically rich, green and pleasant, this very special spot makes for an extra-special romantic experience, nestled in the canopy. Outdoor cooking, baked bananas, toasted marshmallows...sitting by the fire pit. What's not to enjoy? Piece de resistance under construction for the brave at Dragon's Egg  is the new log and rope bridge-short-cut to the glampaloo. It isnt only sheep here: you may see red kites and buzzards and owls and hares and wild rabbits and lots besides. You are located within striking distance of the Brecon Beacons and Hay-on-Wye (the world-famous town of books), and the western coastline of Wales, and close to Builth Wells and Llandrindod Wells. It is perfect for long countryside walks through forests and valleys, past waterfalls and mighty reservoirs, and for mountain biking, fishing, canoeing and just hangin'.  You can even invite your friends and keep it private by booking them into the gorgeous Red Kite Barn only moments away across the wooded valley.
Contact bookings@chillderness.co.uk or 07951 957 067.
Video Tour
Location
Getting There
The  Red Kite Tree Tents are located on the splendidly remote Red Kite Estate 4 miles from a village called Newbridge-on-Wye which is complete with well furnished post office for seriously spiffy ginger beer, blackcurrant cordial and other  Famous Five essentials [bacon, milk, fruit , cakes, and even wine sssh George] near Builth Wells and Llanafan-fawr. You will be sent an e- guide  once you've made your booking, which includes full detailed directions from Newbridge-on-Wye. When you do leave the main road  do remember that the single track path does go on for quite a bit, so don't give up – you'll be on the right track and the views are wonderful so enjoy! If you arrive at  the very local  pub ,
The Red Lion
 (
01597 860204
), during opening hours,  you have probably gone too far but Alan the landlord should be able to direct you back ( particularly if you buy a pint). You can eat there till 9pm, honest pub food. A car is strongly recommended as Powys is one of the most underpopulated counties in the UK, and  public transport sparse. Hardy hikers and travellers could, we suppose,  head to Llandrindod Wells train station, then take a pre reserved taxi ride to the Tree Tent. It's approximately 10 miles but anything is possible.
Why book with Glampingly?
Best Price Guarantee, with no fees
Instant booking confirmation
Trusted for over 10 years
A chance to win prizes in our regular competitions
Book glamping near Red Kite Tree Tents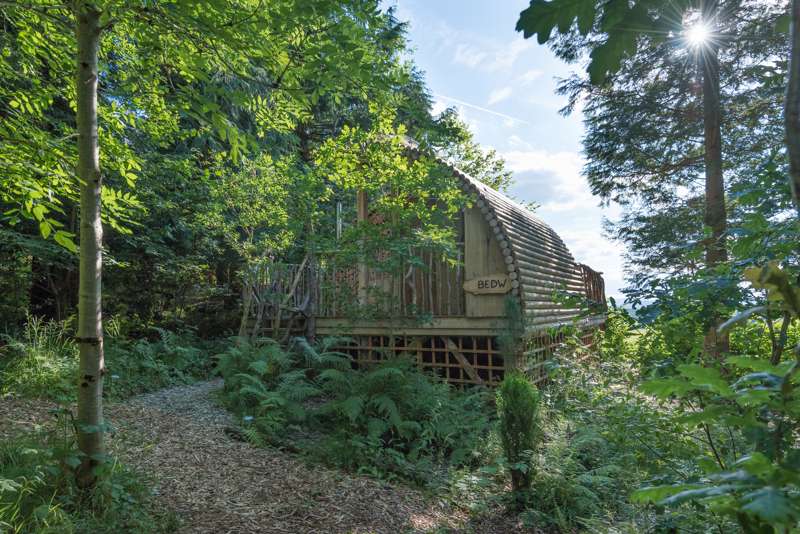 i
Campsites in Powys
Campsites in Mid Wales
Campsites in Wales
Available:
1 Pod
1 Tree house
1 Cabin
i
Glamping in Powys
Glamping in Mid Wales
Glamping in Wales
Available:
3 Yurt or Gers
i
Glamping in Powys
Glamping in Mid Wales
Glamping in Wales
Available:
2 Yurt or Gers