Ynys Affalon
Newbridge-on-Wye, Builth Wells, Powys, Wales LD2 3SG
Sleeps 2

(max 2 adults, 2 children)

George Clarkes Amazing Spaces
Electricity
Beds Provided
Bed Linen Provided
Towels Provided
Unique glamping pod hanging in the canopy of a private forest, making the ultimate Welsh off-grid escape.
Completely private with its own outdoor kitchen and shower
Equipped with foam mattresses and a cosy wood-burning stove
Perfect for creating, wildlife-watching or a digital-detox
Book camping accommodation at Red Kite Tree Tents
This information was supplied by Red Kite Tree Tents
Located off grid, deep in Mid Wales and set among tall trees, suspended like a pendant from a web of ropes in a remote rural location north of the Brecon Beacons. It's very well-located if you like long countryside walks through forests and valleys. The regions are punctuated by mountains and hills. The coast drive through the peaks to Aberystwyth on the west coast is recommended. For local shops and other amenities be sure to stop at Newbridge-on-Wye. Llandrindod Wells is worth a visit for it spa and museums. A former resort in Victorian times it has retained its look and much of its heritage.
There is also a camping cool box for convenience.
There are no sockets in the tent, please bring a battery pack. We provide eggs, butter, milk, ginger beer and marshmallows, if you arrive before 9pm you can pick these up at the local Newbridge post office.
Back to ground level you will find a fire pit and a timber clad enclosed open air electric shower. You will also find the enclosed WC.
View Gallery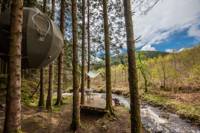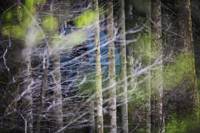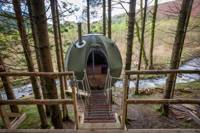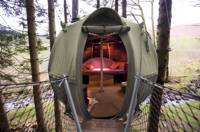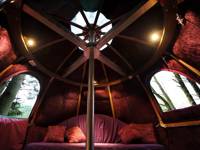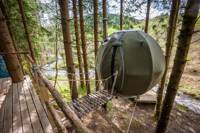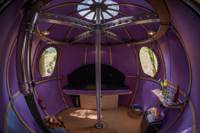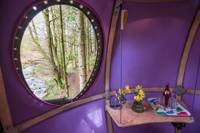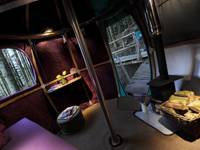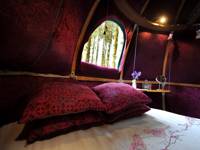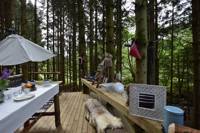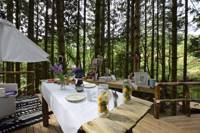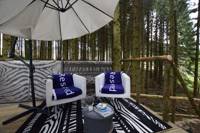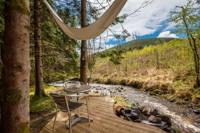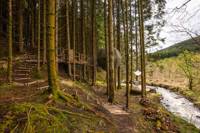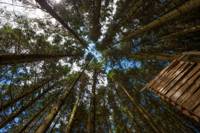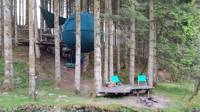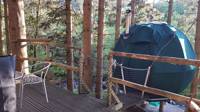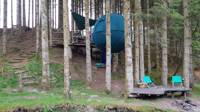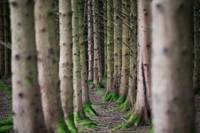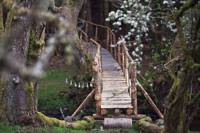 Search all availability at Red Kite Tree Tents
An innovative tent-cum-tree-house that offers both a unique camping experience and a wonderful location
One Forest - Two TreeTents. New this season is the startling red "Dragon's Egg" tree tent complete with a hand painted dragon frieze and hidden in our own magical Red Kite woodland. Approached by its own fairy bridge with two sweeping wooden decks you should bring your own copy of Midsummer Night's Dream to declaim if that's your thang. Ynys Affalon, the classic original, featured on George Clarke's Amazing Spaces, a rich verdant green orb, with opulent purple interior,  named for the Isle of Avalon in Arthurian legend. She remains welcoming and intimate, cradled like a barque in the breeze and is approached from the north part of the estate with her own bridge.
Above the lusty shout of a vibrant  stream can be heard the harmonious Welsh dawn chorus. Twitchers paradise, aesthetically rich, green and pleasant makes for an extra special romantic experience, nestled in the canopy. Outdoor cooking, baked bananas, sitting by the fire pit. What's not to enjoy? Piece de resistance under construction for the brave at Dragon's Egg  is the new logbridge-short-cut to the glampaloo. You may see Red Kites and buzzards and owls and hares and lots besides. You are located near the Brecon Beacons, Builth Wells and Llandrindod Wells. Making it perfect for long countryside walks through forests and valleys, mountain biking, fishing canoeing and just hangin'.  You can even invite your friends and keep it private by booking them into the gorgeous Red Kite Barn onl moments away. Contact bookings@chillderness.co.uk or 07951957067.
Glamping Site Facilities
Inside the tree tent there is a log burner, dimmable lights, a double bed and prices include everything from tea towels and bath towels to bedding. There are logs for the fire and a welcome hamper when you arrive. Outside there are chairs and a table on the raised deck, plus a WC hut in the woods and an hot outdoor shower. Campfires and BBQs are allowed in the fire pit provided and there is a camping gas stove and a cool box for use.