Y Cwt Cwtch
Hillcroft, Brawdy, Haverfordwest, Pembrokeshire SA62 6LA
Sleeps 2

(max 2 adults, 0 children)

Electricity
Cooking facilities
Beds Provided
Bed Linen Provided
Towels Provided
Private Bathroom
A cosy, romantic shepherd's hut for two on the Pembrokeshire coast, within walking distance of Newgale Beach.
Pull-out double bed for extra living space during the day
Insulated wooden walls and a wood burner to keep you toasty
Smart, compact kitchen area, and immaculately clean en-suite shower room
Book camping accommodation at Hillcroft – Y Cwt Cwtch
This information was supplied by Hillcroft – Y Cwt Cwtch
Y Cwt Cwtch is located in the coastal area off Pembrokeshire National Park just minutes from the beach. An exceptional private space for relaxation and is complete with everything you may need on your time away from home. If you want to unwind, relax and be rejuvenated, Y Cwt Cwtch is exactly whats on offer for those needs and more.
It is located at our home, Hillcroft, and this is in a rural area in the coastal area near to the Pembrokeshire National Park just minutes from the beach at Newgale. Enjoy dark skies experiences at Y Cwt Cwtch, the stunning star lit skies are there for you to enjoy when cloud cover permits. Check for special events and festivals, a lot happens in this area.
There is a working farm across the road, mainly dairy cows as well as arable farming. It is a wonderful farming area, plenty of wildlife and wonderful views.  Ideal area for walking, especially the coastal path which you can access approx a mile and a half walk from Y Cwt Cwtch and cycling. 
The Shepherds Hut is a single space and fairly straight forward:
As you enter
Electricity and water, including hot water will be turned on for you.
Log Fire
We provide logs and fire lighting essentials for you.
Electric Heater
This is located below the sink in the kitchen unit and has a remote control to actually operate the heater.
The dining table and seating
Will be in the up position unless you have asked us to pull the bed out for you. It is easy to put the table down for pulling out the bed. There is storage space under the seats in the dining area.
Bed-in-the wall
The Bed will be made up with the quilt on it.  You just pull the bed out from the wall, add extra pillows from the top cupboard, if required, and get yourself installed!
The kitchen area
Mini Oven With grill and two hobs. Electric kettle provided. Belfast style sink.
Fridge Will be switched on. There will be milk and other items you may find of use.
Bins
There is a small compost bin for all food waste, a bin for other waste and a metal bin is also provided outside at the top of the path for recycling plastics/paper/glass. You will note that we do not use bin bags because we are looking to reduce our plastic usage. All the bins have washable insides (plastic! Hey ho!) if you prefer bin bags please let us know.
Bathroom
A few essentials are provided shampoo, soap. The wall mirror light is activated by putting your hand under the mirror. Y Cwt Cwtch uses a sceptic tank system Please do not flush sanitary products, wipes or paper towels, Q-tips or cotton balls, hopes and dreams, etc. down the toilet. The shower is fed by a 30ltr hot water tank which limits the shower time to approx. Four minutes at the standard heat setting, after that it gets cool and after 5 minutes you are in to cold shower territory. Tactical showering is recommended, i.e. wetting, soaping, and rinse. There is a hair dryer located in the seating storage nearest the door.
Candles A citronella is provided and also a scented candle.
WiFi is limited in the hut, you can access the Wifi closer to the house.
Fire Pit There is a fire pit, feel free to use it if you want to relax outside in the evening and look up at the stars. There are cushions in the basket for the outside chairs, also cosy blankets for your use.
View Gallery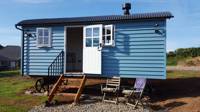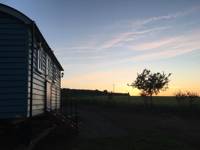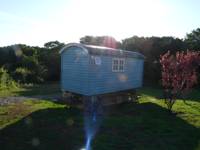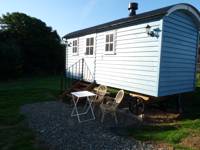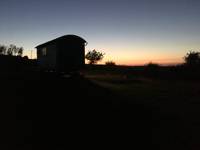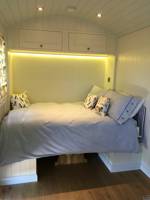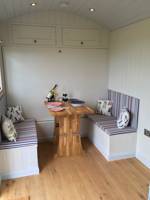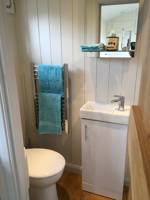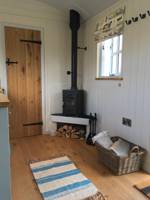 Search all availability at Hillcroft – Y Cwt Cwtch
A romantic shepherd's hut getaway for two on the Pembrokeshire coast within walking distance of Newgale Beach
We escaped to Pembrokeshire, West Wales, for a well deserved break away from the World and stayed. Here at Hillcroft we had a Shepherds Hut built for us, Y Cwt Cwtch (the cuddle hut) is a self contained and well appointed, located near St Brides bay, just a mile and a half from the Pembrokeshire coastal path, Penycwm beach and a short walk further on to Newgale beach. The harbour village of Solva is a couple of miles away and St David's is approximately 15 minute drive. Y Cwt Cwtch has all you need for a cosy stay, with a log fire, kitchen and bathroom.
Glamping Site Facilities
The shepherds hut is a single, self-contained space with hot water, electricity, a log fire (wood provided) and an electric heater. A dining table and seating on to which the bed folds out from the wall, transforming it into the sleeping space with a built-in double bed (all bedding and linen provided). A compact kitchen space features and oven with grill and 2 hobs, kettle, Belfast sink, a fridge (with milk and other essentials) and bins. An en-suite bathroom has a lit mirror, toilet, shower, hair dryer and essential toiletries. Candles and a firepit for outside provided. Free WiFi.
There are 2 campervan hard-standing pitches which have electricity and water but no waste disposal point.