Glamping with a dog is one of the best dog-friendly holidays you can find offering the freedom of camping with none of the hassle. Your dog gets the great outdoors and you get the luxury of a comfortable base to enjoy – or should that be the other way around?
Take your dog on a glamping holiday and you won't be wrestling guy ropes while your dog is straining at the leash, eager to explore, because the hard work has been done for you. Once you've found your pet-friendly holiday pad you can just drop your things off and head out to make the most of your new surroundings with your dog at your side. Many dog-friendly glamping sites are located in areas of natural beauty with footpaths right on the yurt-step, making them perfect for long days of dog walking. How luxurious you go is up to you but the UK glamping scene has it all from safari tents in Wales to log cabins in Suffolk and eco lodges in Scotland. Wherever you choose, your dog will love the uninterrupted time they get to spend with you on a glamping holiday and you don't have to worry about leaving your four-legged friend in an unfamiliar place. A glamping holiday with your dog is one of the best dog-friendly holidays available but before you set off – make sure to read our advice on how to make sure your holiday is hound heaven...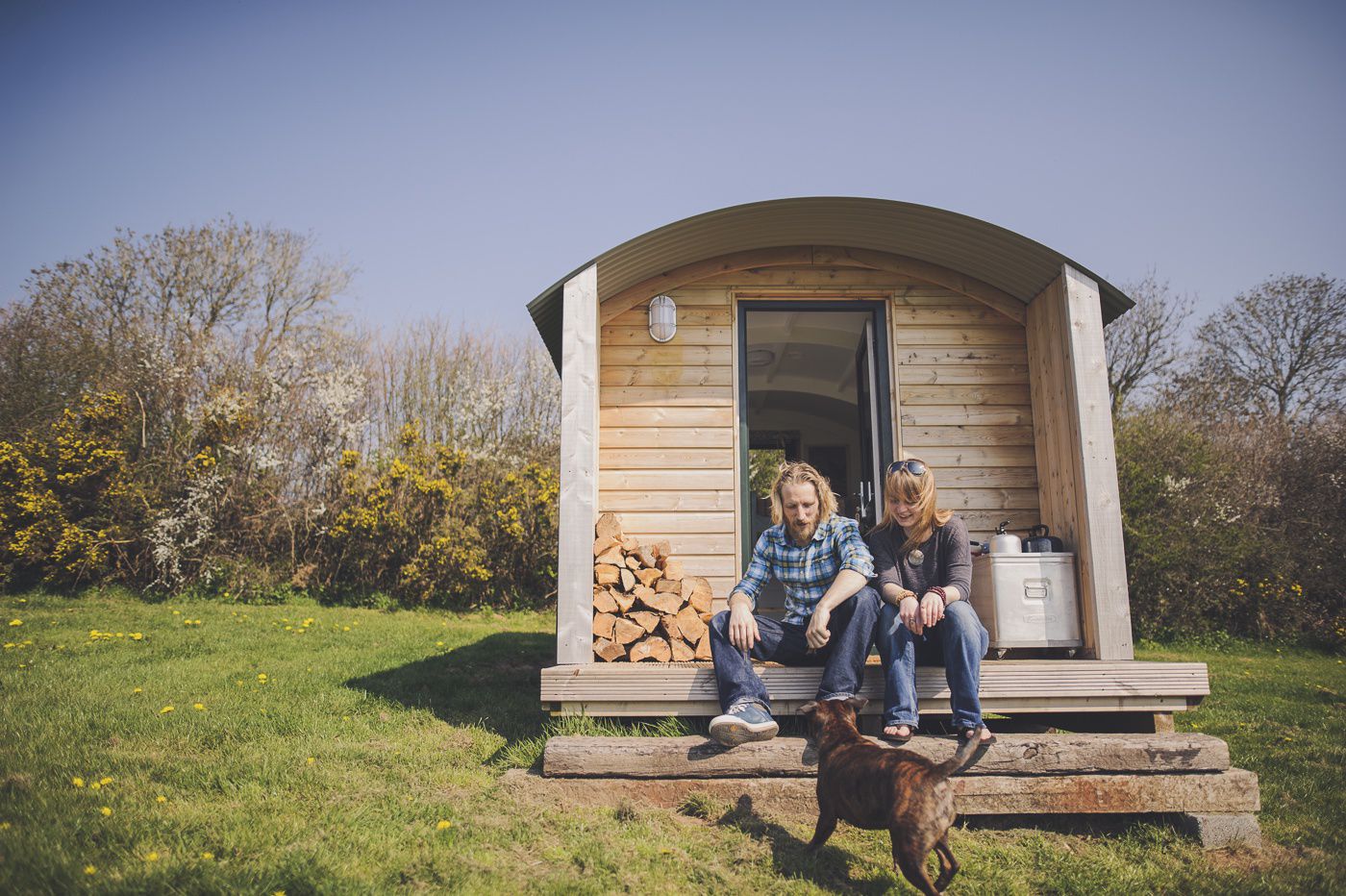 Ten tips for glamping with your dog
1. Do a doggy health-check before you book.
It's all well and good that you want to take your dog glamping but before you head off to a dog-friendly glamping site you need to make sure your pet is correctly vaccinated. Most glamping stays are going to involve interacting with other people and, potentially, other dogs too, so it's important your pooch is completely prepared for coming into contact with the new germs of a new environment. Really, it's true of all doggy travel – particularly if you're taking your pet abroad – so always ensure your dog is up to date on all the relevant inoculations.
2. Consider your dog's personality.
Well behaved dogs will love glamping or camping holidays; there are new faces to meet (and perhaps new bums to sniff), plus plenty of people that will be keen to throw a stick or play games with your pet. However, it's always worth considering how well socialised you dog is, especially if he or she is young. If your dog is easily nervous, consider the type of glamping site you are visiting. Are there likely to be lots of other guests? Is it a big family site with children running wild? Or will you be nicely secluded away in a private shepherd's hut or cabin? If your dog is naturally friendly and calm, then a dog-friendly glamping trip should be no problem. If not, then consider the type of glamping site that is best suited to your pet's needs – or whether going glamping with your pet is suitable at all.
3. Check whether pets are allowed.
Although glamping and camping seem like the perfect holiday for people with pets, don't take it for granted that a site allows dogs. Many glamping sites are restricted, just like hotels and other accommodation, and do not allow dogs on site. Very often the ban has been imposed as part of a site's planning permission to protect wildlife or livestock in the area so it's not something site owners can be flexible on. Once you've established that a site is dog friendly, make a further check to ensure that the particular bell tent, shepherd's hut, cabin or yurt accepts dogs. Within a site there can be different rules for different glamping units. A site may be happy for you to camp with your dog in a tent but not to glamp in their freshly decorated shepherd's hut.
4. Check whether there is an extra charge for your dog.
Once you've established that your pet is going to be welcome at the glamping site and unit that you have chosen, you'll want to be aware of any extra cost for your furry friend. Some dog-friendly sites charge a little extra for your pet to stay to cover the cost of the extra cleaning needed to get rid of any muddy paw prints. It's usually not much but it's worth being aware of – especially as you can bet your bottom dollar that Fido won't be forking out for it.
5. Think about sleeping arrangements.
If you want to make the most of your comfy glamping sleeping space then you had better make sure the dog is happy too. There's no point planning a lovely lie in on the memory foam mattress that's been provided if your dog is going to be howling all night. And it's not just in your best interests either. If you're glamping on a busy site a barking dog can cause friction with the neighbours. Make sure that your favourite friend is comfortable by thinking about this in advance and perhaps take along a favourite blanket, dog bed, cage or small tent so your dog has a familiar place to settle.
6. Bring towels for cleaning muddy paws and more.
Long walks and outdoor activity are likely to be high on the agenda during a glamping holiday so don't forget to take towels for drying-off damp dogs. Your glamping accommodation may well provide towels for you and the family but it's unlikely that they will be happy for their fluffy, white bath sheets to be used on a mucky pup. As a result, towels for the dog should be high on the list of things to take with you: a little rub down on the doorstep can save a whole lot of hassle cleaning up your inside space. For more tips on what else to take when you're glamping with a dog, check out our list below.
7. Look up local dog walking routes.
If you've had a long car journey to get to your glamping holiday, your dog will be as eager as you to stretch their legs on arrival. A little research on local walking routes before you go means you can be ready to strike out into the countryside or to the nearest beach as soon as you arrive. Perhaps pick up the Ordnance Survey map of the place you're visiting to plan routes to local landmarks and, on arrival, ask the site owners for their advice on where to go; if they are dog owners so much the better as they'll know what you're looking for. Stopping and chatting to local dog walkers for tips on dog-friendly routes can also reveal hidden gems that you might otherwise never find.
8. Check dog access to local beaches.
Be aware that some beaches are seasonal and only allow dogs at certain times of year. Check the local rules before you go as it would be desperately disappointing to turn up for a beach holiday only to find your dog is not welcome on the sand or shingle. Even if there is a dog ban on a certain section of the beach, there are usually provisions made nearby that mean that dogs (and their owners) can enjoy the coastline somewhere. Most dog bans are only in place during spring and summer so, if there's a particular beach or stretch of coast you would like to visit, it might be worth considering a winter glamping break.
9. Make sure you know the site rules.
Many glamping sites which allow dogs do so on the basis that dogs will be kept on leads at all times. This can be because the site is on a farm or in a rural area where livestock or wildlife need to be protected but it might also be to protect fellow campers from having a sausage or two snaffled from their barbecue! Whatever the reason, make sure you know the rules so there are no misunderstandings. Campsites have sometimes been given permission to operate by the local authority only if they follow strict guidelines and if you flout the rules they can be at risk of losing their licence.
10. Pick up your poop!
It goes without saying that clearing up after your dog is a must on a glamping or camping site, just as it is anywhere, so don't forget the poop bags. Clearing up takes on even more importance on a camping or glamping site as there are often kids running wild, often barefoot and fancy free: throw a dog poo into the mix and you've a recipe for disaster! Further to that, the dreaded night-time trip to the facilities block can be made a whole lot worse if you step in something on the way!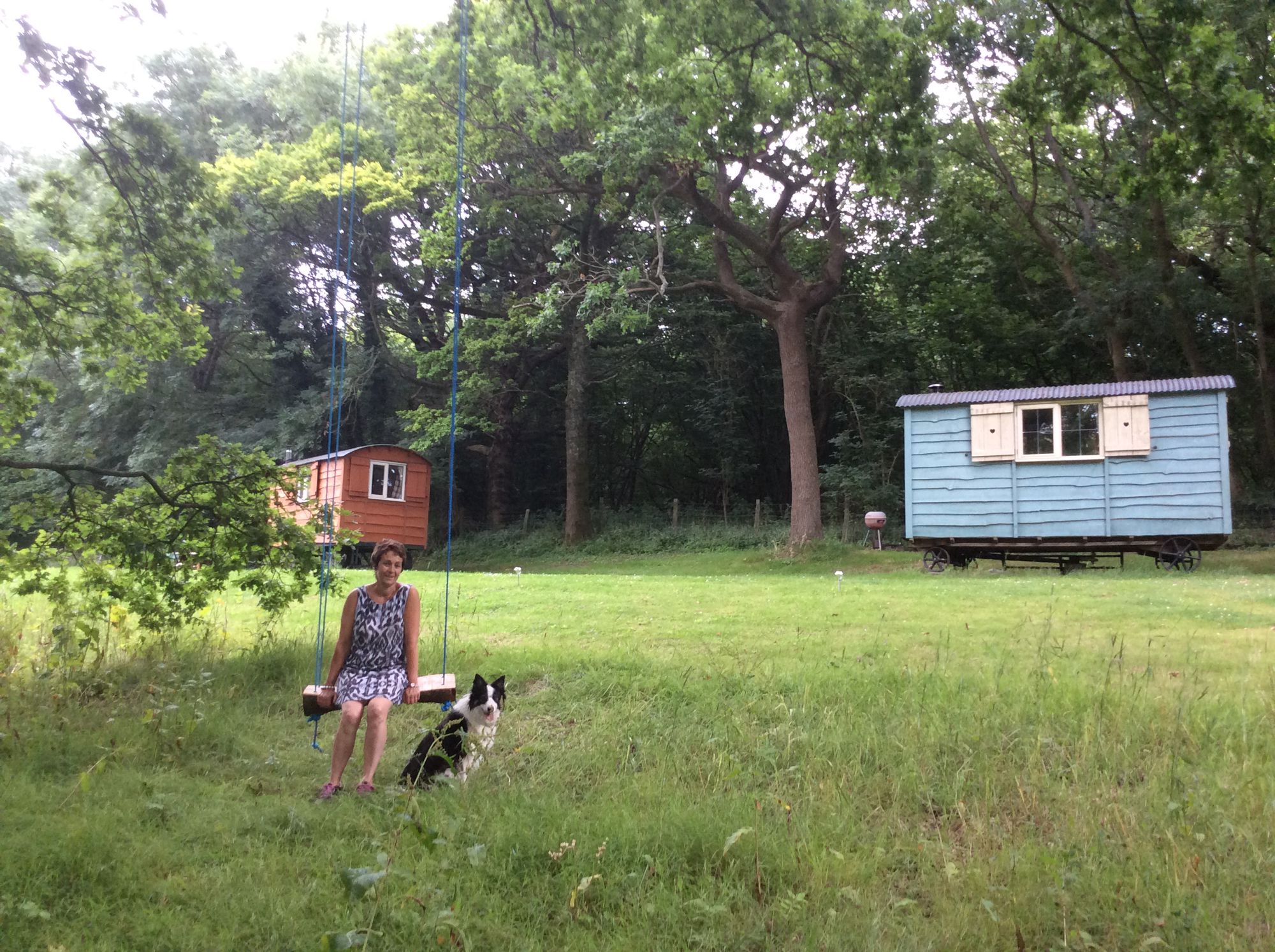 What to take when you're glamping with a dog
Different glampsites offer different provisions for your pet, so it's always best to check ahead in advance. Some will have dog bowls and blankets you can use. But, for most glamping sites, you will need to bring almost everything yourself. Here are the true essentials that every glamper will need...
Collar – making sure your dog tags have your mobile number so you are contactable while on holiday
Leads – extendable ones are a good idea in case your dog-friendly glamping or camping site asks for dogs to be kept on leads throughout your stay
Dog bowls
Poop bags
Towels
A dog tent, portable cage or dog bed
Dog-friendly UK glamping sites
There's plenty of space for all the family, including the dog, in this spacious off-grid safari lodge on a west Wales farm site. Spend days enjoying beach and cliff-top walks in nearby Cardigan Bay and evenings relaxing on the terrace watching the sun go down over the lake.
The photographs of this campsite, between the moors and coast, are proof that dogs are welcome! Bell tents are off-grid and offer proper camping, without the need to set up tent. There are miles of walks from the gate and BBQ supplies are easy to find with a butcher's shop just down the road!
This cosy wooden cabin is set in a beautiful nine-acre woodland in rural Norfolk – but that's not all! There's a further 250 acres of woodland behind the site that dog walkers with a sense of adventure will love and beautiful north Norfolk beaches are just half an hour away.
Explore forests, lochs and mountains with your dog during a stay at this lodge in Perthshire. It has all mod cons including a heated floor that will keep toes, and dogs, toasty on cooler nights while warmer evenings will have you sitting out on the terrace enjoying its loch-side location.
For a mere £5 your dog can join you in this luxurious, eco-friendly yurt in the Midlands. Direct access to the Brampton Valley Way means walking the dog is a walk in the park and, afterwards, your pooch can recover by the log-burning stove while you soak in the hot tub!