If you like glamping on the wild side, you're probably used to forfeiting facilities and activities in favour of space and nature. But what if you could have both? Huttopia Village sites claim to be offering just that, so we thought we'd better take a closer look…
Here at Glampingly, we're always on the look-out for out the very best glamping accommodation in the UK and Europe. That usually means independent sites, where the owners have stamped a few personal touches on whatever glamping accommodation they've chosen to provide, greeting you with a warm smile and perhaps some homemade muffins. It's the kind of thing the big, branded campsites just can't provide. But with the Huttopia group in France creating a new, specific collection of 'glamping villages', we thought we'd take a closer look.
With more than 30 campsites across France, Huttopia are certainly a mega camping chain but, this year, they launched just four new 'village' sites – slightly more romantic when you hear the village spoken in a soft, French accent – home to thoughtfully-designed glamping accommodation, spread well apart among the forests of France. It's so often the case that when a company like this grows and expands, they lose the very thing that made them special but, with Huttopia, we think it's gone the other way. The new village sites offer similar glamping structures to those at their campsites – with a range of wood-and-canvas tents –  but with the levels of luxury ramped up and more focus on the natural world. There are also no caravans, campervans or motorhomes in sight. In fact, they are altogether vehicle-free so you'll have to leave your car in a designated parking area. The sites also purposefully have no WiFi, so you can really switch off and forget the modern world as you surround yourself in nature. That's covered what's not included but, with a higher cost to regular camping, what is included?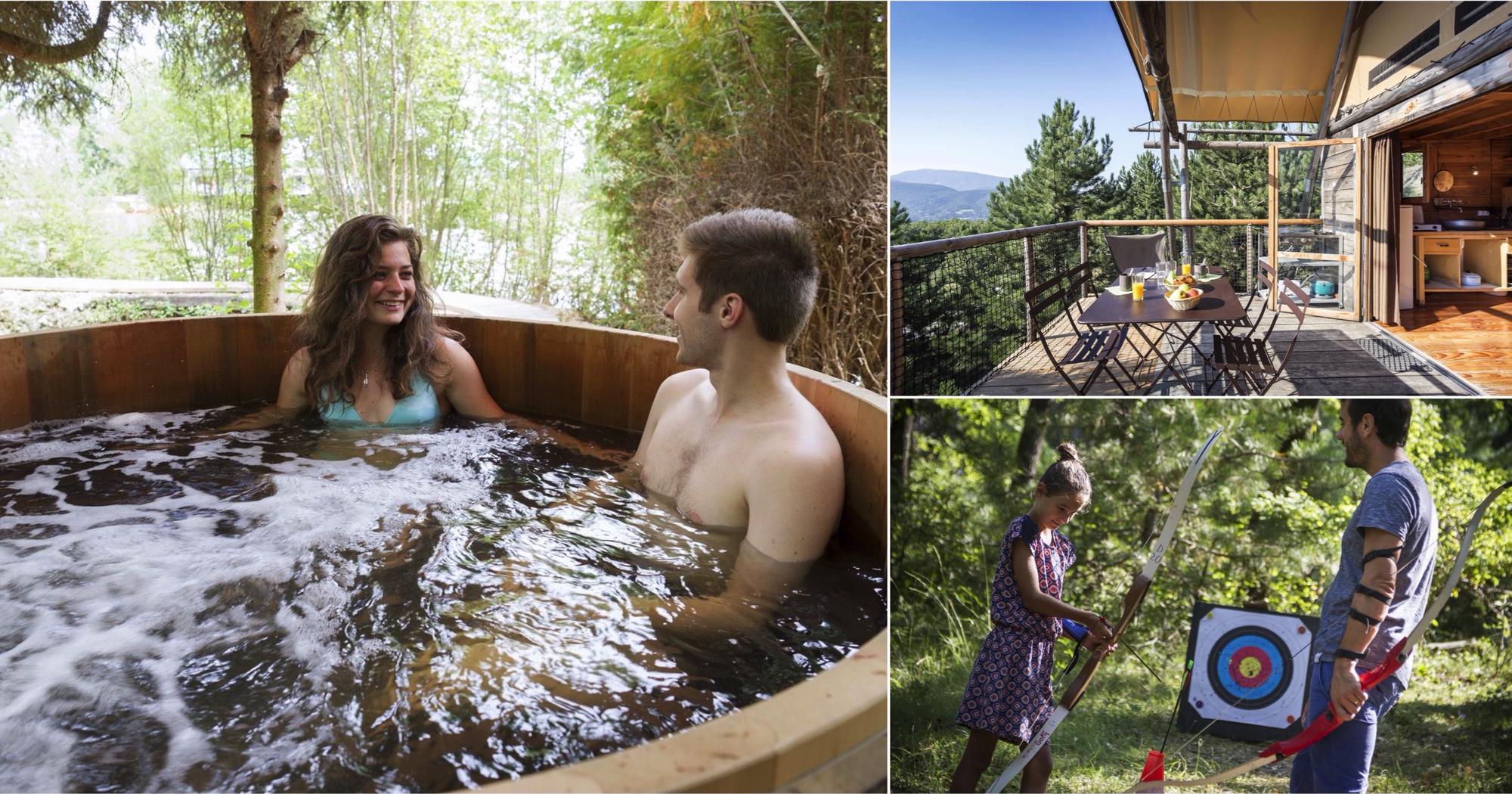 The glamping accommodation options range from wooden cabins, sleeping up to six, to their Bonaventure tents, which sleep two, but all are set on decked verandas and kitted out with pretty much everything you'll need for your holiday from a barbecue to bedside lamps – including duvets and pillows. The sites all have swimming pools with wooden decking and fencing, as well as an adults-only forest spa with saunas and Finnish baths (hot tubs) among the trees. Access to these are included in the price for glampers, along with a programme of activities and entertainment that is more campsite than cabaret – think storytelling rather than Stars-in-their-Eyes and tree-climbing rather than TV rooms.
If you like the sound of archery, yoga, circus skills and open-air cinema nights, a stay at any of the Huttopia Villages could be for you. In the summer and at weekends there can be up to five included activities each day and, while there are similarities in what's on offer at each of the Village sites, there are differences too. Workshops and activities have been tailored to the locations they are offered in and play to the skills of employees and local people. For example, at Huttopia Dieulefit Village in Provence there's a lavender discovery workshop that you won't find anywhere else. At Huttopia Sud-Ardèche Village you can try your climbing and balancing skills with via cordata and slacklining workshops. Huttopia Senonches Village has teamed up with the local tourist office to provide a treasure hunt, exploring the history of the village, and at Huttopia Lanmary Perigord you can join in with an archaeological dig and recreate prehistoric tool-making in a flint workshop. These little differences mean that although the Huttopia Villages have plenty of recognisable style, they are not so uniform that you could be anywhere. They are firmly rooted in the areas they have popped up in.
If you prefer quiet glamping and independent discovery to the ease of organised activities, Huttopia Villages may not be for you – and if you're not ready for a digital detox, look elsewhere. But when it comes to glamping in France, we reckon Huttopia Villages are offering what a lot of glampers are looking for: the spirit of the great outdoors and the freedom of an under-canvas camping trip with plenty to do and a hefty bit of luxury thrown in for good measure.