It seems like everyone is taking to the trees. In the world of glamping treehouses are on-trend and popping up all over the place. If you're thinking of booking your own treehouse getaway, you might want to cast your eye over our guide to different types of treehouse first.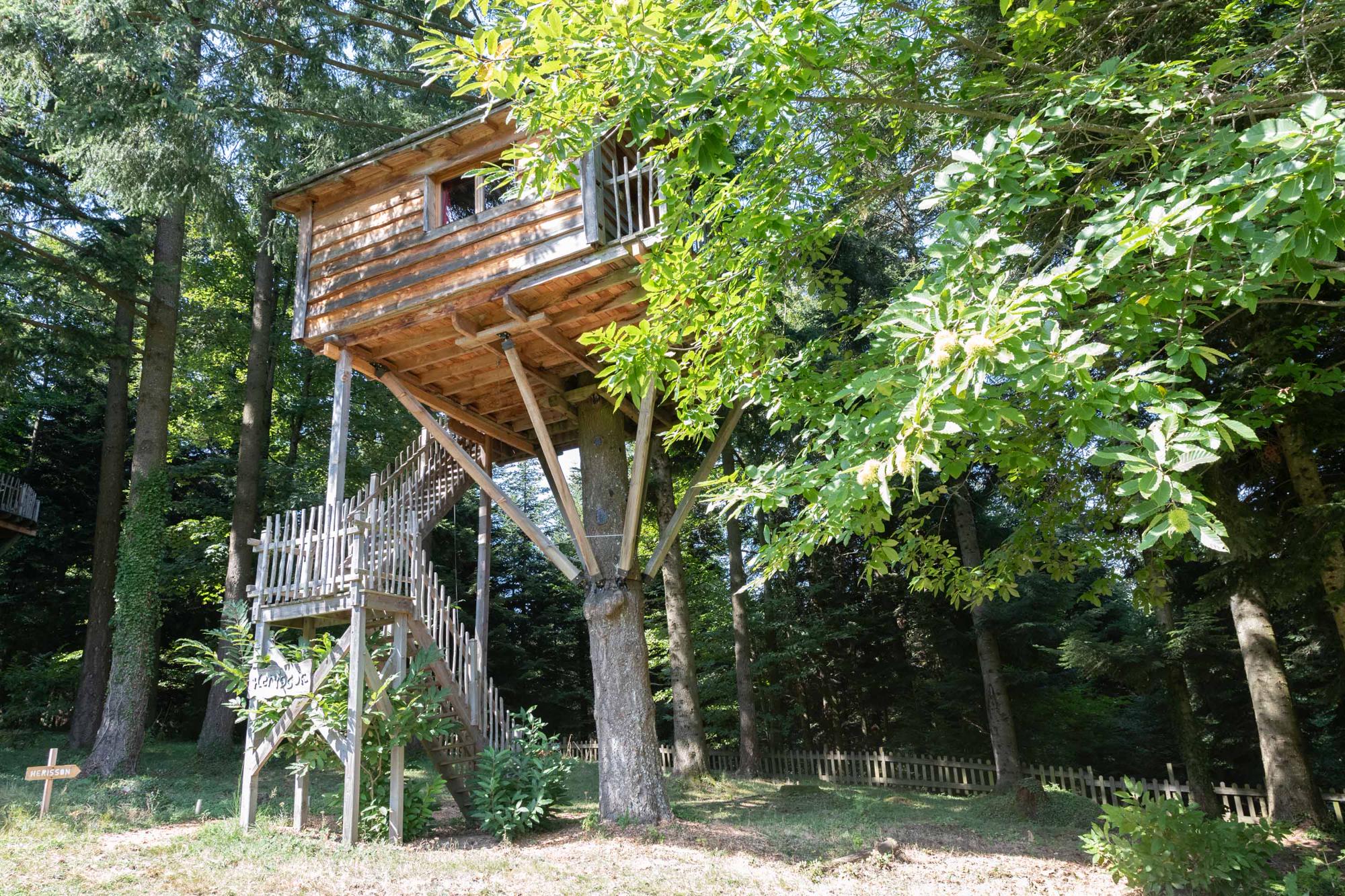 Treehouses on the trunk
The traditional image of a treehouse is one that's built to use the tree itself as structure and support. Think of Bart Simpson's little cabin in the garden, the hideaway in Stand By Me or (perhaps the greatest treehouse ever imagined) the architectural masterpiece in The Swiss Family Robinson. Not getting the cultural references? Never mind – a treehouse that's built around the trunk of a tree is easy to imagine. It's also the archetype and the basis of many of today's glamping treehouses. Pick out a treehouse like this and you may find that a living trunk and branches have been cleverly incorporated in to the design of the place. If it's a multi-storeyed treehouse there may be different rooms or cabins resting on branches at different levels with ladders or wobbly stairways between them. For a fairy-tale feel, it's hard to beat this type of natural-feeling treehouse.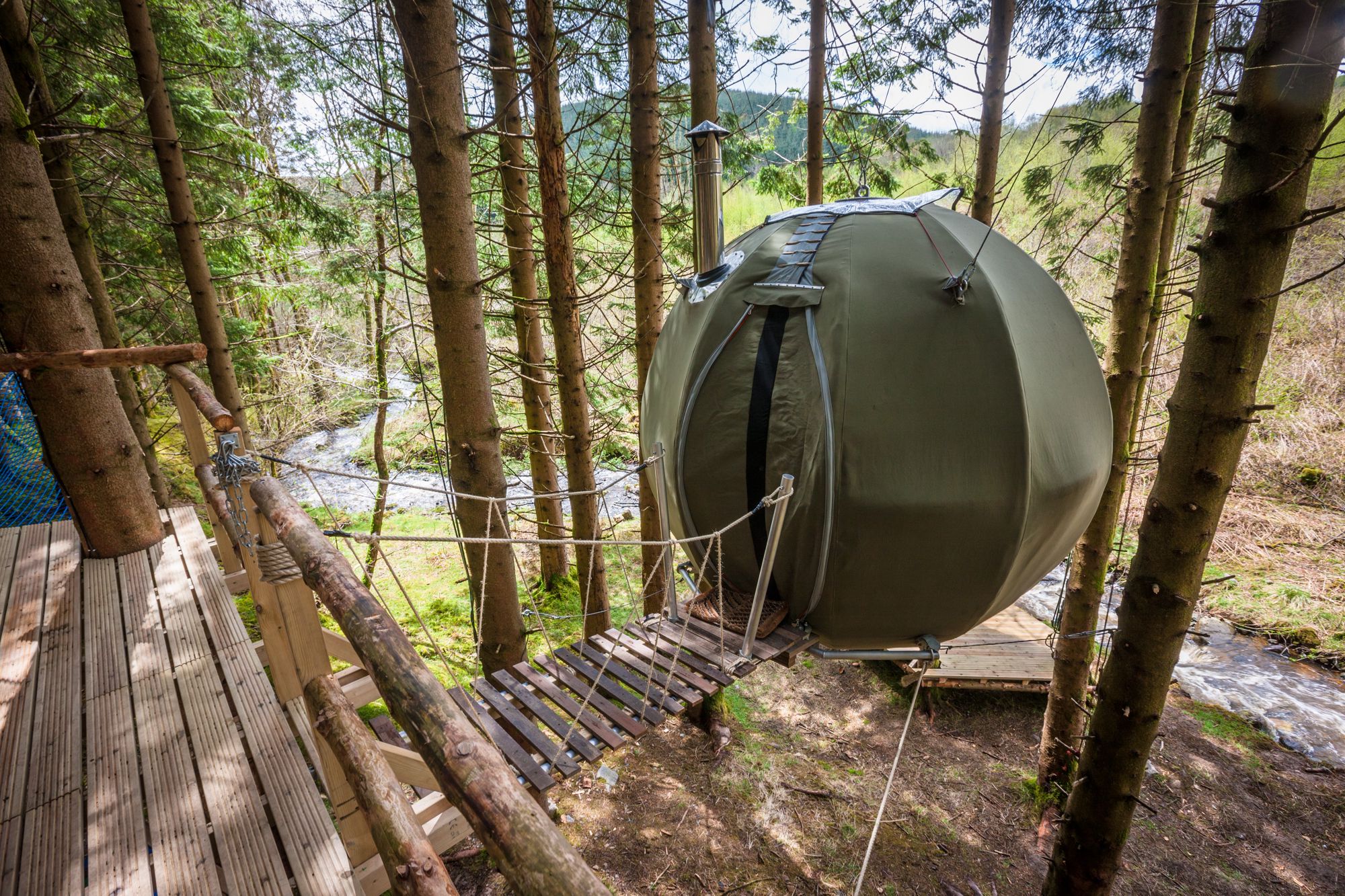 Suspended from branches
Another type of treehouse which uses the natural strength of trees for support are those which, rather than sitting on or around trunks and branches, are suspended from them. Sometimes called tree tents, the suspension usually means you will move with the tree even more than in a traditional treehouse. In the UK there are a few sites with the unique designs by Jason Thawley. The spherical design of his Tree Tents are akin to a harvest mouse nest – albeit on a much larger scale. One of the first to ever be built was at The Secret Campsite but nowadays there are more up-market versions like Ynys Affalon in Powys. Made of plywood, aluminium, canvas and wool, these carefully-engineered cocoons in the trees are quite unlike anything else. Having said that, they're not the only suspended tents in trees. Another eye-catching type of tent that's hangs among boughs and branches is somewhere between a tent and a hammock made by Tentsile. These require three anchor points (trees) to which straps are attached for pitching. It's a kind of moveable treehouse that a few glamping sites have invested in but doesn't meet the level of comfort expected for a proper Glampingly experience.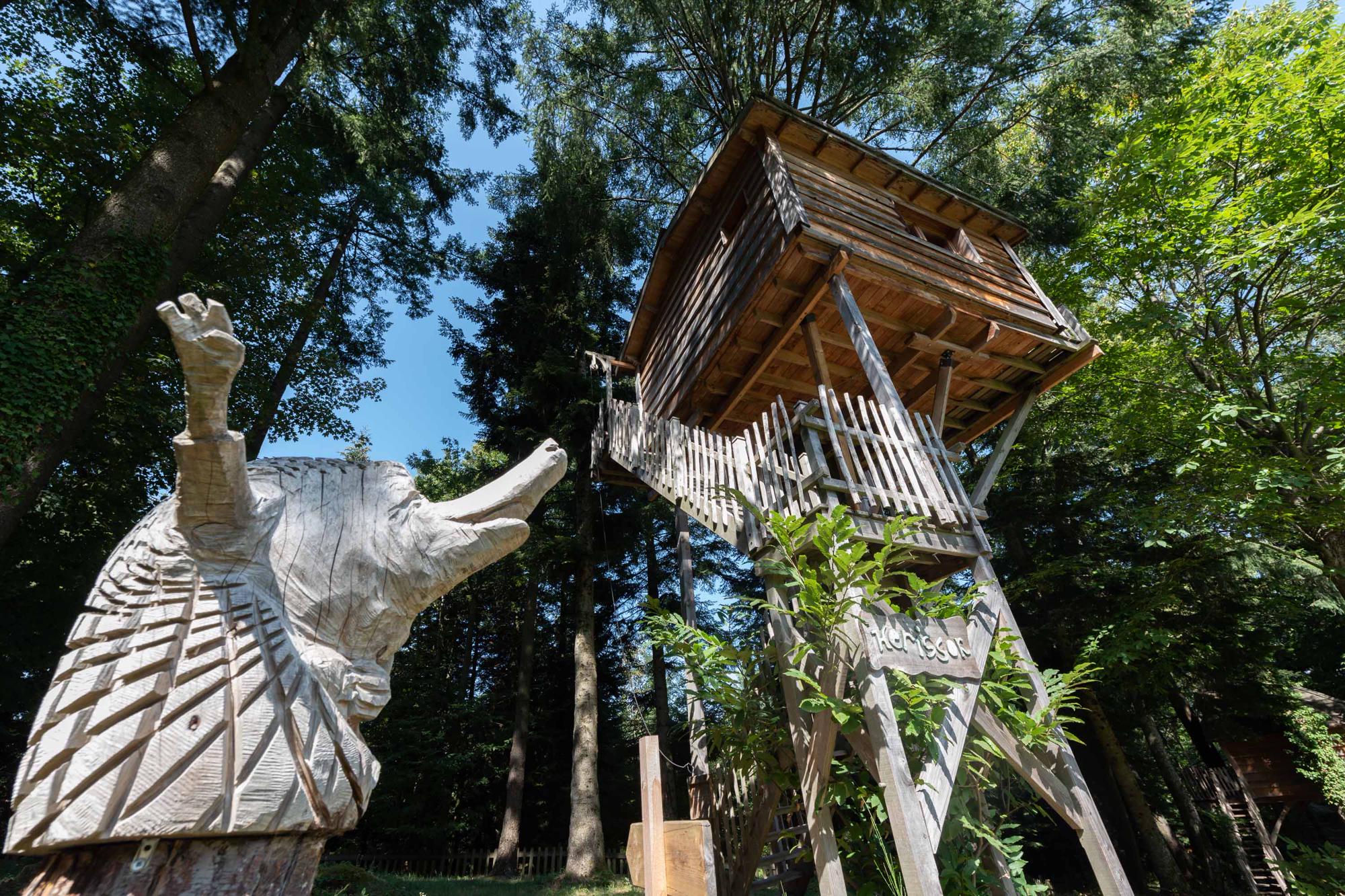 On stilts
When is a treehouse not a treehouse? Perhaps when it's self-supporting and built on stilts. Nonetheless many of today's glamping treehouses are built in this way but still offer the same advantages of a traditional treehouse – views, an elevated position and an adventurous escape! Usually situated among the trees or on the edge of the woodland, they can still give you the back-to-nature feel and the architecture is not dictated by the shape and strength of existing trees. Almost all treehouses, whether in the trees or surrounded by them, are almost-exclusively timber constructions and many feature gnarly pieces of wood where natural knots and nobbles are embraced rather than planed off. This can contribute to a free-standing structure's connection with its surroundings.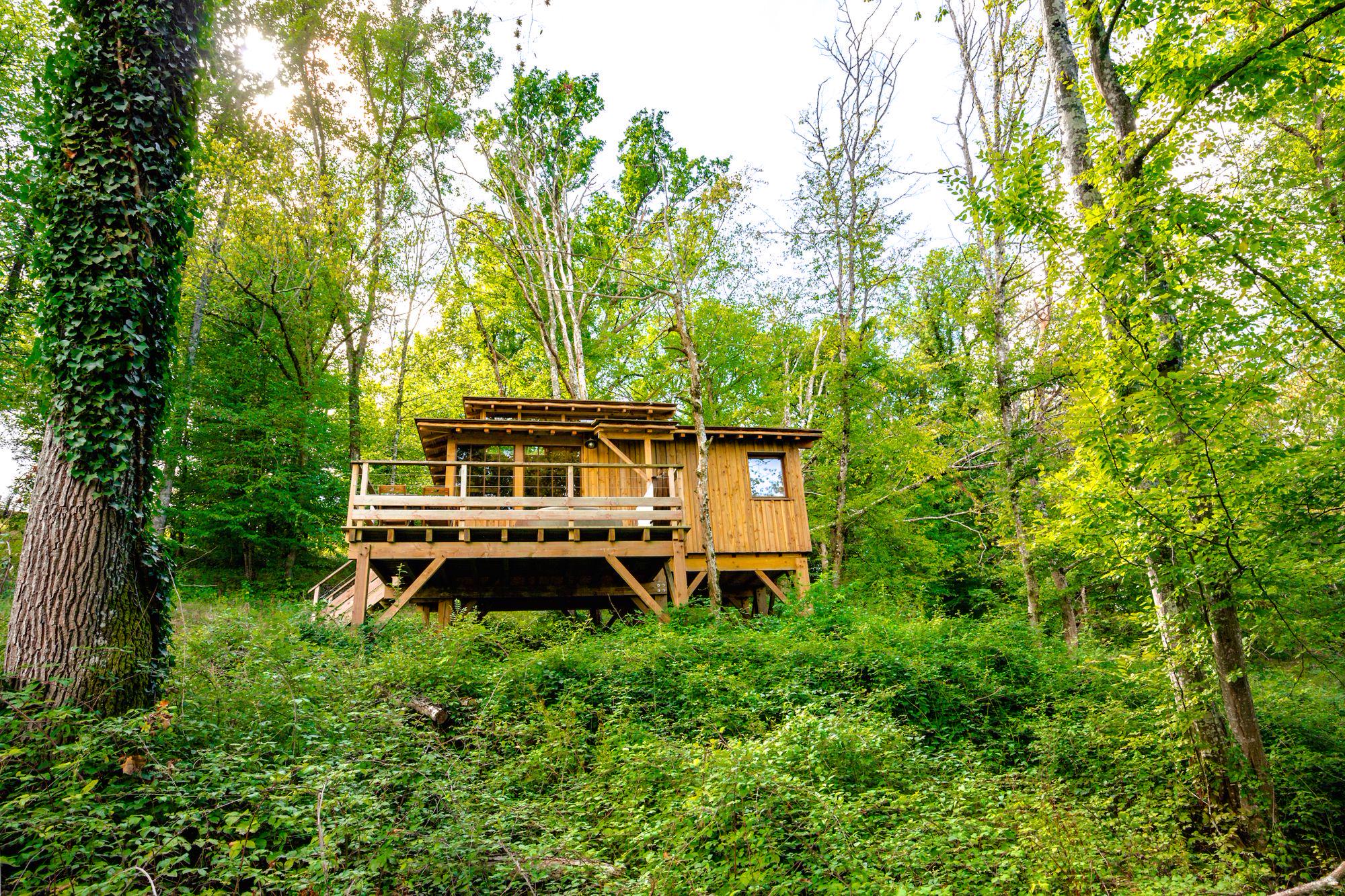 Forest floor
While a treehouse is, by its nature, usually elevated, there's an argument for some ground-level constructions to be included in this category. A forest-floor treehouse is has the potential to be accessible to all and opens out the treehouse experience even to those who haven't got a head for heights. For treehouse purists a forest-floor treehouse may be stretching the definition a little too far but there are some cabins on UK campsites which we think fit the bill. Take the Woodpecker Tree Temple in Norfolk. This bespoke wooden cabin might sit at root level but it's taken trees to heart. Not only is it set in the campsite's nine-acre woodland but it's got the trunks of some of the trees incorporated in its wrap-around veranda. And what about Bedw in Powys? It's a pod-treehouse hybrid that's surrounded by trees and made from timber. It also has some of the best views in Mid-Wales.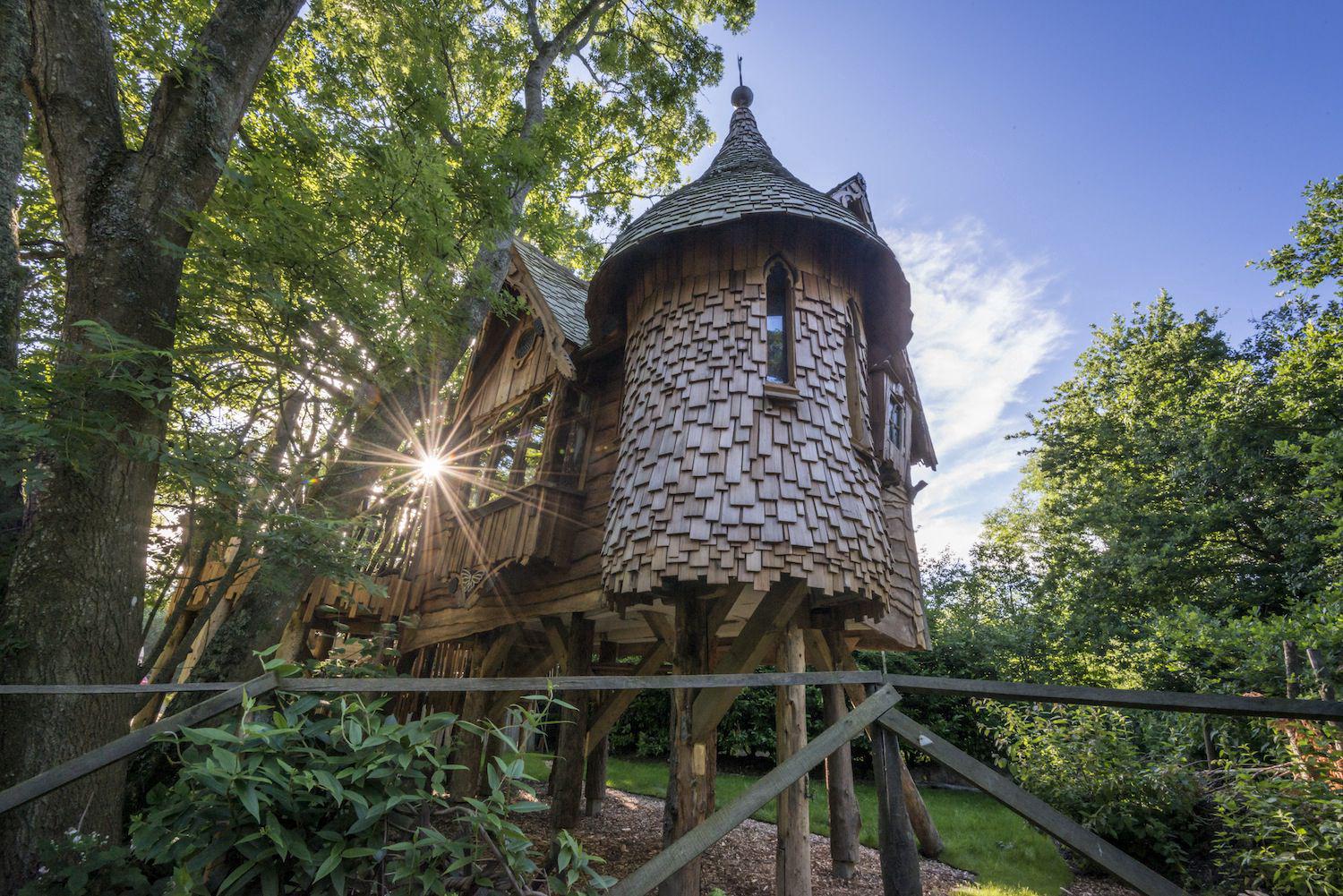 Imaginative designs
Ever since the then-very-small team at Glampingly began the quest of finding the very best glamping sites around, we've been amazed and delighted at what we've found. We've watched glamping expand from one or two sites with a shepherd's hut, Airstream caravan or yurt to the wealth of sites we now have to choose from. Along the way, the imaginations of glamping site owners have fuelled some truly unique and quirky designs in glamping accommodation. Treehouses seem to be the ultimate expression of that and there are some simply incredible architectural wonders that have the owners' and designers' personalities stamped all over them. Take the two treehouses at Blackberry Wood in Sussex: one turreted and one with heart-shaped windows; both beautifully Brothers Grimm. Meanwhile the Templar Treehouse in Pembrokeshire has a slide instead of stairs and its own hot tub. It seems that if you can imagine it, someone on a Glampingly glamping site has probably already built it. When it comes to different types of treehouses, we can't wait to see what's next.