Because shepherd's deserve a little luxury too...
Whether it's bolting yourself away inside on a rainy day and listening to the drops tap-tap-tapping on the roof or flinging open the door in the height of the summer, you just can't beat glamping in a shepherd's hut. What's more, the same is true of relaxing in a hot tub. In winter, when frost shines amid the grass and mist clings along the hedgerows, kicking back in a hot tub is pure bliss. Steam rises and the air feels as fresh as can be. In summer, meanwhile, a hot tub is a place to splash, play, enjoy a glass of bubbly and enjoy truly relaxing in the summer sun or beneath clear, starry skies. So, when it comes to hot tub glamping there is surely no better year-round combination than finding a shepherd's hut with a hot tub. It's the ultimate luxury combo. And, come rain of shine, you wouldn't want to be anywhere else...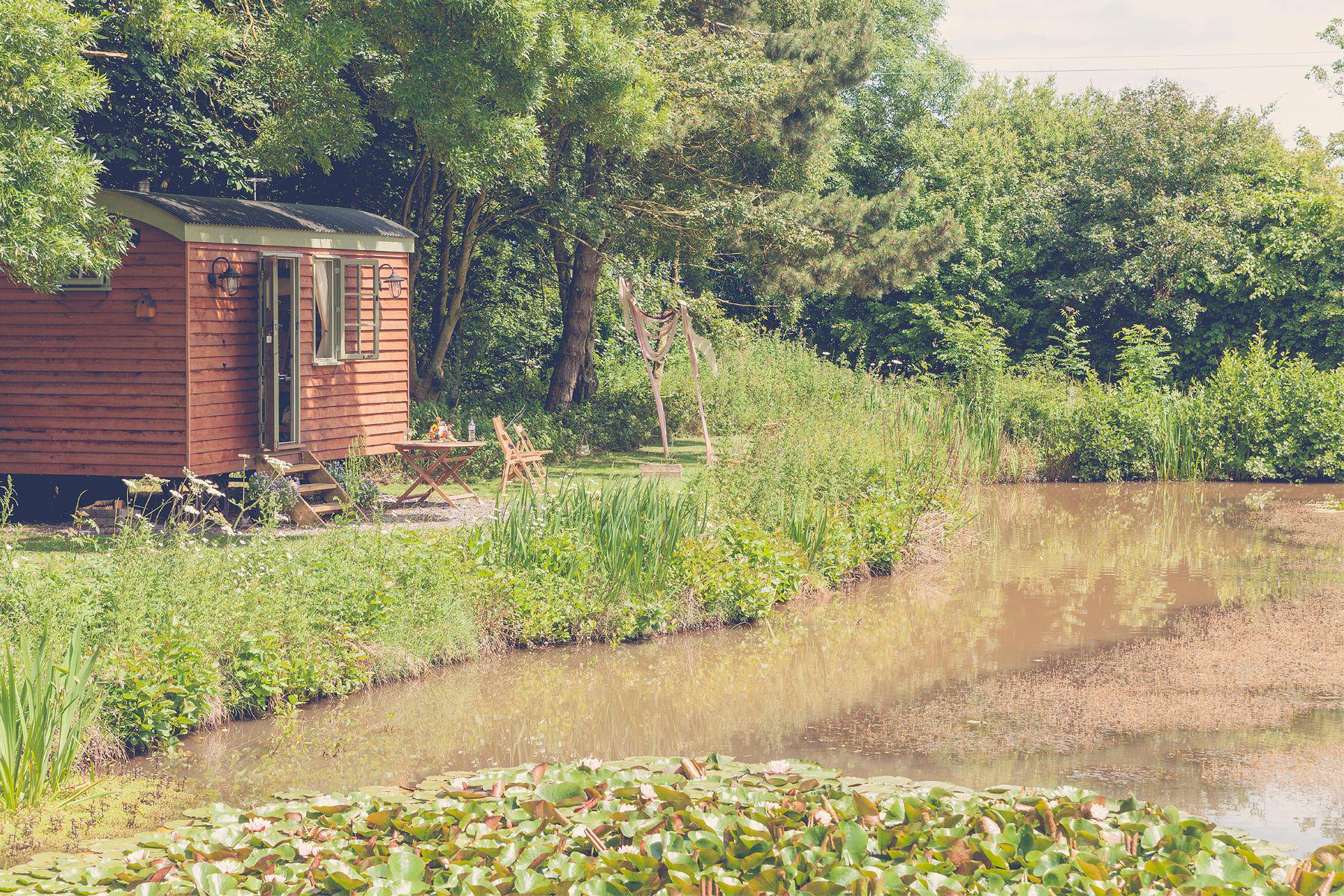 Little Otchan Shepherd's Hut, Yorkshire
There's water, water everywhere at Little Otchan Shepherd's Hut. There's a pond out front and a hot tub out back and a private, ahem, water closet inside too. Book here and you'll have the place to yourselves as Little Otchan is the only hut on Hall Farm. It doubles up as a wildlife hide too with birds and butterflies, dragonflies and deer among the visitors to the waterhole and surrounding woods. And if your thirst needs quenching, stroll half a mile to the family farm's brewery.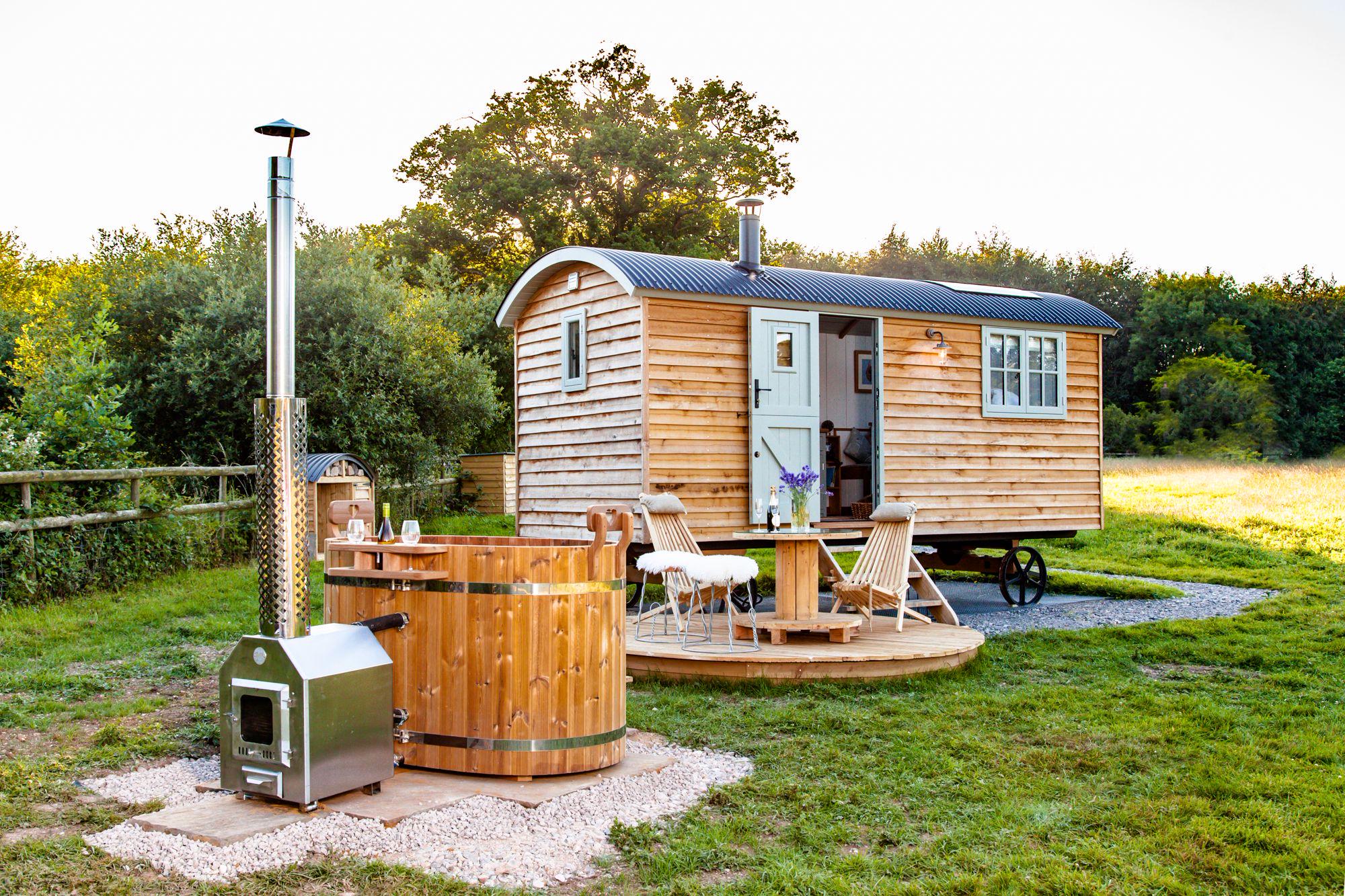 Bentley's Frenchmoor, Hampshire
Stargaze from your bed, soak in the Swedish hot tub and get cosy by the log-burning stove. Bentley's Frenchmoor is a great place for a romantic retreat. Tucked away on an eight-acre smallholding in the Hampshire countryside this is boutique glamping at its best with towels and toiletries provided. There's an en-suite shower room, a wood-fired pizza oven and a complimentary breakfast hamper too.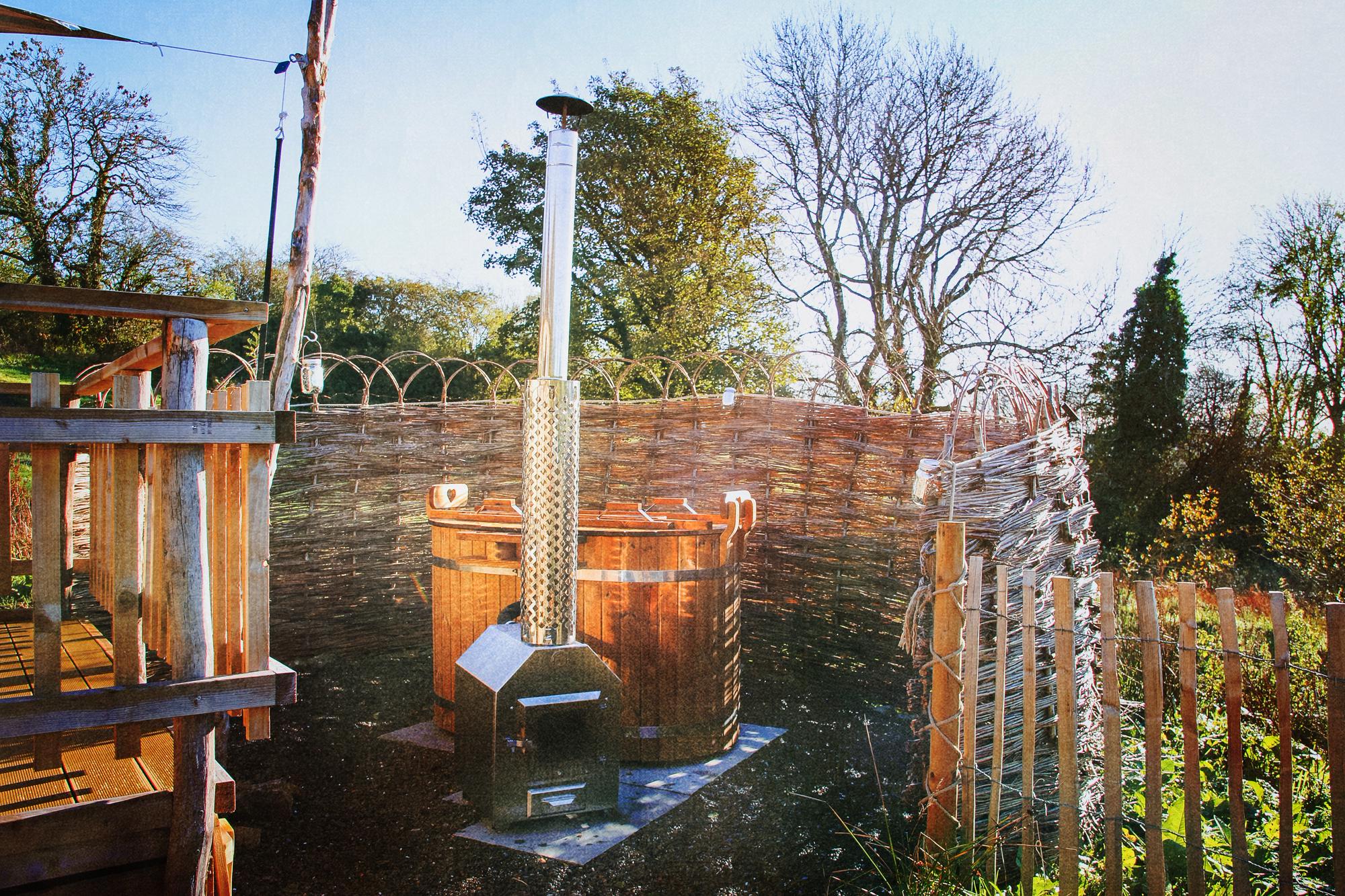 The Wren, Ceredigion
The Wren is genuinely unique, having been handcrafted by owners Tim and Claire. The Wren sleeps two in comfort and the tub is not the only luxury either: The many mod-cons include Wi-Fi, TV and a heated towel rack (in your private bathroom, a short walk away). There's still a natural feel to the place though thanks to wildflowers and countryside views. It's a lovely walk to a lovely pub and a 20-minute drive to Cardigan Bay.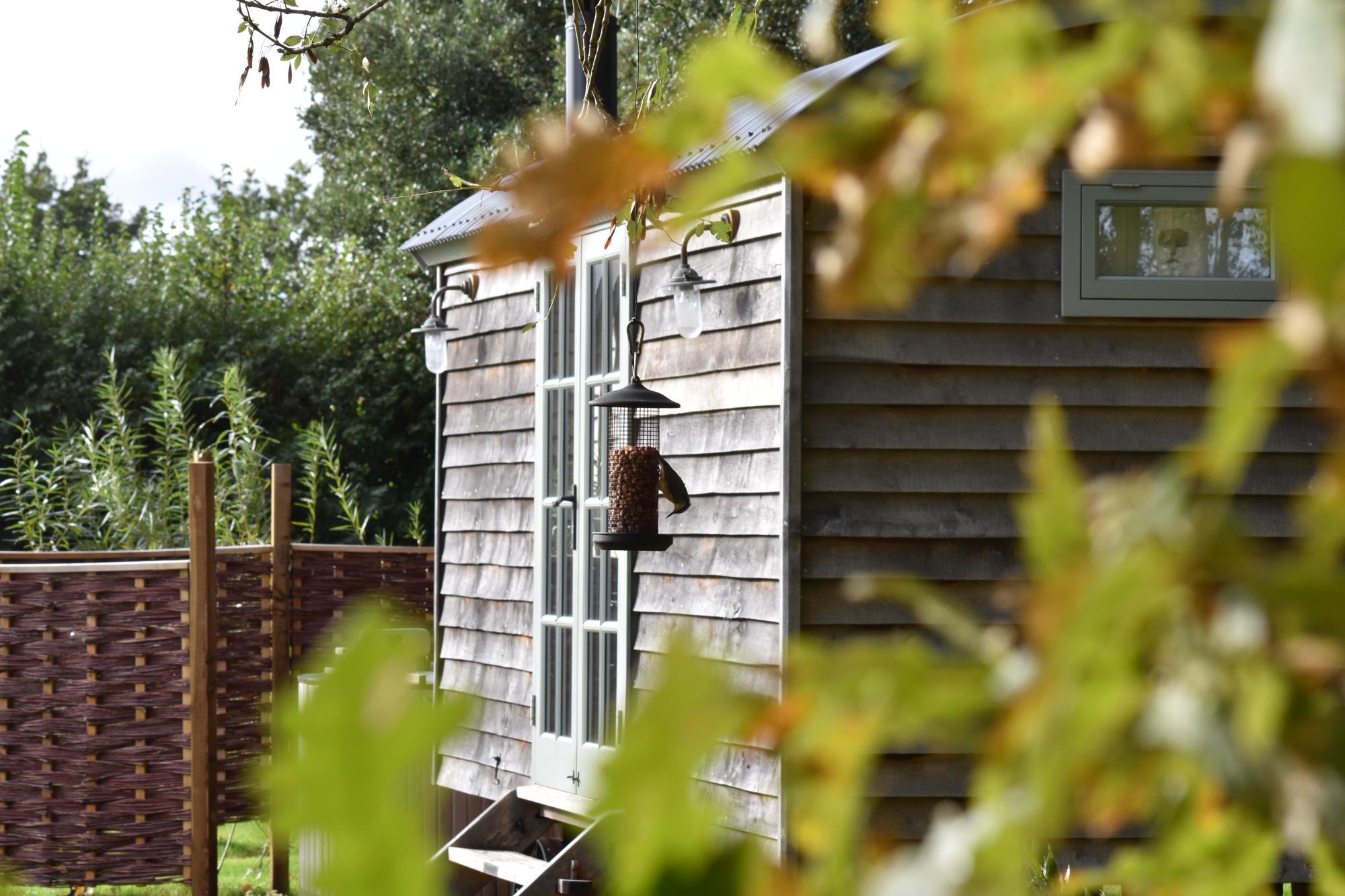 The Stanley Hut, Somerset
The Stanley Hut on Jordans Estate in Somerset is luxuriously appointed with a wood-burning stove, fully-equipped kitchen, en-suite bathroom – and that all important hot tub just outside. Sitting in grounds that used to belong to a Georgian mansion, there are walled gardens, woodlands and a lakeside grotto to explore on the doorstep. It's a real rural retreat.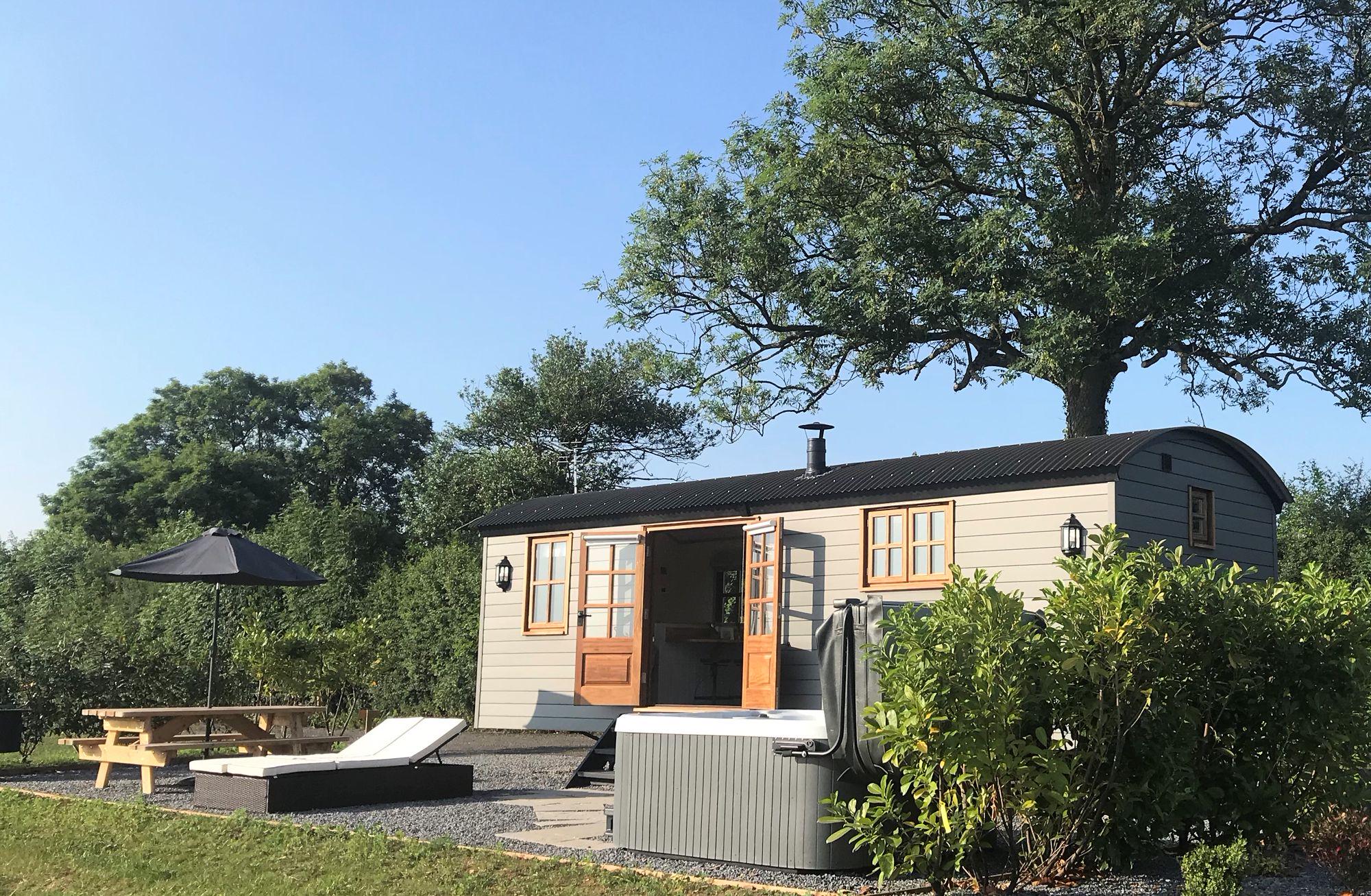 Dreamhuts Retreat, Devon
If the shepherds of yesteryear had found themselves in a Devonshire Dreamhut, the flocks might have been left untended. This glamping site on the edge of the Blackdown Hills offers super-luxury stays for couples or families of four. Each has a hot tub, en-suite bathroom with power shower, king-size bed, underfloor heating, wood-burning stove, pizza oven and… the list goes on. The two huts also share use of a sauna!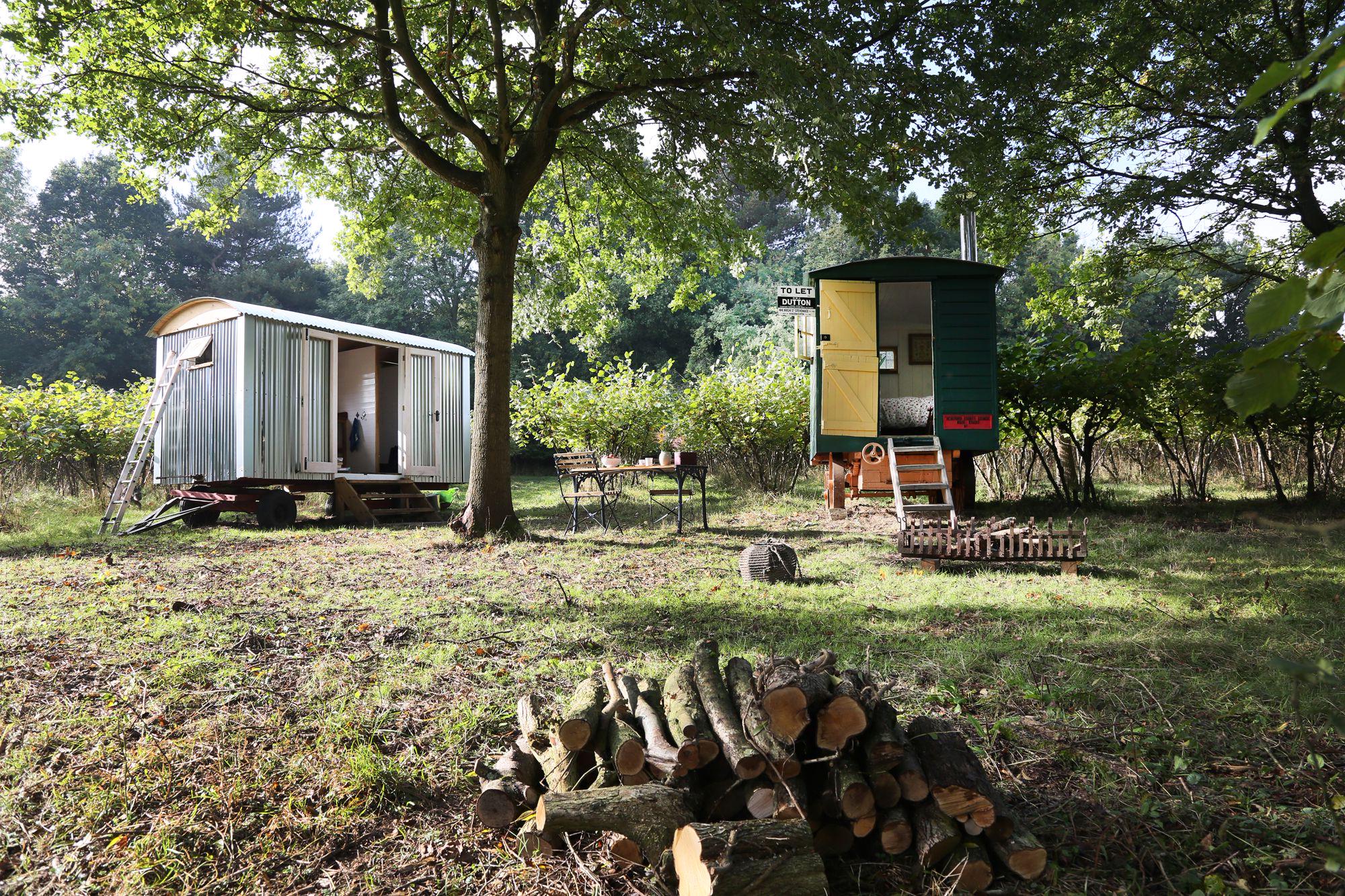 The Nut Plat Retreat, Kent
It's an altogether more-rustic affair over at the Nut Plat Retreat in Kent, also home to just two shepherd's huts. Rather than purpose-built luxury, these are charming vintage vans dating back to the 1800s. They've been lovingly restored and have come to rest in an orchard on a 18th-century farm on the banks of the River Bourne. An outdoor kitchen, fire pit, private composting toilet and safari-style shower for each hut almost completes the scene. With a wood-fired hot tub at green-and-yellow Ransoms hut, providing the final flourish.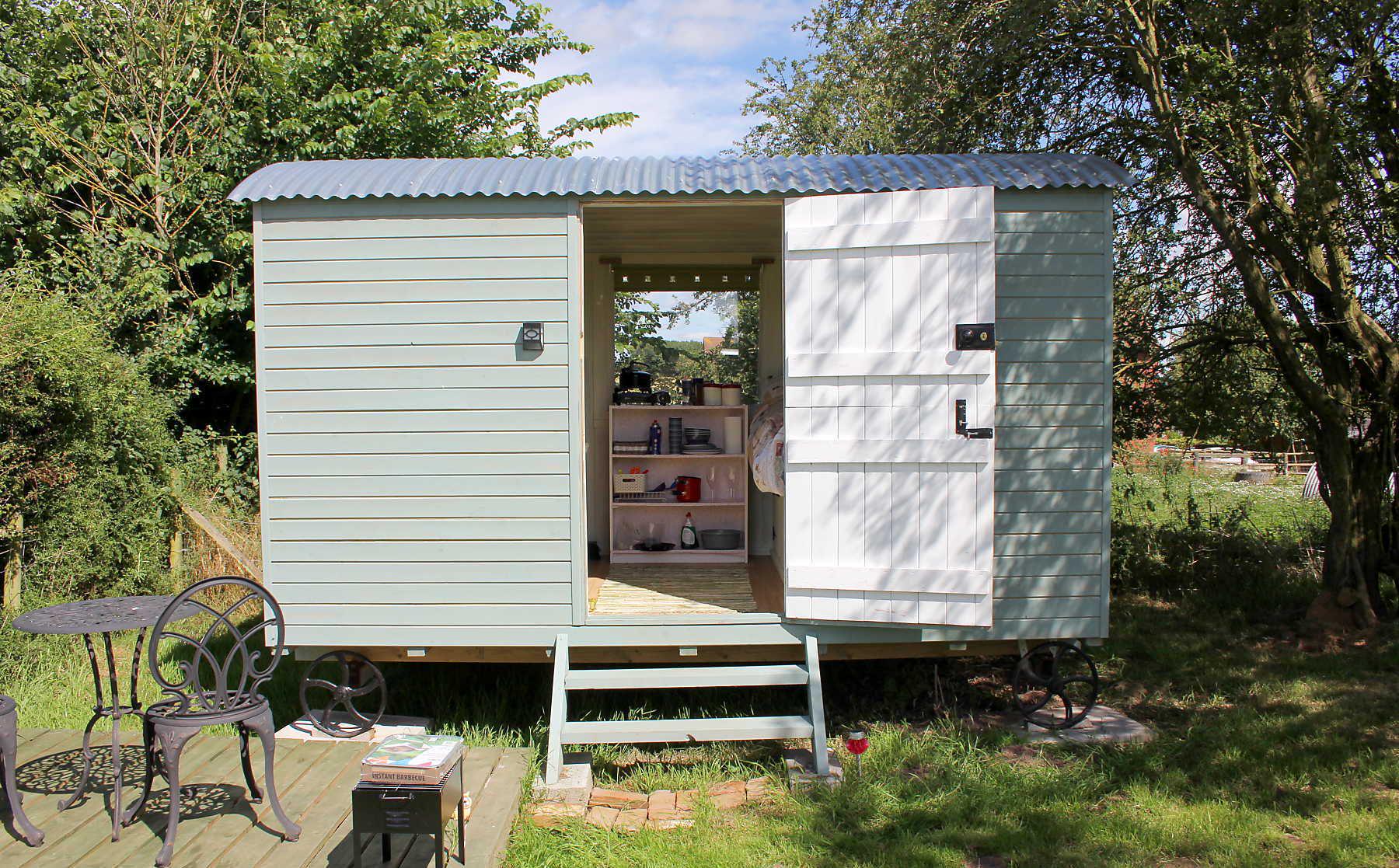 The Dog House, West Midlands
Stay in the Dog House or the Hen House at this West Midlands Glamping site and you can hop in to the shared hot tub whenever you please. These two simple shepherds' huts on a Staffordshire smallholding provide a place to enjoy a taste of the good life. Llamas, sheep, geese and cattle are on site. You can even rent your own chickens for the duration of your stay to provide a fresh supply of eggs – and a little entertainment.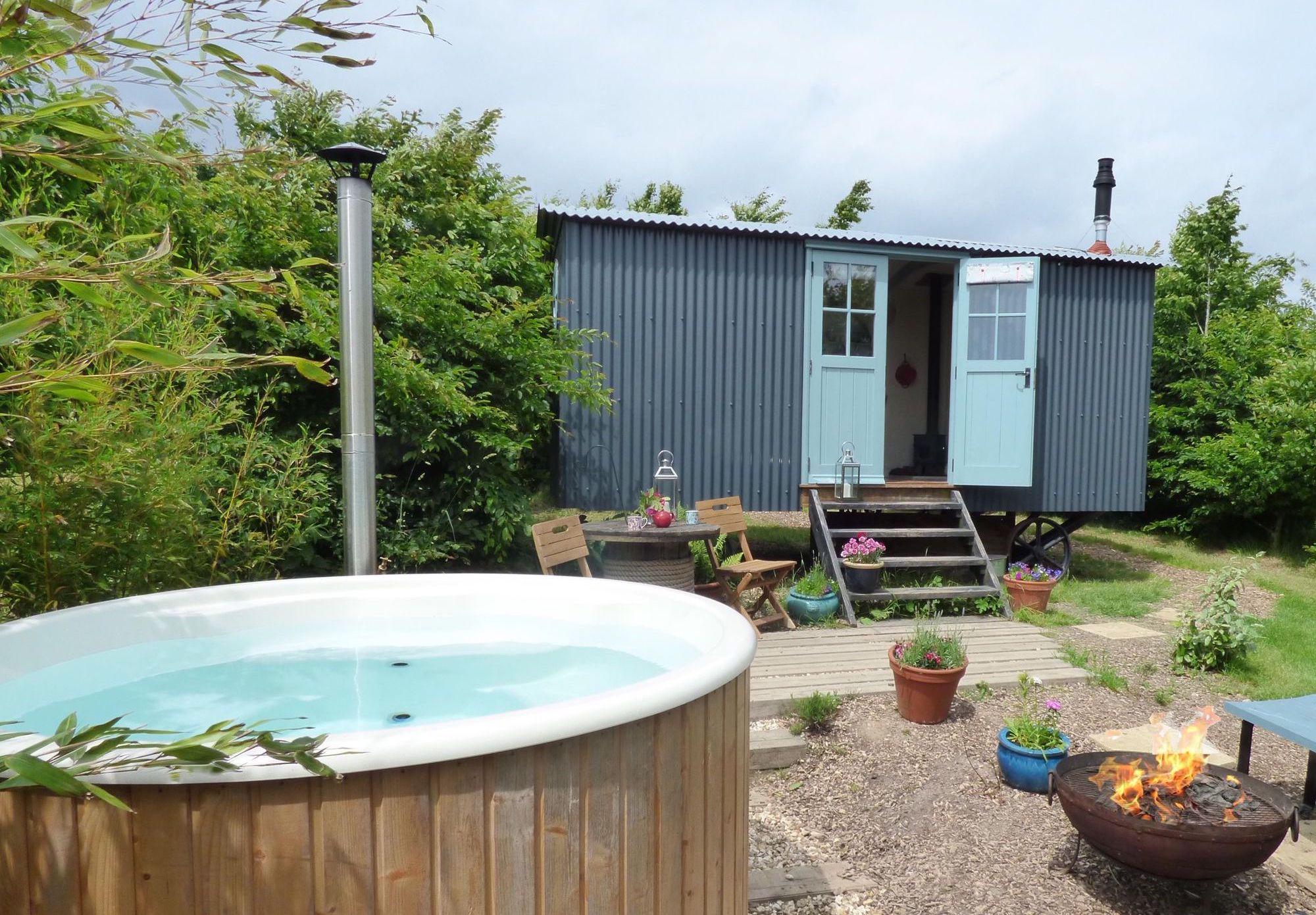 Dorset Forest Garden, Dorset
You can have an eco-friendly holiday with a hot tub at Dorset Forest Garden. Two off-grid huts offer the chance to relax in countryside, less than 10 miles from the Jurassic Coast. Each is in a private space within a forest garden planted by the site's owners more than 20 years ago. Built in a traditional style, they're furnished to a modern standard with king-sized bed, log-burner and en-suite bathroom.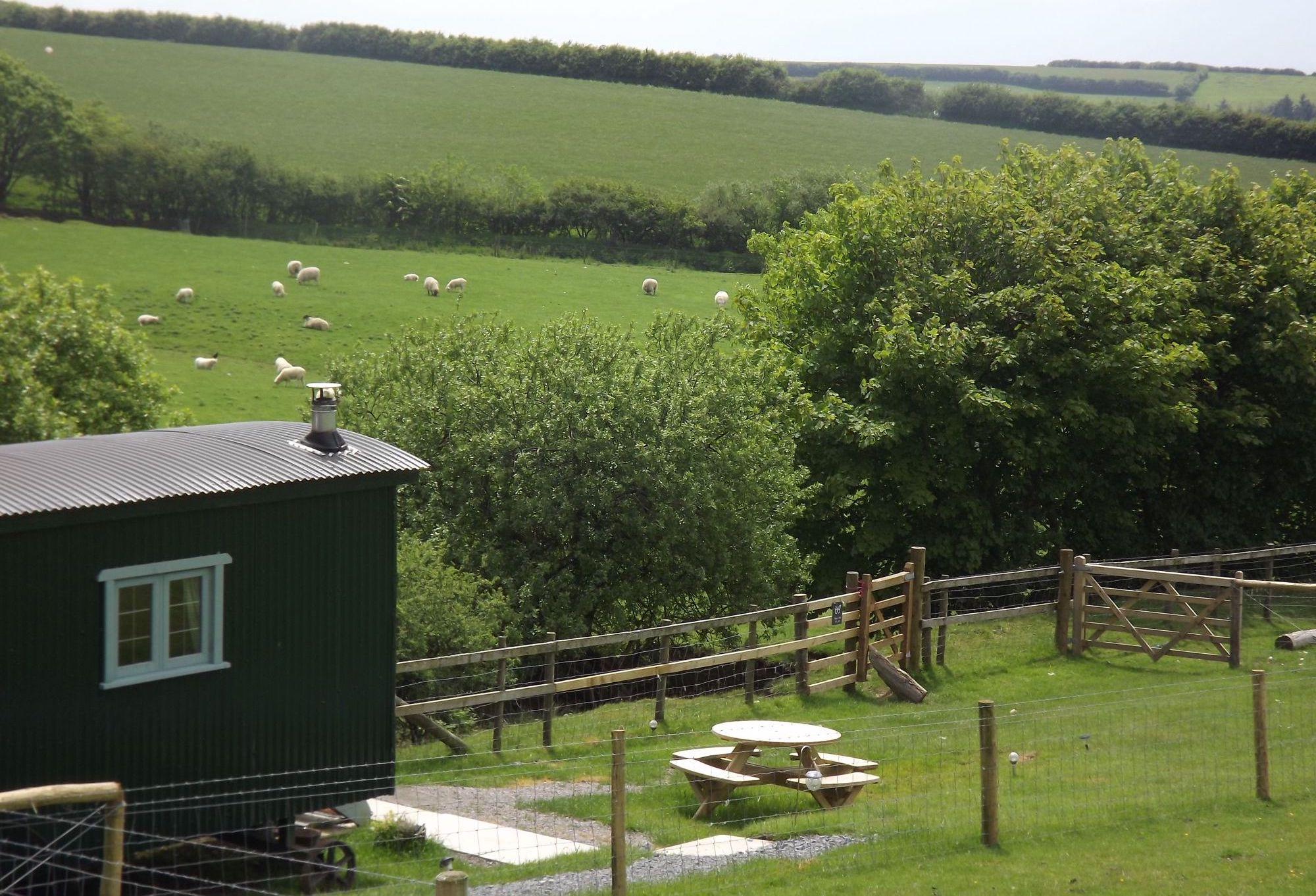 The Drover's Hut, Devon
The sheep-dotted hills surrounding this shepherds' hut make for an appropriate backdrop. But farm animals are in the foreground too as The Drover's Hut is very much part of a working farm and guests are invited to meet the animals. It's one of the things that makes the shepherd's hut here suitable for families, with room for up to six people. It's off grid but offers running water, solar lights, a gas hob and wood-burning stove with a fire pit and hot tub outside.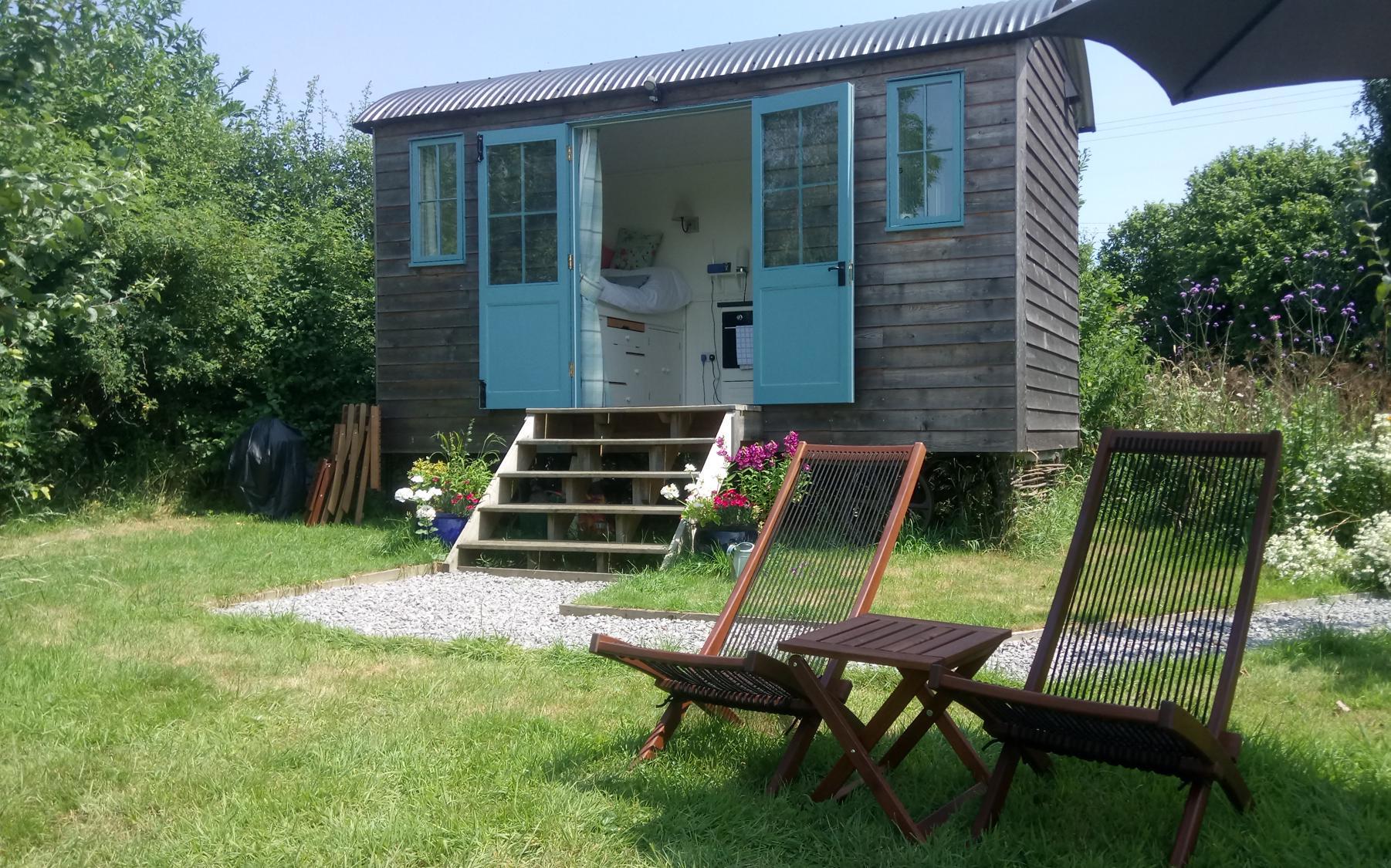 Stocklinch Shepherd's Hut, Somerset
Stocklinch Shepherd's Hut offers a hideaway in the Somerset hills with a hot tub. Tucked in an acre of young orchard off the appropriately-named Owl Street, this is the perfect place to watch and listen to birds, bats and badgers. The hut itself offers pint-sized privacy – it's the only hut here and manages to fit everything you'll need in a bijou space with clever handcrafted features. A kitchen, shower and power supply mean your stay is self-contained with cushions, bedding and blankets to keep it cosy.