Thinking of starting your own glamping site? When it comes to talking to the experts and getting all your essential information in one place, there's no better place to start than at The Glamping Show. We take a look at what it's all about...
What is it?
The Glamping Show is the UK's only trade show dedicated solely to the glamping industry, bringing together business owners, service providers and product manufacturers from around the world. The three-day event is an opportunity for new-comers and established glamping site owners alike to browse the latest products and opportunities in the industry, as well as to talk with experts in the field.
When is it?
The Glamping Show is an annual event lasting three days from Thursday to Saturday, usually based around the third weekend in September. This year's show will be held on 19th–21st September 2019.
Where is it?
Centrally located for anyone in the UK, The Glamping Show is held at the NAEC Stoneleigh conference and exhibition centre at Stoneleigh Park, Warwickshire. Full directions and travel details are available on the NAEC Stoneleigh website.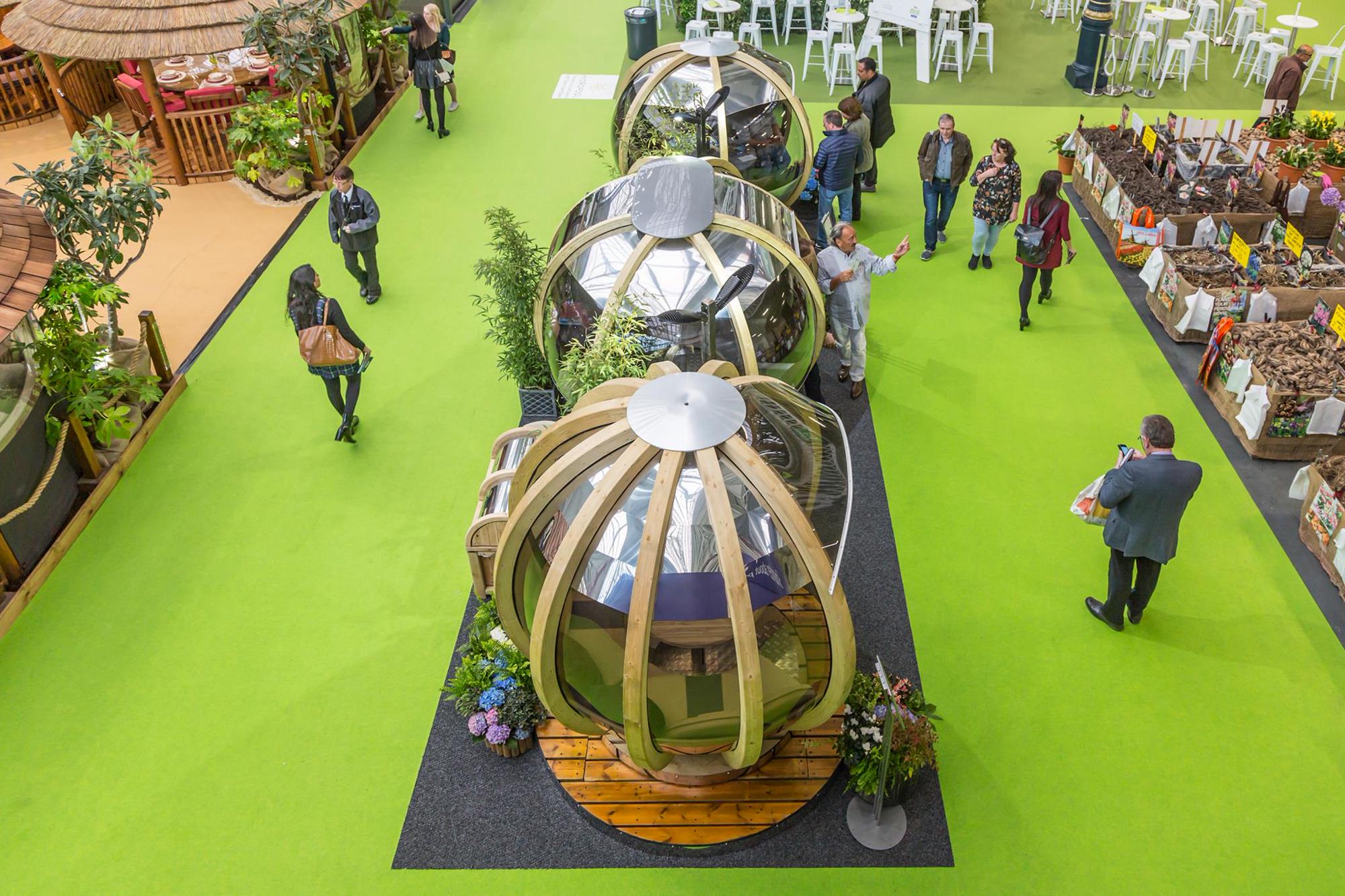 Who's exhibiting?
The Glamping Show has a wide variety of exhibitors from architects and design experts showcasing their latest treehouses to WiFi providers, planning consultants and septic tank companies.
If you're thinking of starting a glamping site, the outdoors exhibition space has an array of different structures to browse. There are top of the range shepherd's huts from the likes of Blackdown Shepherd Huts and Ashwood Shepherd Huts and two-storey safari tents from Outstanding. Pod manufacturers are out in force too, along with yurts, bell tents and a variety of other quirkier structures. If you want to explore the interiors of these structures and really get a sense of what they feel like, it offers a great opportunity to talk to the manufacturers in person and get a sense of what's involved.
Inside, there's another large exhibition space which is home to further structures and designs – the Naked Flame hot tubs particularly stand out – but it is also dominated by services within the glamping sector. If you want to take online bookings, leading booking software providers like Bedful are there, alongside marketing websites, chartered surveyors, insurance brokers and solar technology companies.
What else is going on?
While exhibitors give you the chance to browse products, The Glamping Show also offers the chance to sit in on expert talks and seminars. Around the main exhibition space there are three seminar theatres where a series of talks and Q&A sessions are run throughout the day each day. These range from how to make your business more sustainable to how to get the most from your use of social media.
If there are particular areas of your business your keen to focus on – marketing perhaps or the benefits of exclusive venue hire – it pays to take a look at the seminar schedule before you attend and decide which seminars you want to go to. It may influence which day you choose to visit The Glamping Show.
The CLA also have a seminar stage of their own. The CLA is a membership organisation for owners of land, property and businesses in rural England and Wales and offer expertise on planning permission, land development and other specialist advice.
Along with seminars, there is a one-on-one 'Meet the Experts' area, where you can book in a 20-minute slot with various industry professionals. Many of these experts are also exhibiting at the show, so there are other opportunities to speak to them but if you want some dedicated time to really focus on your business this is also worth considering. Again, there is a schedule for this that is worth checking before you attend.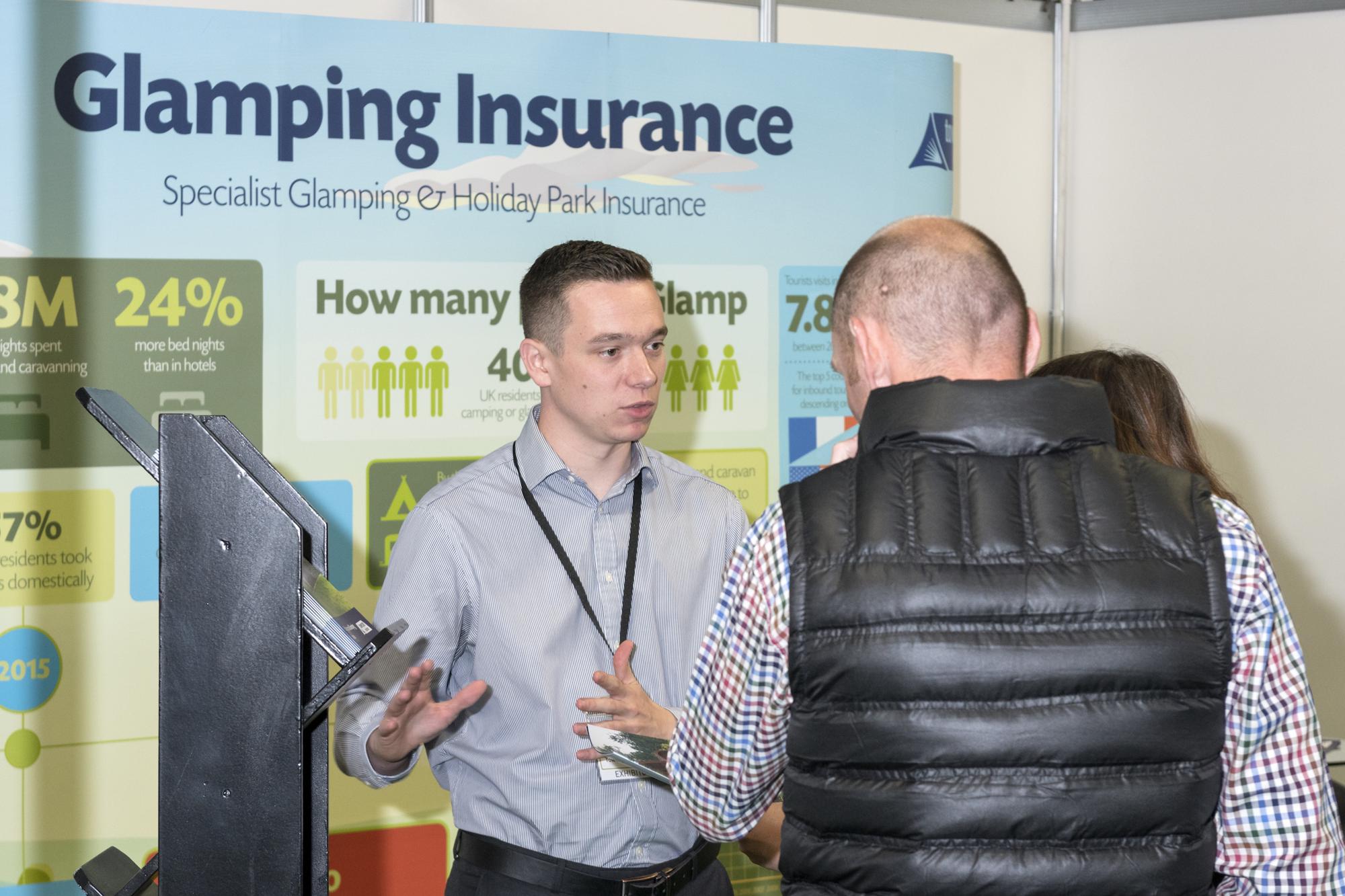 How much does it cost?
The Glamping Show is absolutely free to attend, including free parking on site. There is a canteen area and a couple of food stands in the outdoor exhibition space (though those in the know go to the Farmers Fayre farm shop just next door), so bring change for these. The Glamping Show also runs a very small handful of workshops – generally more in-depth and with a smaller audience than the seminars – which you can pay in advance to attend.
Where to stay
Generally speaking, you can get round, look at structures and chat to the exhibitors you want to quite capably within a day. But, if you're committing yourself to a really in-depth consideration of every structure and detailed discussions with exhibitors, it may pay to stay longer – particularly if there are lots of seminars you would like to attend.
Attendees at The Glamping Show can park campervans on site overnight free of charge – though do note there are no waste facilities, no electrical hook-ups and no campervan water supply. If you plan to do this, there is no need to book. Simply arrive and park in the campervan area, which is clearly signposted.
If you're looking to stay in a hotel, there are some at Stoneleigh Park itself, though, for a bit of town life and some dining options, Royal Leamington Spa and the centre of Coventry are each a 10–15 minute drive away.
The latest information about The Glamping Show, including this year's exhibitors, seminars and recent industry news can all be found at theglampingshow.com.